August 20, 2013
Millenials Gain a Competitive Edge in the Job Market Through Volunteering
Commonly known as Generation Y or the Millennials, 18-28 year olds are looking ahead to life after college, eager to begin utilizing their skills in the labor force. Yet, even though these young adults are more competitive and skilled than ever, one question remains on the minds of almost all recent graduates, "what now?"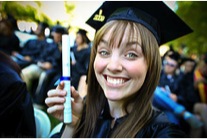 While Generation Y is characterized by technically advanced, highly educated, and adaptive thinkers, the effects of the 2008 recession still linger. Graduating seniors worry about their prospects in such a competitive job market.  With limited job openings, lower wages, and an increasingly high cost of living, many recent college grads are being forced to move back home to live with their parents—an effect that has sparked a new name for the Millennials: "Boomerangers."
To smooth the transition into the labor force and independent living, college-age Millennials turn to job marketability strategies that will increase the chances of being hired after graduation. College students now spend four years at university not only studying, but seeking marketable job experiences to add to their resumes. One of the most common ways to gain job-relevant experience is finding an internship; another strategy that is commonly overlooked is participating in skill-based volunteerism. According to the 2013 Deloitte Volunteer IMPACT Survey, skill-based volunteerism can increase a job candidate's chances of being hired over other candidates without volunteer experience.
It turns out most Human Resources executives consider volunteer experience an important characteristic and valued asset to their organization. In fact, the Deloitte Volunteer IMPACT Survey found that 81% of HR representatives take skilled volunteerism into consideration during hiring, and 81% agreed that volunteering would make a college graduate more desirable as a potential employee. This data suggests that skills-based volunteering with a nonprofit organization serves as a bridge to employment for both college students and recent veterans.
While volunteers benefit from the skills and experience they acquire through their service, volunteerism is also a powerful way to make a meaningful difference in the lives of community members. Volunteers become better prepared and more marketable, organizations utilize young minds to help advance their mission, the community benefits from the success of nonprofit organizations, and employers are able to hire skilled and grounded employees with experience. It's a win, win, win, win situation.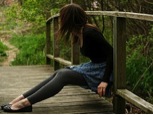 Volunteerism is the driving force behind Reading Partners. Our corps of volunteer tutors – over 7,000 amazing men and women-strong this year – donate one hour or more each week to work one-on-one with a student struggling to learn how to read. Those volunteer tutors are supported at each of our reading centers by a site coordinator, him or herself a volunteer AmeriCorps member. AmeriCorps members help build the capacity of our organization, while providing a direct "bridging" experience for young adults looking to gain real life work experience after college.
As a college student or young adult, volunteering can be an effective way to distinguish your resume from others' competing for the same job. Moreover, volunteerism is great for your community and your future employers.
If you want to join our amazing team of volunteers and gain meaningful skills, while helping improve the lives of the students and families in your community, we want to hear from you! To learn more about becoming a volunteer tutor in a local school in your community, click here. To learn more about the Reading Partners AmeriCorps program, click here.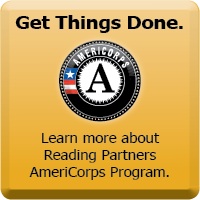 Photo Credit: Jessica Matteazzi and Compfight cc