February 21, 2014
National Service Take Two: Becoming a VISTA Leader
Sylvie Lane is currently serving her second VISTA term of service as Reading Partners' VISTA Leader. This post draws upon her experiences as a VISTA Leader and her multiple years of national service.
After serving my first VISTA term at a small literacy non-profit based in San Francisco I knew I wanted to continue working with nonprofits, but also really loved the national service aspect of what I had been doing. I looked into serving a second VISTA term and decided to try for a VISTA Leader position. When I was offered the position with Reading Partners, I thought it would be the perfect fit!
Becoming a VISTA leader allowed me to practice the professional skills that I developed in my past year of service, but also provided an opportunity to enhance a new set of managerial skills.
What is VISTA and VISTA Leader?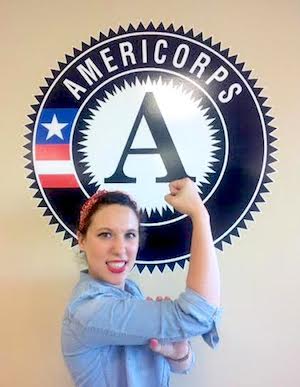 VISTA is a branch of AmeriCorps that focuses on capacity building, sustainably service to combat poverty in the United States. VISTA was added to the AmeriCorps program in 1993, however it has been existence since 1964.
A VISTA Leader has already served at least one full VISTA term and is placed at a VISTA project site to facilitate eight or more VISTA members. A VISTA Leader serves as a resource to VISTAs and also helps with recruitment, professional development, and management.
As a VISTA Leader I am able to guide members through their year of service. My responsibilities as a VISTA Leader allow me to be flexible in my role, meeting the needs of VISTA members nationwide and supporting the AmeriCorps team at the national headquarters. I get a boost in my living stipend too!
One of the biggest challenges of being a VISTA Leader is…
Keeping all of the VISTAs engaged is one of the biggest challenges I have faced in my role. Since Reading Partners has VISTAs serving in eight different regions, serving many different roles in the organization, it has been a challenge to figure out the separate needs of each VISTA. However, now that I have gotten a chance to really settle in my role, I have a greater understanding of how to support all the different VISTAs and regions.
The best thing about being a VISTA Leader with Reading Partners is…
The challenges seem small when weighed against all of the positives of working as a VISTA Leader at Reading Partners. One of the most amazing things about serving as Reading Partners' VISTA Leader is that I get to work on a diverse array of projects.
As Reading Partners continues to grow and expand as a national nonprofit organization, I get to be a part of shaping the ever-evolving role of a VISTA Leader. Also, being stationed in the national office allows me the opportunity to interact with a diverse and impressive group of professionals leading tremendous growth of a noteworthy organization and cause.
Another favorite part of my service with Reading Partners is also my favorite thing about being a VISTA Leader: Getting to interact with the Reading Partners' VISTA members across the country. Learning about the different activities going on in our 11 regions makes me feel connected, not only to the VISTAs, but also Reading Partners as whole.
Lastly, Reading Partners' staff members and AmeriCorps members are passionately committed to and united by the mission "to help children become lifelong readers by empowering communities to provide individualized instruction with measurable results." Working in a mission driven environment makes everything I do feel so much more powerful.
Leaving a Legacy
One of the things that attracted me most to AmeriCorps*VISTA is the idea of leaving a legacy for the next person in your role to build upon. At Reading Partners, a rapidly growing nonprofit organization, I have been given a unique opportunity to play a key role in creating and shaping what the VISTA Leader position looks like at Reading Partners. I was also lucky enough to be a part of the creative and collaborative process of creating a vision for the VISTA program at Reading Partners moving forward. I know that the legacy i'm leaving for the next VISTA Leader is something that I am proud of.
I'm glad to say that wherever I go next I'll be able to draw upon the many different experiences, projects i've worked on, and new skills I have gained while serving as a VISTA Leader at Reading Partners.