April 16, 2020
Celebrating National Volunteer Week 2020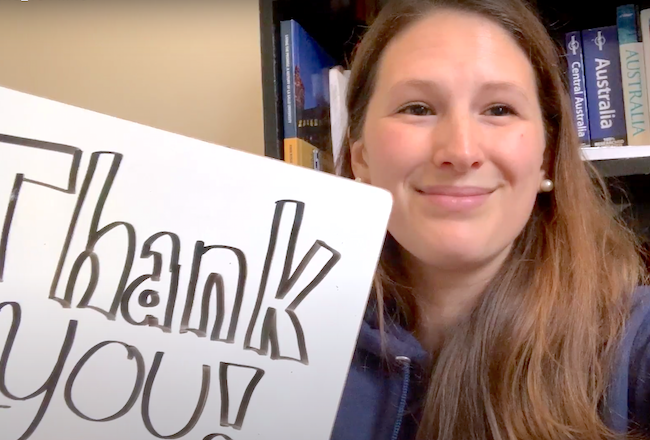 While we couldn't have anticipated the school closures caused by the COVID-19 outbreak, Reading Partners' teams were caught off guard (in the best way) by the outpouring of support offered by our volunteers. At every turn, volunteers offered help, words of encouragement, and showed concern for the well-being of our students and staff.
And speaking of our tutors' unwavering support, this week it's all about them as we celebrate National Volunteer Week! We love the opportunity to recognize the outstanding work of our volunteer tutors, who positively impact the lives of Reading Partners students despite any challenges thrown their way. 
While we wish we could be celebrating with volunteers in our reading centers, the Reading Partners team has a special message for volunteers while we shelter in place:
Volunteers strengthen communities, especially in times of crisis
Each year, thousands of volunteers across the country dedicate time out of their weeks to support students as they work hard to become the next generation of leaders and thinkers. And thanks to volunteers' steadfast support, our students made significant gains this school year that are helping them stay on track through the transition to distance learning. 
Through their one-on-one tutoring sessions this year, tutors offered the individualized attention students need to successfully tackle new concepts and advance their literacy skills. And although the school year has been cut short suddenly for many students, the learning didn't stop—and our volunteers' desire to help didn't stop either. 
It has become clear to us in this time of crisis that the impact of volunteers extends far beyond the walls of a reading center or a school campus. Their contributions strengthen communities throughout the country, bringing people together with the ultimate goal of giving back and making our future generations stronger. 
Jamar Shumate, longtime Tulsa volunteer and former state legislator in Oklahoma, says:
Reading Partners has been one of our best programs to help close some of the gaps that exist for our students. I love the opportunity to connect and bond with our students. It's probably the most important hour of my week.
You, too, can become a reading partner and help kids achieve their educational goals. Learn more and sign up to help kids succeed in the 2020-21 school year.