February 25, 2014
New York Students Hone in on Grade-Level Reading
During my AmeriCorps year of service as Volunteer Coordinator with Reading Partners New York, I've had the unique opportunity to get to know all of our tutors and students in each different borough. Each neighborhood has its own personality and offers a new learning experience; more specifically, each of our twelve schools here in New York are full of bright and soulful students and tutors. The best moments of my day are when I get to hear stories shared around our team from our school sites.
Every day of the past six months has been an adventure, and I feel endlessly privileged to be a part of the movement that is taking place in our region. Here are some of the stories that make me inspired to serve as an AmeriCorps member with Reading Partners.
Students Make Huge Gains in Reading
At East Harlem Tutorial Program, our Site Coordinator, Jorge, told me about the strides made by his students. Their successes are evident in their smiles and newfound confidence: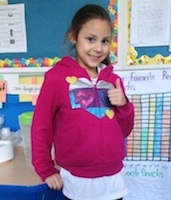 Megan. Megan, a wonderful third grader here at EHTP, recently passed level 20, and she began at level 16. We're really proud of all the progress she's made! Megan is now accelerating her reading skills by 2.02 months per 1 month of instruction. Megan's success is largely due to the help of her tutors, Jessie & Emma. "She is so cooperative with both her tutors and make-up tutors and tells me that she loves Reading Partners and loves working with us!" says Jorge.
Edgar. Last year at EHTP one student in particular made astonishing gains. Reading Partners' superstar, Edgar, gained 1.2 years of literacy skills in just 3.27. Edgar is now only a half-year behind grade level, and we're very excited to continue to watch him excel. None of this would have been possible without the persistence and dedication of his hardworking tutors.
Jorge notes that students have constant positive reinforcement from tutors and Reading Partners' staff, "they are continuously reminded of the capacity they have for grown, and I know it is making all the difference in their lives" says Jorge.
At Metropolitan Lighthouse Charter School in the South Bronx, Isabella, our Site Coordinator proudly shared these stories about her students: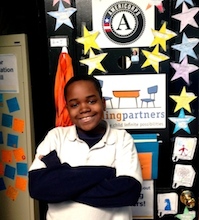 Nashiem. The first all-star is fifth grader, is new to MET this year, and when he entered Reading Partners at the end of September he was barely reading at a third-grade level. Since then, he has both accelerated his literacy skills and narrowed his achievement gap. Nashiem has made a full year of growth in less than four months! Nashiem comes to Reading Partners with a smile on his face every week, and even seeks Isabella (MET site coordinator) out in the hallway to schedule a make-up session if he's absent. Nashiem and his tutor (who tutors Nashiem twice a week) have a really great relationship. While the numbers speak of his general success so far, I'd say the biggest visible difference in his reading is his expression. Fun fact about Nashiem: he is obsessed with Japanese comics (or manga).
When I went to take this picture, Nashiem stopped me and said, "Wait! Let me get in my proud pose." So, there you have it.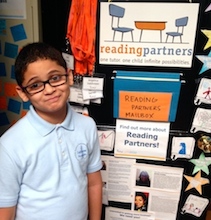 Waldo. The second rockstar is, fourth-grader, Waldo. After only four months in Reading Partners' program, Waldo has tripled his rate of learning and is now almost reading at grade-level (only -0.15 months behind)!
Waldo was retained last year and is therefore repeating the fourth grade while his twin brother, Waldy, is in fifth grade. It's no surprise that Waldo struggles with his self-esteem, and Reading Partners has definitely been more than just an academic boost for him. Isabella notes that she can tell he's proud of himself for all of his growth so far this year. Isabella recalls, "when I told him how far he has come and how proud I am of him, he didn't say a word, but instead, stuck his hand out for a high five."
At Hyde Leadership Charter School, Site Coordinator Elizabeth, sings praises of the students at her site: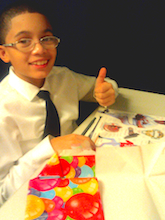 Michael. Michael is a fifth-grader and recently moved up from a level 27 to a level 30. He did well on level 31, too, Elizabeth is pretty confident that he's going to be reading at grade-level by the end of the year.
One of the tutors in the center says that Michael always looks like the sky is about to fall. His worried face broke into a big smile when his tutor gave him a big Encyclopedia of Baseball book for his birthday. He loves playing shortstop and he LOVES reading that book. "He has worked hard to develop better fluency skills and it's showing," says his Elizabeth.
Tutoring for Success
The positive energy brought to each session by our tutors and the eagerness to learn by our students lends to the growth happening with students in New York.
Our New York Site Coordinators are continuously impressed by the ingenuity and commitment shown by tutors. The progress shown by the students wouldn't have been possible without the dedication of their tutors.
You can be a part of the movement, helping children like Megan, Edgar, Nashiem, Waldo, and Michael become successful readers! Sign up to become a Reading Partners' tutor.