December 20, 2013
Order is Everything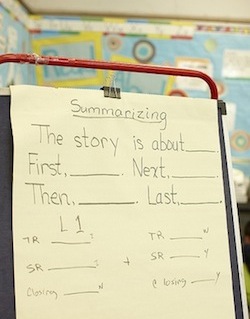 "Order is everything," I often tell my Reading Partners students. Today's lesson focuses on the "sequence of events" skill, a crucial skill in being able to comprehend and communicate stories. To drive home the importance of this skill, I tell students a simple story and switch up the steps of the narrative—confusing the beginning, middle, and end. My students recognize the error immediately, and the example reinforces how important it is to put information in the right order.
There's an order to literacy acquisition, too. Reading—just like math, science, and art—begins with core, prerequisite skills, which are key to becoming a strong, confident, and engaged reader.
Many educators and academics refer to the third grade as an important milestone in a student's academic career. At about this time, students are expected to have built a strong foundation in reading, so that they can begin using texts in order to learn other skills and subjects. Research tells us that children who are unable to read by the fourth grade are four times less likely to graduate on time. In 2013, one in three students was shown to be reading "below basic" level proficiency, making them functionally illiterate.
Catching Up with Reading Partners' Curriculum
Many of the students Reading Partners works with haven't mastered these foundational reading skills. At my reading center at Hyde Leadership Charter School in the Hunts Point neighborhood of the South Bronx, the majority of our students are in the third, fourth, and fifth grade. Many are reading a year to two-and-a-half years behind their expected reading level. This means that while their classmates are reading chapter books and reading to learn other skills and subjects, these students are still struggling with the basics.
To combat this reading gap, the Reading Partners curriculum contains over 150 sequential lessons focused on key literacy skills. Session by session, students progress through lessons such as "Historical Sequence of Events–Informational Text," "Making Inferences," and "Describing Characters." Each step in the curriculum builds on students' knowledge to further develop their abilities to read and learn.
At Reading Partners, we set an educational expectation that our students learn to analyze texts to learn more about the world around them. The collection of fiction books and informational articles includes a rich variety of authors, subjects, cultural perspectives, and characters. Students find great joy in using these tools as catalysts to learn and grow.
The Hyde Reading Center is a bustling learning environment. Students are not only engaged in catching up on their comprehension and communication skills, but also need to build a set of tools to help articulate and express their own unique perspectives of the information provided in the lesson texts.
Working with Hyde fifth grader Kayla this past week, we read the informational book "Sharks" together. The book contains beautiful pictures of underwater vistas, and shockingly close images of sharks. I had been concerned that Kayla was going to hate the book—she often does not like reading about spooky or scary things—and tried to think of ways to engage her. To my surprise, she seemed to love the experience, flipping through the pages and remarking at the teeth, eyes, and gills.
When I asked her about her favorite new information, she looked thoughtful for a moment and then replied, "I learned that sharks are not nearly as dangerous as I thought. Sometimes we make unfair guesses about animals based on not knowing enough about them." Her extrapolation and recognition that these animals were just as worth learning about as something cuddly and cute struck me as a success.
Enrolled in the Reading Partners program, a student gains the confidence and ability to meet their grade level standards. They ultimately also gain the potential for future learning, exploring, and growing. As they work their way through the curriculum, exposure to different genres and types of information structure their knowledge to prepare and excite them to continue exploring on their own. Through stories, conversations, and thoughts, they see castles in the air. With reading skills and confidence, they can build the foundations underneath.