February 29, 2020
Can't miss #OwnVoices books to read in 2020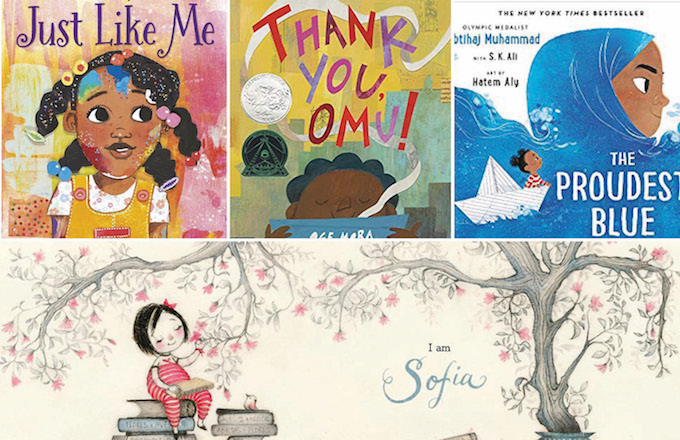 If you're like me, you might have a soft spot for the books you grew up with; Good Night Moon, Very Hungry Caterpillar, The Giving Tree. The classics are great, but 2020 offers a whole new wave of insightful, cultural, and fun books to enjoy with budding readers. 
Ready to take a chance on something new? We've rounded up a few of our favorite recent books by talented authors and illustrators of color. Their #OwnVoices perspectives offer a uniquely personal experience to the stories and illustrations they share.
Check out these can't miss reads from authors/illustrators of color
Vanessa Brantley-Newton, author and illustrator of Just Like Me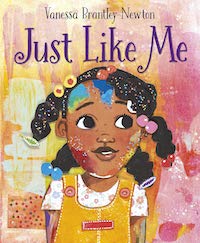 This book is a collection of poems celebrating all types of girls, each with their own hopes, dreams, and feelings. Vanessa's rhythmic prose and gorgeous illustrations bring each girl's unique personality into focus, inspiring readers of all ages.
Vanessa is also the author of Grandma's Purse. She illustrated well-known works such as The King of Kindergarten, by Derrick Barnes, and A Night Out with Mama, written by Academy Award-nominated actress Quvenzhané Wallis. Her biography shares, "When [Vanessa] read Snowy Day by Ezra Jack Keats, it was the first time she saw herself in a children's book. It was a defining moment in her life, and has made her into the artist she is today. As an illustrator, she includes children of all ethnic backgrounds in her stories and artwork. She wants all children to see their unique experiences reflected in the books they read, so they can feel the same sense of empowerment and recognition she experienced as a young reader."
Oge Mora, author and illustrator of Thank You, Omu!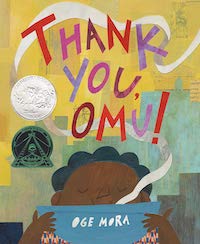 A 2019 Caldecott Honor Book
Winner of the Coretta Scott King/John Steptoe New Talent Illustrator Award
This richly illustrated book tells the story of a generous woman named Omu. One night, while  cooking herself dinner, she receives some unexpected visitors. Her response will warm your heart. Readers will love following along to see the power of gratitude.
Oge Mora also authored Saturday and The Oldest Student: How Mary Walker Learned to Read and illustrated Shaking Things Up: 14 Young Women Who Changed the World. Oge grew up in Columbus, Ohio and graduated from the Rhode Island School of Design (RISD) with an Illustration degree. Per her biography, she's a fan of all things colorful, patterned, or collaged, and she enjoys creating warm stories that celebrate people coming together.
Christian Robinson, author and illustrator of Another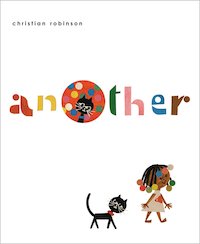 In his first book, well-known illustrator Christian Robinson takes readers on a creative, thought-provoking adventure to another world. The book, which has no words, uses vivid pictures to depict the main character, a young girl, discovering unique passageways that lead her to a startling discovery.
Christian has also illustrated the #1 New York Times bestseller Last Stop on Market Street, written by Matt de la Peña. This book won a Caldecott Honor, a Coretta Scott King Illustrator Honor, and the Newbery Medal. Additionally, Christian illustrated Gaston and Antoinette written by Kelly DiPucchio. His new book, You Matter, comes out on May 5, 2020. From Christian's biography, "Drawing became a way to make space for himself and to create the kind of world he wanted to see."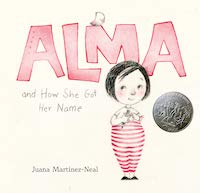 A 2019 Caldecott Honor Book
Juana Martinez-Neal's debut picture book introduces Alma, a little girl with a very long name. This heart-warming tale invites readers to follow along as Alma learns where her name comes from, and gets the chance to make it her own.
Martinez-Neal has also illustrated titles such as Swashby and the Sea written by Beth Ferry (to be released in May 2020) and Fry Bread: A Native American Family Story, written by Kevin Noble Maillard. Per her biography, Juana grew up and studied painting in Lima, Peru, and now lives with her family in Scottsdale, Arizona. Juana shares that, "the essence of ALMA, which has autobiographical elements, is we are everyone that came before us, and at the same time, we are uniquely ourselves."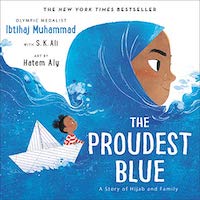 Ibtihaj Muhammad, Olympic medalist and social justice activist, partners with S.K. Ali to joyfully reveal the bond between Faizah and her older sister Asiya, as Asiya navigates her first day of hijab at their school. Together, the sisters face adversity and emerge prouder than ever of who they are.
Muhammad is a 2016 Olympic bronze medalist five-time Senior World medalist and World Champion. In 2016, Ibtihaj became the first American woman to compete in the Olympics in hijab. Ibtihaj was a 3-time All American at Duke University where she graduated with a dual major in International Relations and African Studies.
Which one of these amazing books will you pick up first?