March 6, 2014
My Pathway to National Service: A Photo Blog
Geraldine Fiesta is a Senior AmeriCorps Member in her second year of  service with Reading Partners Baltimore, serving as a Volunteer Coordinator. This is her story of service.
My Pathway to National Service
During my senior year of college at JMU I attended a career fair. I remember navigating the rows of employer tables, before I found Reading Partners and learned more about their AmeriCorps program. The program resonated with me because it combined my love for literacy and an opportunity to serve children in low-income communities that could use some additional support.
That summer I applied, got the position, and moved to Baltimore!
AmeriCorps is a program sponsored by the Corporation for National and Community Service (CNCS). There are several branches of AmeriCorps members across the nation. I currently serve as a National Direct member, but there are also AmeriCorps*VISTA, and AmeriCorps NCCC members serving at nonprofit organizations across the country.
AmeriCorps members in each branch are given a unique opportunity to serve at nonprofits, schools, public agencies, and community and faith-based groups across the country while gaining valuable, hands-on employment experience.
AmeriCorps members dedicate a year of service in exchange for a modest living stipend, educational award, and basic health benefits.
The Role of a Volunteer Coordinator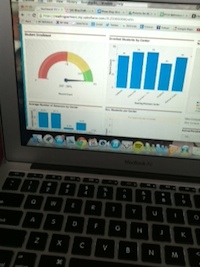 As a volunteer coordinator for Reading Partners, I am in charge of recruiting and on-boarding new tutors into our program. This involves lots of time spent on Salesforce, our source for tracking tutors and storing data. Let's just say I live, dream, and breathe Salesforce.
Aside from recruiting individual tutors, I also build and cultivate partnerships with community stakeholders. This could involve engaging college service-learning projects, or facilitating corporate volunteerism for special events or ongoing tutoring.
Last year I even got to work closely with the Office of Mayor Rawlings-Blake under her Third Grade Reads Initiative. We also had the opportunity to host Wendy Spencer, CEO of CNCS, and the mayors of Baltimore and San Francisco for a tutoring event at Cherry Hill Elementary.
As a senior AmeriCorps member, serving a second year of AmeriCorps, I have additional responsibilities including helping plan service events for the team (alongside my fellow senior member, Monica Moore!). This year we organized a service event that allowed Reading Partners' AmeriCorps and staff members to volunteer. We partnered with Moveable Feast and Our Daily Bread to deliver packaged meals to residents with illnesses and to cook meals for homeless individuals in the city of Baltimore.
Why I Serve
I decided to serve as an AmeriCorps member for Reading Partners because I believe literacy truly opens doors to opportunity. In every path of life, being a confident and strong reader is necessary for success.
Here are some of my favorite things about being an Volunteer Coordinator and AmeriCorps member with Reading Partners:
AmeriCorps has given me the opportunity to meet people who are equally dedicated to service as I am.
Reading Partners' AmeriCorps members are encouraged to do what we love, volunteer!
I love interacting with tutors and engaging people from different walks of life. Despite the different personalities, occupations, and motivations, ultimately everyone is tutoring because they want to help a child.
My favorite part of my AmeriCorps service has to be interacting with students and community members: Right now I tutor a smart and funny fifth grader named Demari! We're currently working on sequence of events.
I would, without a doubt, urge every young person to consider serving a year of AmeriCorps service. Whatever you're passionate about – find an AmeriCorps program and experience the joys of paying it forward.
There's nothing like putting words to action and like Ralph Waldo Emerson said: