November 8, 2021
Phillip M. Robinson, Jr. to leverage deep education experience to serve as first-ever chief impact officer for Reading Partners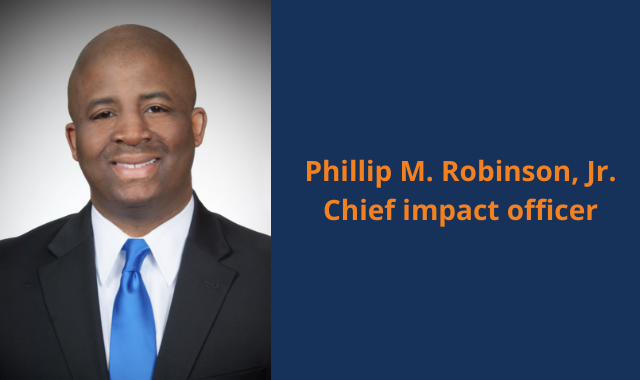 For Immediate Release
Contact:         
Michael Todd
National Senior Director of Marketing & Communications
(415) 225-9139 | michael.todd@readingpartners.org
Oakland, CA — November 8, 2021 
Phillip M Robinson, Jr. 
Phillip M. Robinson, Jr. is an experienced education leader with a proven track record within the private, public, and nonprofit sectors. In his new role as Chief Impact Officer with Reading Partners, Phillip will be in charge of all regional operations and he will oversee all community engagement and AmeriCorps team members. As Reading Partners embarks on its next phase of growth and development, Phillip will also play a key role in building and supporting external partnerships.
"On behalf of the executive team and our national board, I am so delighted that Phillip Robinson will be joining Reading Partners as our new Chief Impact Officer," said CEO, Adeola Whitney. "With deep expertise in executive director management and a demonstrated track record of creating programs and driving impact, Phillip has spent the majority of his career around the intersection of youth development and education, with a focus on supporting urban youth of color. He is a thoughtful and inclusive leader with a passion for race equity, diversity, and inclusion work, and we are thrilled he is bringing his talents to Reading Partners." 
Prior to joining Reading Partners, Phillip served as the Managing Director and Chief Operating Officer for Education Board Partners where he was responsible for operations, strategy development, and leading the team in developing and delivering programs. Before that, Phillip served as the Senior Vice President of Regional and Site Operations at City Year, Inc. where he oversaw all aspects of operations for 28 U.S. sites, more than 700 site staff, 3,000 AmeriCorps members, and a total budget of $168 million. Previously, Phillip served as a legislative aide on Capitol Hill and then as a marketing executive for two Fortune 500 companies. For more on his background, please visit readingpartners.org to read his full bio.
"Reading Partners is a world class, trusted organization whose mission and impact in the community I deeply admire," says Phillip. "I firmly believe that a child's zip code should not dictate their destiny. The key to helping students of all backgrounds unlock their potential and transform their lives is reading, the foundation for all future learning. The intersection between education and national service is constantly evolving, and I am excited to work alongside the entire Reading Partners team as we deliver further innovation and positively impact the lives of thousands of students and families across the nation. In these extraordinary times, I'm humbled by Reading Partners' dedicated and committed staff, AmeriCorps members and volunteers and the vital role we play in both education and youth development. I step into this role with great optimism for the future of Reading Partners."
A native of Cleveland, Ohio, Phillip currently serves as a state representative (House District 6) in the Ohio House of Representatives where he serves as the ranking member on the education committee. Phillip earned his Bachelor of Business Administration in Finance from The George Washington University and his Executive MBA from Case Western Reserve University. Also, he was a previous Pahara-Aspen Institute Next Gen Fellow, was named a 'Who to Watch in Education' in Cleveland, and was recognized as a Crain's Cleveland Business Forty Under 40 recipient.
To speak with Phillip M. Robinson, Jr. about this new executive role at Reading Partners, please contact Michael Todd at michael.todd@readingpartners.org.
A Reading Partners student works remotely with a volunteer tutor using the Reading Partners Connects program innovation (photo credit: Reading Partners)
###
About Reading Partners
For over 20 years, Reading Partners has helped empower students to succeed in reading and in life by engaging community volunteers to provide one-on-one tutoring. Since its founding, the national nonprofit organization has mobilized over 70,000 community volunteers to provide proven, individualized literacy tutoring to nearly 70,000 elementary school students in over 450 under-resourced schools across ten states and the District of Columbia. Visit readingpartners.org to learn more about our program impact and our Reading Partners Connects online program innovation, or connect with us on Facebook, LinkedIn, Twitter, and Instagram. Reading Partners is a proud AmeriCorps service partner and has been endorsed by the New York Times.