April 19, 2017
Q&A with Karine Apollon, Reading Partners CEO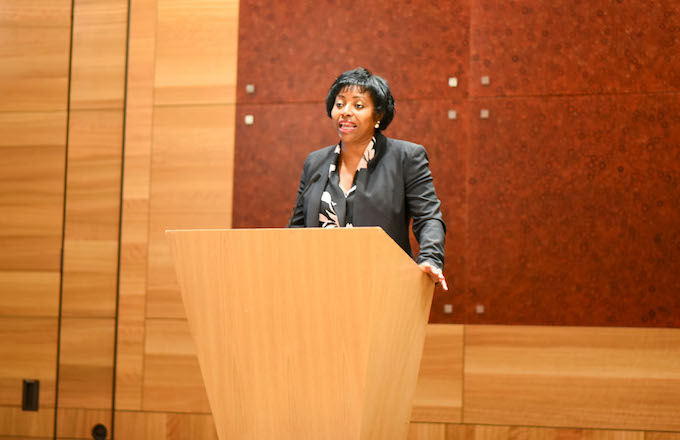 Karine Apollon joined Reading Partners in February after an accomplished career with Scholastic bringing literacy and hundreds of millions of books to young people. She chatted with us about her vision for the future of Reading Partners, her love of traveling, and the aspects of our program which motivate her every day.
What led you to education and literacy work?
My personal experience as a child growing up. My mom was very explicit about the importance of education. So there was great priority and focus on learning and literacy in my household. My mom is an immigrant from Haiti, and she saw education as the leading factor in leveling the playing field and providing us with great access to a better future and a better life.
What did you study in school? What were your early goals?
In college I studied business. I got a bachelor's in business administration with two majors, one in finance and one in international finance and marketing. Although I enjoyed marketing, I also love the science of numbers. From a business perspective, I always feel it's critical to have an understanding of the financial implications and details of a business, and I thought I would leverage that to help me in my marketing and business management.
What qualities of Reading Partners and our program drew you to the organization?
First, the idea of providing service to children with one-on-one tutoring and mentoring. Giving a child access to an adult or older student who can work with them one-on-one for an entire year and beyond is a key component of our program that I've not seen in many other nonprofit organizations I've worked with. The other component of Reading Partners which I think is really special is the partnerships we build working with the teachers and principals on a day-to-day basis. Bringing community volunteers into the classroom to work with students is a great way of opening up the door into public education to give visibility to tutors who might not otherwise have that experience.
What led you to make the switch to the nonprofit space?
In my career, one of my primary responsibilities with Scholastic was to build a business working with "non-traditional" customers. Many of my customers were school district staff, corporations, foundations, and nonprofit organizations. The idea was to build a framework around children that provided every caring adult an opportunity to be supportive in literacy development and education.
Through my experience working with nonprofits, I grew to love the work even more. I saw that if we could provide nonprofits with the opportunity to be supportive in literacy development and academic achievement outside of the school environment, that would be critical to student success. That experience opened my eyes to the opportunities and possibilities of working with a nonprofit as the primary focus of serving children and working with communities. I pursued this opportunity with Reading Partners because of the many great components of the program: working in the schools, partnering with schools and districts, engaging communities to service children, the one-on-one model. And I've seen that Reading Partners has a special way of connecting to families and communities through the child with their Take Reading Home component, as well as an opportunity for parents to come in and meet the tutors tutoring their children.
What top skills ​did you develop during your tenure at Scholastic Inc. that you think will translate well to Reading Partners?
My priority is working with children and working with communities to serve children, and that's always been part of my work with Scholastic. I also believe the experience I've received through working with schools, districts, and teachers will translate well since a lot of Reading Partners' focus is around partnering with schools and districts. During my tenure with Scholastic, I launched a Scholastic Family and Community Engagement business, so that experience of working with families, communities, and educators to support children is a perfect match with what Reading Partners is doing. I also think my understanding of literacy development and intervention through my work at Scholastic has helped prepare me to understand and value the work that we are trying to do at Reading Partners in support of children and moving them toward proficiency so they can be successful lifelong learners.
When you look at your career and accomplishments, what are you most proud of?
The opportunity I had through my work at Scholastic to serve so many children and organizations. During my tenure, I was able to distribute over 500 million books that went into the hands of children and into their homes. I'm proud of that because that provided great access and resources and equity to children that otherwise would not have had that opportunity. Having access to books helps children develop a love of reading and the skills for literacy development.
What is your vision for the future of Reading Partners?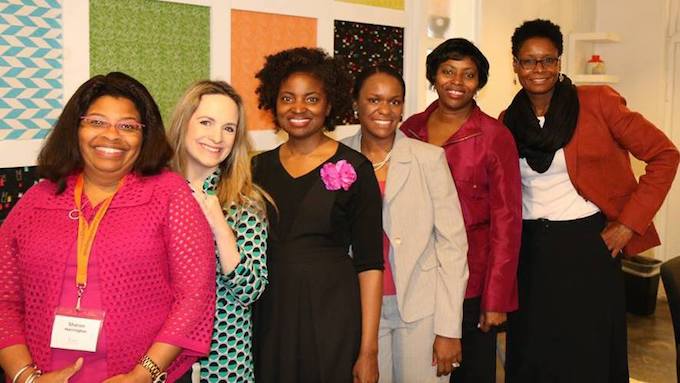 Karine second from right, with Reading Partners Charlotte team.
Reading Partners is a phenomenal organization that has done really great work. My vision is to continue to do the things that we do really well: things like our curriculum and our one-on-one tutoring model. We have the opportunity to ensure we're building toward success and building a sustainable program that we can expand to serve more children. There have been a lot of inquiries for us to come into different cities and states, and we want to make sure that as we think about future expansion, that we do it in an organized, structured way so we can hone in on our model and expand in a way that is beneficial to children, communities, and educators.
Are you planning to become a Reading Partners tutor?​ What do you find most compelling about working one-on-one with a student?
I do plan to become a Reading Partners tutor! I will probably be a substitute tutor because of my travel requirements. However, I think that's a great opportunity because it gives me different experiences with the communities we serve, and for me what's most compelling is developing a long-term relationship with a child so then you become more than a tutor—you become a mentor, creating a relationship to give that child the perspective that they're cared about by one additional person that's dedicated to them. Having the opportunity to sit with different children will also keep me close to our primary experience that we try to convey within Reading Partners.
What do you do in your time outside of work?
My favorite thing to do is be a mom. I have two sons that are older now, but spending time with them and being part of their lives is very important to me. I think it brings my entire career experience full circle, to realize the possibility that is available to every child is college and career and post-graduate work, and to see that the work that I do every day helps other children have the same opportunities as my boys have.

The other thing I love to do is travel, both in the US and internationally. I've traveled to just about every state in the United States through both work and personal travel. Now that my sons are older, I have more of an opportunity to travel both with and without them, so I take advantage of that as well.
What are your favorite children's books or books you loved reading to your sons?
Goodnight Moon and Where the Wild Things Are. One of my favorites as a young adult was I Know Why the Caged Bird Sings by Maya Angelou. As I was becoming a teenager and going through my rebellious years, I felt like I understood, even though the story really had no correlation to my life at all. I thought, Wow, she has such a tough life! I grew to love Dr. Maya Angelou as an author and read more of her books and was inspired on my personal literacy trajectory by her.
​Anything else you'd like to share?​
In my first seventy days at Reading Partners, I've met some wonderful people and experienced some wonderful Reading Partners classrooms. Through that experience, I've met children, tutors, literacy leads, site coordinators, executive directors and their entire regional staff, and the one thing I find really compelling and important across all my experiences is every Reading Partners staff member, AmeriCorps member, VISTA, and tutor is really focused on the work and loves the children and communities they serve. For me, that has been a wonderful experience that says we have something we're doing really well: getting the right people in front of children to support and serve them, and it is really our opportunity to do whatever we can to expand the work we're doing to serve more children because unfortunately there are so many children that need our services and support that currently aren't getting it. It motivates and provides me with great focus every time I go to a site and see how enthusiastic kids are about coming into the reading center. They come in skipping and happy and pick up their books. Every time I see that, I realize we as Reading Partners staff, and we as a community, have a responsibility to serve children.
My service will be through the Reading Partners model because it works and because I see how happy it makes children, and I know the results and outcomes. I'm motivated and committed to extending our reach so we can serve more children.