March 1, 2021
Read across the United States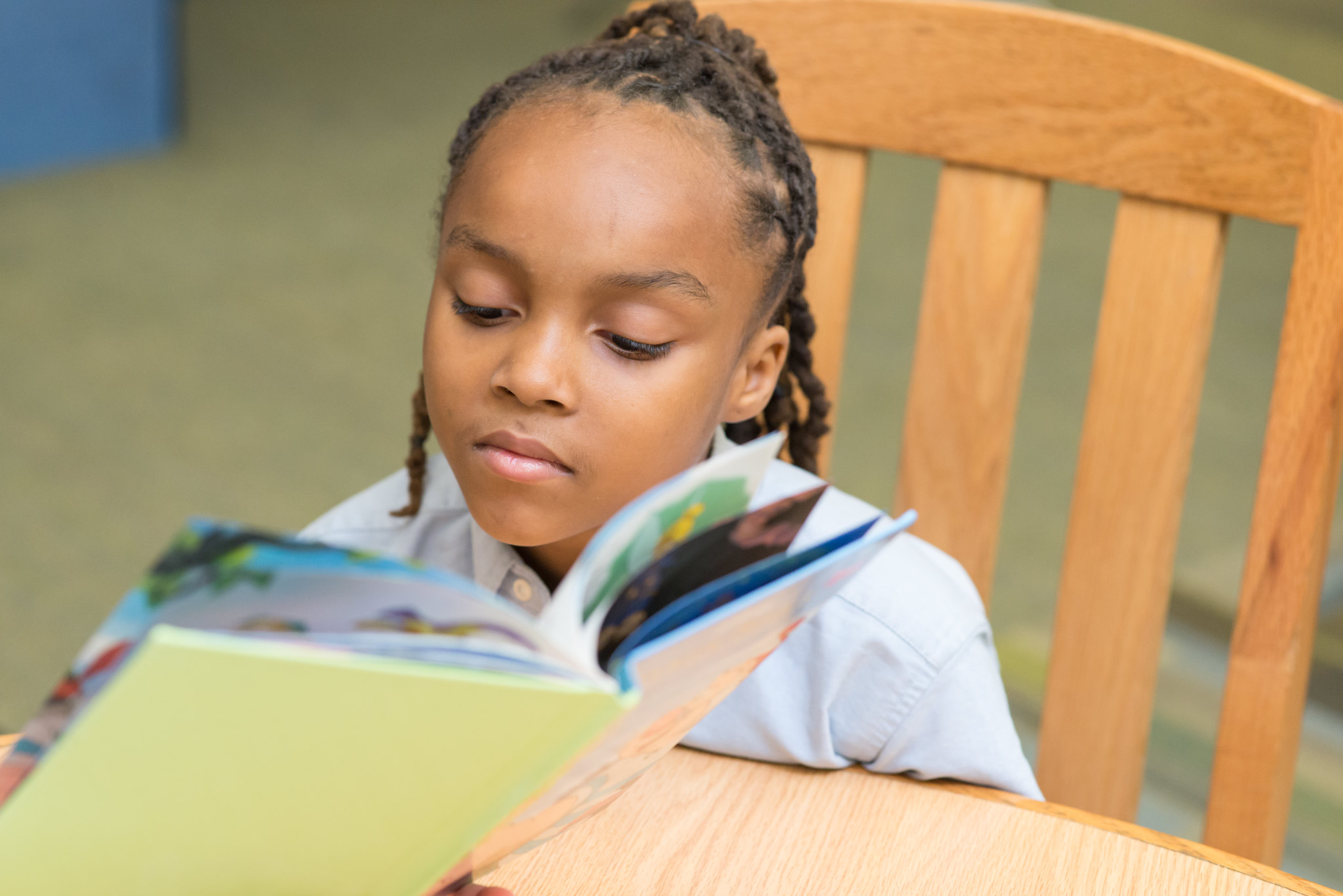 In honor of Read Across America Day, we invite you to Read across the United States with this list of the most popular children's books by state! Read Across America Day was launched in 1998 by the National Education Association (NEA), and is the nation's largest annual celebration of reading.
Each year, the NEA sets a theme for the day. This year, the call to action is to create a nation of diverse readers. Those who participate in Read Across America Day will aim to motivate children to read through events, partnerships, and reading resources that are inclusive of all identities. 
Reading has the potential to take the reader out of this world, and into one unlike anything they have ever seen. It's a known fact that each state across the country is vastly different from the next, so it only makes sense for the book choices to be different too. 
Our cross-country reading tour includes two books for each state: (1) the most popular book in the region and (2) one recommendation from Reading Partners. Let's start with the nine states plus the District of Columbia where Reading Partners is located.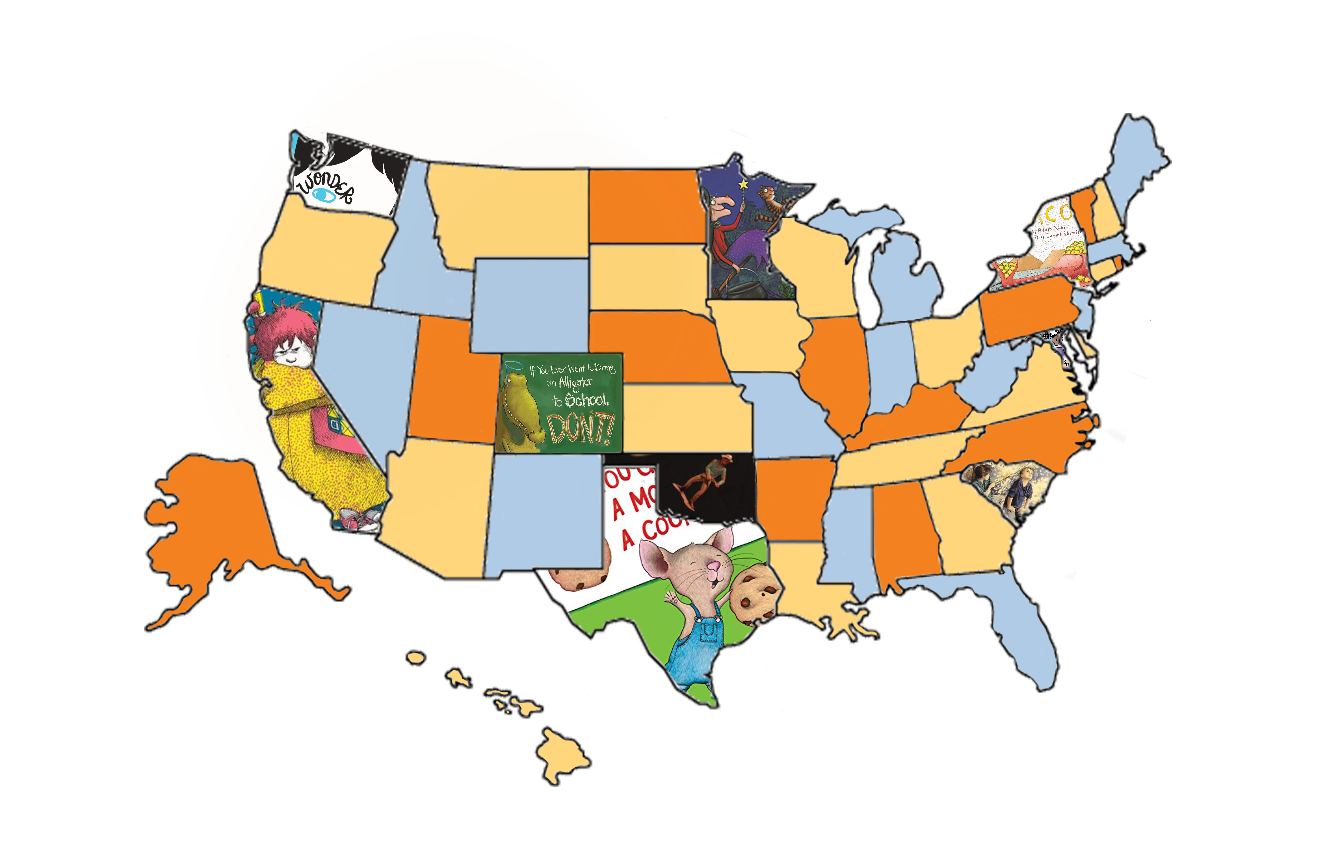 California: Alexander and the Terrible, Horrible, No Good, Very Bad Day by Judith Viorst
Reading Partners' recommendation: I Am Smart, I Am Blessed, I Can Do Anything! By Alissa Holder and Zulekha Holder-Young
Colorado: If You Ever Want to Bring an Alligator to School, Don't! By Elise Parsley 
Reading Partners' recommendation: Ambitious Girl by Meena Harris and Marissa Valdez
Maryland: If I Had a Raptor by George O'Connor 
Reading Partners' recommendation: Windows by Patrick Guest and Jonathan Bentley
Minnesota: Room on the Broom by Julia Donaldson and Axel Scheffler 
Reading Partners' recommendation: The Arabic Quilt: An Immigrant Story by Aya Khalil and Anait Semirdzhyan
New York: Dragons Love Tacos by Adam Rubin
Reading Partners' recommendation: Vamos! Let's Go Eat by Raul the Third 
Oklahoma: The Absolutely True Diary of a Part-Time Indian by Sheman Alexie
Reading Partners' recommendation: Finish the Fight: The Brave and Revolutionary Women Who Fought for the Right to Vote by Veronica Chambers 
South Carolina: Bridge to Terabithia by Katherine Peterson 
Reading Partners' recommendation: Black Women in Science: A Black History Book for Kids by Kimberly Brown Pellum
Texas: If You Give a Mouse a Cookie by Laura Numeroff
Reading Partners' recommendation: Loretta Little Looks Back: Three Voice Go Tell It by Andrea Davis Pinkney and Brian Pinkney 
Washington: Wonder by R.J. Palacio
Reading Partners' recommendation: Swashby by the Sea by Beth Ferry and Juana Martinez-Neal 
Washington, DC: Leo: A Ghost Story by Mac Barnett
Reading Partners' recommendation: I Am Everything Good by Derrick Barnes and Gordon C. James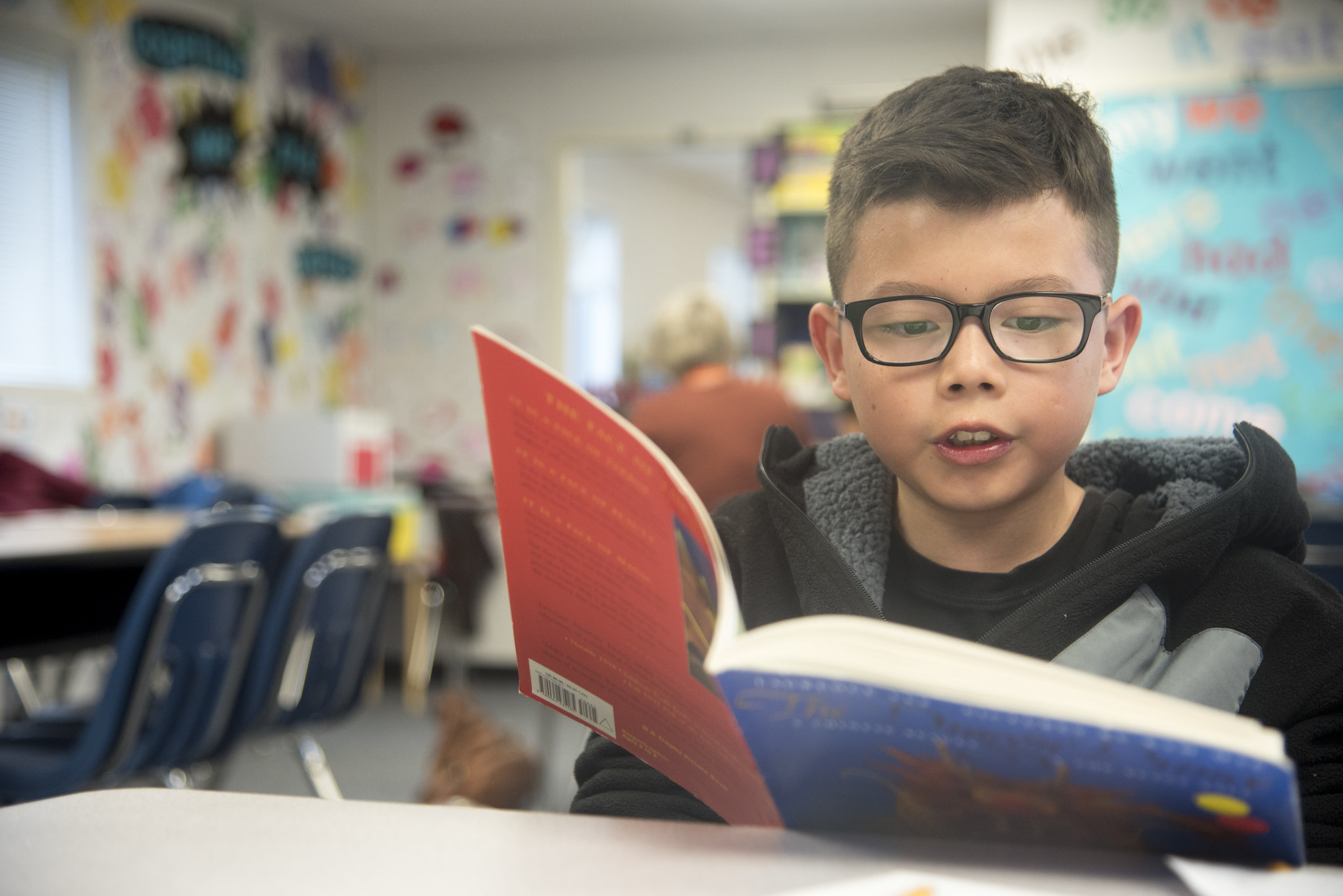 Here are the rest of the states' top books and a Reading Partners recommendation for each.
Alabama: Frog and Toad by Arnold Lobel 
Reading Partners' recommendation: Just Like Me by Vanessa Brantley-Newton 
Alaska: Eloise by Kay Thompson 
Reading Partners' recommendation: A Story About Afiya by James Berry and Anna Cunha
Arizona: Charlotte's Web by E.B. White 
Reading Partners' recommendation: We Are Water Protectors by Carole Lindstrom and Michaela Goade 
Arkansas: Rosie Revere, Engineer by Andrea Beaty 
Reading Partners' recommendation: I Am Enough by Grace Byers and Keturah A. Bobo
Connecticut: To Kill A Mockingbird by Harper Lee 
Reading Partners' recommendation: Mommy's Khimar by Jamilah Thompkins-Bigelow and Ebony Glenn
Delaware: Charlie and the Chocolate Factory by Roald Dahl
Reading Partners' recommendation: I Dream of Popo by Livia Blackburne and Julia Kuo
Florida: Harriet the Spy by Louise Fitzhugh 
Reading Partners' recommendation: Eyes That Kiss in the Corners by Joanna Ho and Dung Ho
Georgia: Home by Carson Ellis
Reading Partners' recommendation: The Name Jar by Yangsook Choi
Hawaii: The Day the Crayons Quit by Drew Daywalt 
Reading Partners' recommendation: Kamala and Maya's Big Idea by Meena Harris and Ana Ramirez Gonzalez
Idaho: The Wonderful Wizard of Oz by L. Frank Baum 
Reading Partners' recommendation: Just Ask! Be Different, Be Brave, Be You by Sonia Sotomayor and Rafael Lopez
Illinois: Llama Llama Red Pajama by Anna Dewdney 
Reading Partners' recommendation: 111 Trees: How One Village Celebrates the Birth of Every Girl by Rina Singh and Marianne Ferrer
Indiana: What Do You Do With An Idea? By Kobi Yamada 
Reading Partners' recommendation: Harlem Grown: How One Big Idea Transformed a Neighborhood by Tony Hillery and Jessie Hartland 
Iowa: Where the Wild Things Are by Maurice Sendak 
Reading Partners' recommendation: Hair Love by Matthew A. Cherry and Vashti Harrison 
Kansas: Ramony Quimby, Age 8 by Beverly Cleary 
Reading Partners' recommendation: The Day You Begin by Jacqueline Woodson and Rafael Lopez 
Kentucky: The Old Truck by Jarrett Pumphrey and Jerome Pumphrey 
Reading Partners' recommendation: All Because You Matter by Tami Charles and Bryan Collier 
Louisiana: Crown: An Ode to the Fresh Cut by Derrick Barnes and Gordon C. James 
Reading Partners' recommendation: Your Name Is a Song by Jamilah Thompkins-Bigelow 
Maine: Julian is a Mermaid by Jessica Love 
Reading Partners' recommendation: Where Are You From? By Yamile Saied Mendez and Jaime Kim 
Massachusetts: The Girl Who Loved Wild Horses by Paul Goble 
Reading Partners' recommendation: Pecan Pie Baby by Jacqueline Woodson and Sophie Blackall
Michigan: Hello Lighthouse by Sophie Blackall 
Reading Partners' recommendation: Fry Bread: A Native American Family Story by Kevin Noble Maillard and Juana Martinez-Neal
Mississippi: Tar Beach by Faith Ringgold 
Reading Partners' recommendation: Yasmin the Explore by Saadia Faruqi and Hatem Aly
Missouri: The Undefeated by Kwame Alexander and Kadir Nelson 
Reading Partners' recommendation: Sofia Valdez, Future Prez by Andrea Beaty and David Roberts 
Montana: Goodnight Moon by Margaret Wise Brown and Clement Hurd 
Reading Partners' recommendation: My Friends by Taro Gomi 
Nebraska: Freight Train by Donald Crews 
Reading Partners' recommendation: Mindy Kim and the Lunar New Year Parade by Lyla Lee and Dung Ho
Nevada: Good Dog, Carl by Alexandra Day 
Reading Partners' recommendation: Double Bass Blues by Andrea J. Loney and Rudy Gutierrez
New Hampshire: The Very Hungry Caterpillar by Eric Carle 
Reading Partners' recommendation: The Oldest Student by Rita Lorraine Hubbard and Oge Mora 
New Jersey: Go, Dog, Go! by P.D. Eastman 
Reading Partners' recommendation: Ready to Fly by Lea Lyon and Alexandria LaFaye
New Mexico: The Napping House by Audrey Wood and Don Wood 
Reading Partners' recommendation: Sadiq and the Green Thumbs by Siman Nuurali and Anjan Sarkar
North Carolina: Last Stop on Market Street by Matt De La Pena 
Reading Partners' recommendation: Señorita Mariposa by Mister G and Marcos Almada Rivero 
North Dakota: Story Boat by Kyo MacLear 
Reading Partners' recommendation: The Many Colors of Harpreet Singh by Supriya Kelkar and Alea Marley 
Ohio: Dreamers by Yuyi Morales 
Reading Partners' recommendation: Amy Wu and the Perfect Bao by Kat Zhang and Charlene Chua 
Oregon: Jabari Jumps by Gaia Cornwall 
Reading Partners' recommendation: Astro Girl by Ken Wilson-Max
Pennsylvania: The Rabbit Listened by Cori Doerrfeld 
Reading Partners' recommendation: My Cold Plum Lemon Pie Bluesy Mood by Tameka Fryer Brown and Shane Evans 
Rhode Island: Lilly's Purple Plastic Purse by Kevin Henkes 
Reading Partners' recommendation: All the Way to Havana by Margarita Engle and Mike Curato 
South Dakota: Front Desk by Kelly Yang 
Reading Partners' recommendation: Under My Hijab by Hena Khan and Aaliya Jaleel
Tennessee: A Chair for my Mother by Vera B. Williams 
Reading Partners' recommendation: I Am Perfectly Designed by Karamo Brown and Jason "Rachel" Brown 
Utah: Fry Bread by Kevin Noble Maillard 
Reading Partners' recommendation: Sulwe by Lupita Nyong'o and Vashti Harrison 
Vermont: Drawn Together by Minh Le
Reading Partners' recommendation: Under the Ramadan Moon by Sylvia Whitman and Sue Williams 
Virginia: A Different Pond by Bao Phi
Reading Partners' recommendation: The Proudest Blue by Ibtihaj Muhammad and S. K. Ali 
West Virginia: The Boxcar Children by Gertrude Chandler Warner 
Reading Partners' recommendation: Thank You, Omu! By Oge Mora 
Wisconsin: Stellaluna by Janell Cannon 
Reading Partners' recommendation: Drawn Together by Minh Le and Dan Santat 
Wyoming: Corduroy by Don Freeman 
Reading Partners' recommendation: Super Satya Saves the Day by Raakhee Mirchandani and Tim Palin 
Sources:
The Ultimate List of Children's Books Set in Each State 
Reading Through the States with Wrapped in Foil