December 16, 2013
Reading Partners CEO Named Stanford SEERS Fellow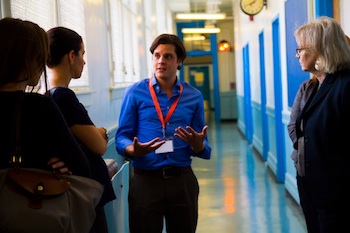 Reading Partners CEO Michael Lombardo will be heading back to the university classroom in January. He's been chosen to be an entrepreneur-in-residence in Stanford University's Program on Social Entrepreneurship.
The highly selective 10-week residency program connects social entrepreneurs with academics to document the impact of their work and build their institutional capacities. It also provides students the opportunity to learn about the emerging field of social entrepreneurship by working with practitioners inside the classroom.
Michael will join co-fellows Natalie Bridgeman Fields, founder of the Accountability Counsel, which works to defend the environmental and human rights of communities across the developing world; and Lateefah Simon, executive director of the Center for Young Women's Development, an organization working to support the needs of low-income young women in San Francisco.