January 5, 2023
Reading Partners in search of 6,000 volunteers to support the literacy growth of nearly 4,000 additional students this year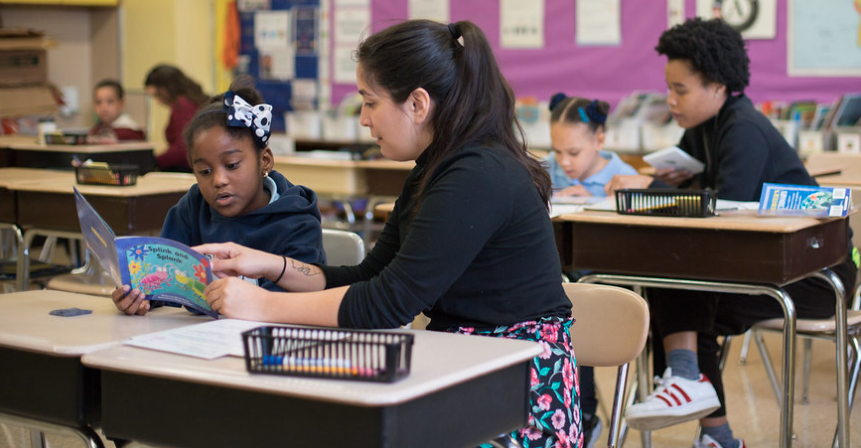 Volunteer tutors work one-on-one with Reading Partners students in reading centers across the country
For Immediate Release
Contact:
Michael Todd
Reading Partners
National senior director of marketing & communications
(415) 225-9139 | michael.todd@readingpartners.org
National Mentoring Month is the perfect time to begin making a meaningful difference in a young person's life
(OAKLAND, Calif.) January 5, 2022 — The new year offers a chance for positive change and an opportunity for thousands of students enrolled in Reading Partners programs to take the next step toward gaining the literacy skills and confidence that will help empower their academic and civic lives. However, there is currently a severe shortage of volunteers to help them on their journeys.
Reading Partners is highlighting National Mentoring Month to place an urgent call for volunteer tutors to help students learn to read. Volunteers follow an easy-to-use, evidence-based curriculum and absolutely no teaching experience is necessary.
"Over the past 20-plus years, we've seen that volunteer tutors and students often form strong bonds that can translate into strong reading growth for students," Reading Partners CEO Adeola Whitney said. "If you knew that spending one hour per week working with a child could help positively impact their reading trajectory, would you do it? At Reading Partners we want to ensure that every student has the opportunity to develop foundational reading skills that will last a lifetime."
There are more than 4,000 volunteers actively tutoring Reading Partners students either in person or online. However there is a need for 6,000 additional volunteers on a national level in order for Reading Partners to deliver essential literacy tutoring to all of the students who have been referred by their teachers to the program.
"By engaging additional volunteers in our work, we can affect sustainable change in schools that have faced opportunity gaps that have been driven by economic and systemic disadvantages experienced by many of their students," Whitney said. "Reading is foundational. The ability to read transforms lives and empowers children and communities to thrive. We also consistently hear that our volunteer tutors feel that they get as much out of participating in the program as students do."
###
About Reading Partners
For over 20 years, Reading Partners has helped empower students to succeed in school and beyond by engaging community volunteers to provide proven, one-on-one literacy tutoring. Since its founding, the national nonprofit organization has mobilized over 75,000 community volunteers to provide more than 2.5 million individualized literacy tutoring sessions to more than 70,000 elementary school students in nearly 470 under-resourced schools across ten states and the District of Columbia. Visit readingpartners.org to learn more about our program impact and our Reading Partners Connects online program innovation, or connect with us on Facebook, LinkedIn, Twitter, and Instagram. Reading Partners is a proud AmeriCorps service partner and has been featured on Good Morning America and endorsed by The New York Times.