May 6, 2021
Reading Partners and Panda Express honor the power of storytelling and cultural tradition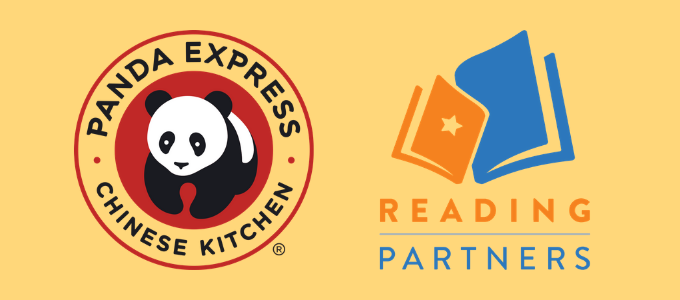 As we celebrate Asian American Pacific Islander (AAPI) Heritage Month this May, we are proud to share our partnership with Panda Express. Led by co-founders and co-CEOs, Andrew and Peggy Cherng, Panda Express has become the largest Asian American restaurant concept in the United States. When the Cherngs immigrated to America, they were on a mission to build a better life for themselves and their family. Starting from a single restaurant in 1973, with hard work and sacrifice, the Cherngs have grown their business to 2,200 stores nationwide and their family with over 40,000 associates. 
From the start, it was important to them that they build the business with a culture of giving and a mission of inspiring better lives, they believe that when we help lift up the lives of others, we all succeed. The Cherngs are deeply committed to giving back to their communities and have donated more than $247 million to nonprofit organizations, schools, and children's hospitals. 
Giving is one of Panda Express's core values, and since 2018, Panda Cares, the philanthropic arm of Panda Restaurant Group, has supported Reading Partners' mission and engaged its associates in volunteering to improve student outcomes. Made possible by the fundraising efforts of Panda associates in stores and the generosity of its guests, Panda has committed $4 million to Reading Partners' programs to provide students with literacy tutoring.
Both Reading Partners and Panda Express share a commitment to racial equity, diversity, and inclusion. We are excited to partner together to support diverse communities across the country. We also share a commitment to the power of storytelling. Storytelling is a powerful tool to spread cultural awareness and love while fighting hate and injustice. Storytelling can take place through the stories of food and culture, and through the words on a page that make new worlds come alive in our minds and hearts. What better way to celebrate culture than by enjoying a meal together and sharing the stories of our families and communities?
In celebration of Asian American and Pacific Islander Heritage Month, Panda Express and Reading Partners invite you to share the stories of our AAPI communities by exploring an exclusive curated book list and the free educational resources available as part of the Panda Cub Club, a hub of free activities for kids to learn, explore, and play. We are grateful for the rich culture and contributions of the AAPI community and for the impact of Panda Express on our collective story at Reading Partners.