May 17, 2017
Reading Partners Tulsa wins Oklahoma Nonprofit Excellence Award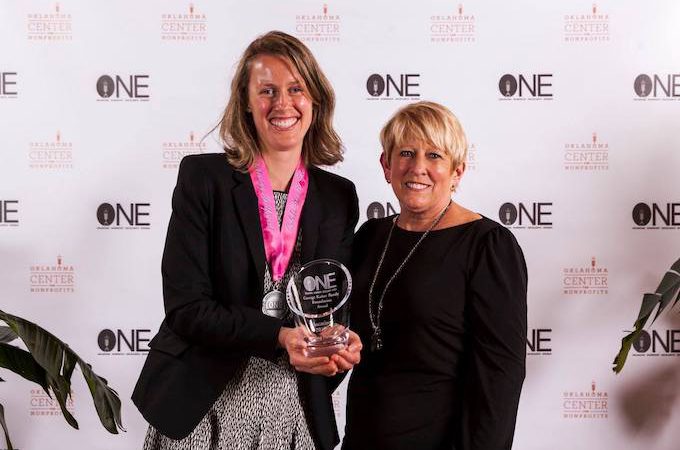 The Oklahoma Center for Nonprofits held its tenth annual Oklahoma Nonprofit Excellence (ONE) Awards on April 29, 2017 in Tulsa, honoring nonprofits from across the state for outstanding work encompassing community, arts and humanities, health services, self-sufficiency, seniors, and youth services. The ONE Awards Selection Commission, a group of prominent community leaders from Oklahoma, determines the finalists for the ONE Awards. They select organizations with superior leadership delivering exceptional service to diverse populations.
Reading Partners Tulsa was one of three nonprofits nominated in the education category, an extraordinary honor since the ONE Awards seldom recognizes a select region of a national non-profit. The work Reading Partners Tulsa is doing was significant enough to be among three other nonprofits, The Payne Education Center and The Foundation for Oklahoma City Public Schools, both admirable organizations doing serious good for Oklahoma students.
Before nominees were announced, a video showcase displayed the inspiring work of each nonprofit, from The Tristesse Grief Center, which offers grief counseling to the bereaved, to Heartline, which focuses on suicide prevention and mental health education. Then, it was announced that Reading Partners Tulsa had won the George Kaiser Family Foundation Award for Education! Reading Partners Tulsa executive director, Elizabeth Vereeke, received the award at the ceremony and says, 
The proudest moment for me was when the audience clapped as the Reading Partners video showed that volunteers gave 39,000+ hours last year to serve students!
Out of the entire state of Oklahoma, only three education nonprofits are nominated each year, so being chosen as a finalist is a significant achievement. Winning the award is an incredible honor for Reading Partners Tulsa, now one of only ten other education nonprofits who have won this award.
The award celebrates our volunteers and their big impact on Tulsa students. Thank you to all of our reading partners who are doing the important work of showing up at our reading centers and serving kids who need it most.