October 22, 2013
Reading Partners Washington, DC Named "One of the Best"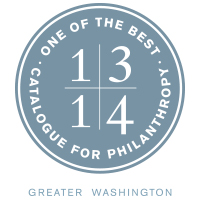 I have a deep love and appreciation for words. I must say that the following 11 words made me happier than most that I read: "one of the best small charities in the Washington, DC Region." That's how the prestigious Catalogue for Philanthropy described Reading Partners Washington, DC upon our selection to be featured in the 2013-14 Catalogue.
Reading Partners was one of 74 charities selected for the 11th annual Catalogue for Philanthropy, which has raised more than $21 million for featured nonprofits since 2003. The Catalogue's vetting process is rigorous: members of a 120-person review team, made up of foundations, corporations, peer nonprofits, and the philanthropic advisory community, evaluate charities on the basis of program impact and fiscal soundness and each featured charity is visited on-site by at least one member of the review team.
"Donors know they can trust the Catalogue to help them make smart decisions about local nonprofits where their contributions will really make a difference," notes Catalogue President Barbara Harman. "The Washington, DC region ranks third in wealth disparity in the nation – having one of the most affluent (and well-educated) populations in the country, and also one of the poorest.  We are in a unique position to help our neighbors by connecting donors and volunteers to worthy, local nonprofits working to strengthen the D.C. region. The Catalogue makes it easy to learn about community needs and to help meet them."
I want to personally thank each of you for your support and commitment to the Reading Partners program. Because of you, last year 99% of students in the Reading Partners program increased their rate of learning, and 90% narrowed their achievement gap to their peers. This impact on the lives of children in our communities is the reason behind our recognition from the Catalogue for Philanthropy.
This year, we are working in 11 elementary schools across Washington, DC, and are on track to reach 600 students with our highly effective program. If you or a family member or friend is interested in becoming a Reading Partner, please sign up today!