July 18, 2013
School's out, but Reading Partners' Summer Session is In!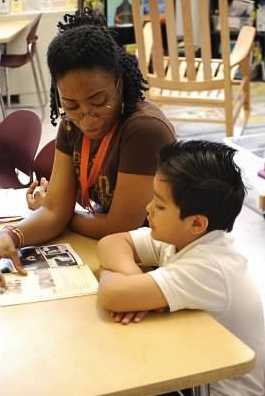 A question we often hear from volunteers, teachers, and principals alike is: "Do you continue tutoring over the summer?" Well, for the first time in New York, the answer is yes, we do!
This summer, Reading Partners is excited to pilot programming at PS 188 on the Lower East Side. Thirty students are participating in the program, which began on July 9, and will continue until August 6.
These hard-working students are receiving Reading Partners' signature one-on-one tutoring three times a week, as well as enjoying a fun place to go to explore a good book in the hot weather. We are lucky to have both returning and new volunteers tutoring with us for the summer session, and we are excited to see whether this is a tradition we can continue for summers to come.