September 10, 2020
5 female Seattle authors slaying the literary game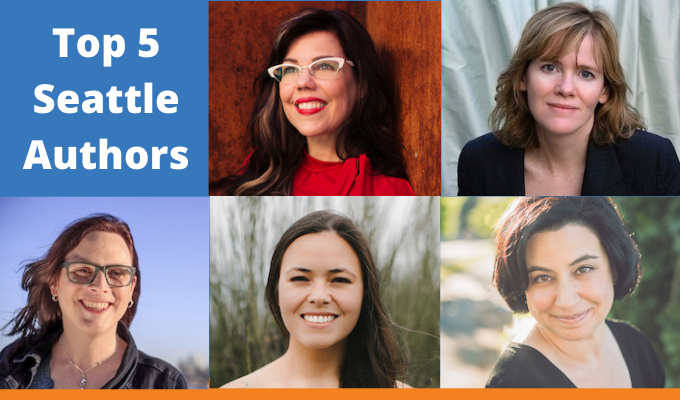 Contributed by Nemanja Demic of the Reading Partners Seattle team
When you think "Seattle," what are some of the things that come to mind? You might be thinking: Microsoft, Amazon, Boeing, Starbucks, and Reading Partners Seattle (of course). You're not wrong, all of those are staples of Seattle culture. However, the Emerald City has so much more to offer! Seattle is home to many up-and-coming authors, as well as a few staples of the literary world. 
Check out these 5 Seattle authors who are slaying the literary game.
Each author on this list has added a new dimension to the literary world, whether for children, teens, young adults, or all of the above. They are ensuring Seattle is known for more than just technology and coffee, but for books that bring joy, revelations, and an insight into unique and special worlds.
Maria Semple is the author of Today Will be Different, Where'd You Go Bernadette, and This One is Mine. Semple spent much of her life moving between states and countries. She spent her childhood in Europe, Los Angeles, and Connecticut before finding herself in Seattle. A difficult transition to Seattle-living resulted in her critically acclaimed 2012 novel, Where'd You go, Bernadette? Semple can often be found in Hugo House, a writing common in the Capitol Hill neighborhood, either coming together or falling apart.
Laurie Frankel is not only an author, but a powerhouse of literary genius. Her 2017 novel This Is How It Always Is not only takes you on a beautiful journey, but allows the reader a glimpse into a special, family dynamic when the youngest of 5 boys, Claude, announces she wants to be Poppy. Frankel has been named one of the 50 most influential women in Seattle. When she is not writing incredible literature, Frankel is serving Seattle 7 Writers, a group of writers in the Pacific Northwest working to promote literacy in our communities.
Dana Claire Simpson is a Washington native, and California transplant, who stole the limelight with her internet comic strip Ozzy and Millie. In 2009, Simpson won the Comic Strip Superstar contest, and went on to create her next hit comic series, Phoebe and her Unicorn. Since then, Phoebe and her Unicorn have developed into eight separate series, and Ozzy and Millie got a book. Although Simpson now lives in California, Washington still claims her as one of our own.
Christine Day is best known for her American Indian Youth Literature Award Honor Book, This Promise I Can Make. This is the tale of a pre-teen looking for her Native American heritage, knowing that the white couple that adopted her mother would not be much help. Day's writing is fresh, relatable, and a thrilling adventure for readers of all ages. Day has proudly called Seattle home since she was a child, and continues to live just north of the city.
Martha Brockenbrough wears many hats as the proud author of both adult non-fiction literature and children's picture books. Outside of writing books, Brockenbrough once served as the editor for MSN.com,  wrote for The New York Times, and is a humor columnist for Encarta. Brockenbrough lives in Seattle, drinks a lot of coffee (as any Seattleite should), and plays in her family band!