April 25, 2016
Senator Lankford and Superintendent Gist visit Reading Partners Tulsa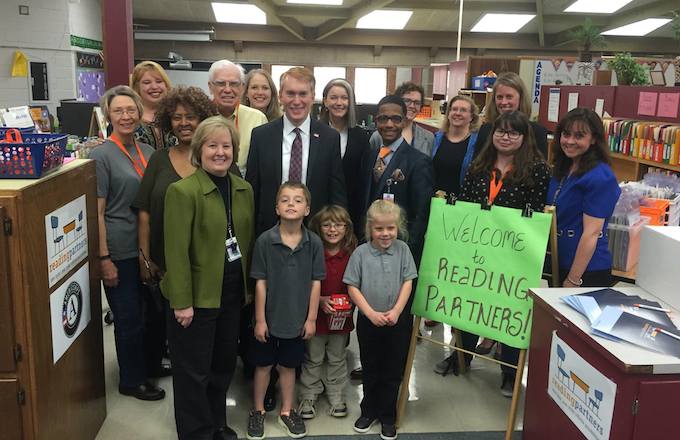 Reading Partners students and volunteers at Park Elementary School were in for a surprise celebrity spotting, when US Senator Lankford and Tulsa Public Schools District Superintendent, Dr. Deborah Gist, stopped by to visit the school's reading center. Superintendent Gist and Senator Lankford toured the reading center, along with several other educational programs in the area, to learn more about early education initiatives that are working in the Tulsa community.
In Oklahoma, four out of five students from low-income families are not reading proficiently and over half of Tulsa Public School's third graders scored below proficient in reading according to the Oklahoma Core Curriculum Test. Reading Partners Tulsa offers a low-cost reading intervention that is proven to work, and has caught the attention of policymakers throughout the state.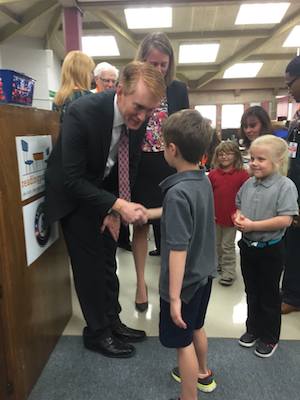 Senator Lankford was particularly interested in touring a Reading Partners site and traveled from the state capitol in Oklahoma City to see the program in action. Reading Partners' extensive work in schools throughout Tulsa have had tremendous outcomes on improving students' reading proficiency. During the 2015-16 program year, Reading Partners Tulsa students on average tripled their rate of learning while enrolled in the program!
While in the reading center, Senator Lankford had the opportunity to see, first hand, how the Reading Partners program works. And how a structured curriculum, one-on-one relationship with a volunteer tutor, and support from a full-time site coordinator contributes to increased reading proficiency for Tulsa students who are reading below grade level.
"We were happy to welcome Senator Lankford to Reading Partners and excited that he wanted to learn more about the program as a result of the outcomes we, Tulsa Public School, and our volunteers have been able to produce for our students," said Elizabeth Vereecke, Reading Partners Tulsa executive director.
We're always grateful when our legislators can make time to see firsthand the value our program brings to the Tulsa community, and most importantly the students we serve.
After spending time asking students, volunteers, and AmeriCorps members about their experience with the program, and seeing the great work being done in Tulsa, Lankford's excitement for the Reading Partners program grew even stronger.