November 18, 2020
Passion for service: This AmeriCorps alum will continue dedicating her life to others during her Segal Fellowship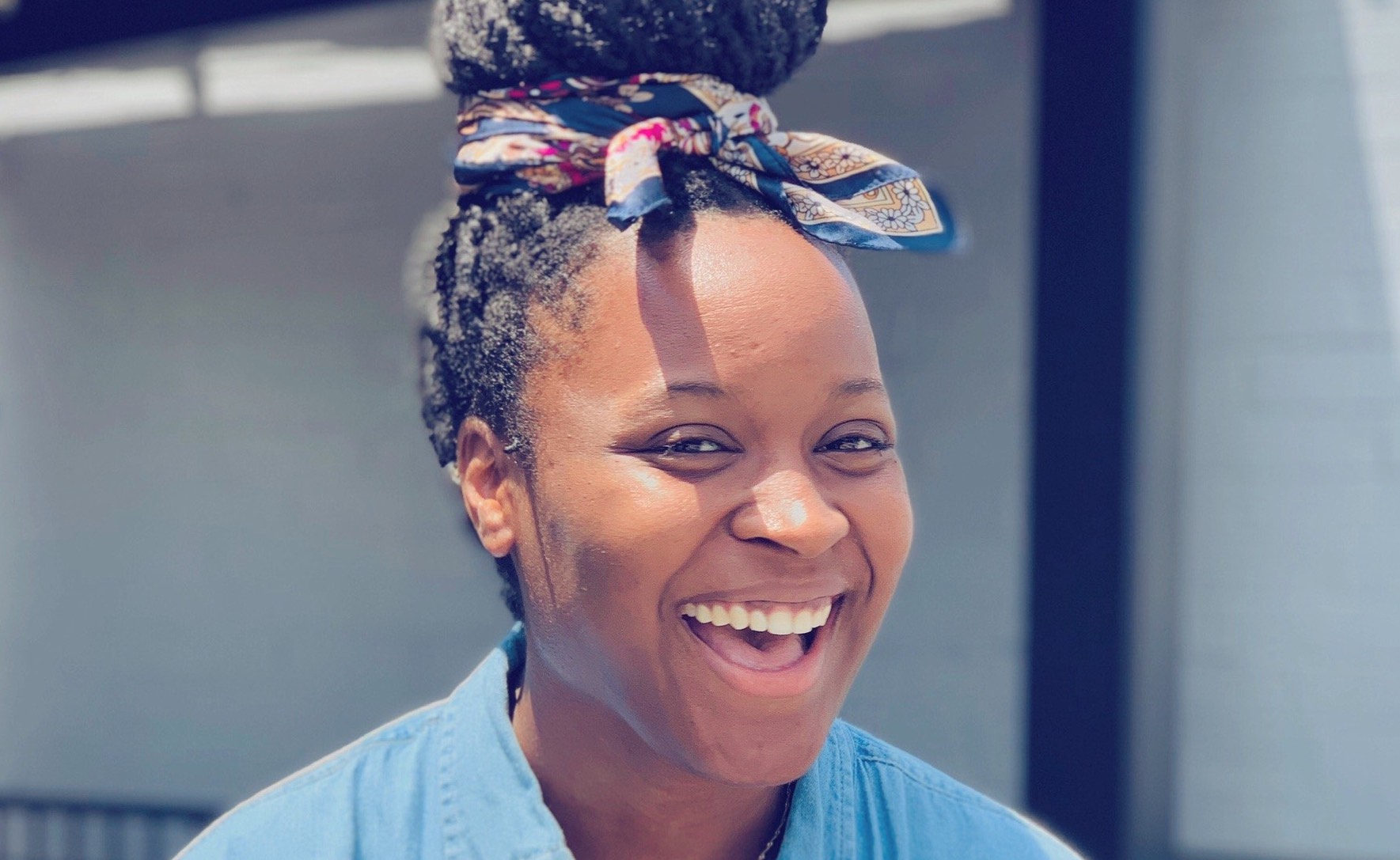 This year, Reading Partners AmeriCorps Alumna Robyn Pratt was recognized as a Service Year Alliance Segal Fellow. Robyn served with Reading Partners on our Los Angeles community engagement team in 2017 and is currently the Training and Events Manager at FoodCorps, a national nonprofit that works with communities to connect kids to healthy food in school. I recently sat down with her, following Service Year Alliance's announcement, to learn more about what led her to apply to the Eli J. & Phyllis N. Segal Citizen Leadership Program and how service has impacted her life.
What does service mean to you?
"I've been thinking about that quite a bit and thinking about this word: "ubuntu." It comes from the Zulu phrase that means, 'I am because you are.' When I think about service, I think about that idea of ubuntu, or that idea of community. If you have a need, then I have a need. And if your needs are met, then my needs are met. When I serve other people, I'm serving myself. When I give time or resources or energy, I'm giving that back to myself since 'I am because you are.' Service means giving to my community, giving to myself, [and] practicing ubuntu for my community."
Congratulations on becoming a Segal Fellow! What motivated you to apply to be a fellow? What are you most excited about?
"I was in Oregon, and I just recently moved back to my hometown in Virginia where I was raised. After finishing service, I started to think of ways I could stay connected to AmeriCorps members and begin serving within my community. I've done it in Georgia, I've done it in Oregon, I've done it in California, but I haven't done it in Virginia. Luckily, the answer came one day in the form of an email inviting me to be a Segal Fellow. The Segal fellowship offered me the opportunity to be connected with other AmeriCorps alums that are still doing amazing service work throughout the country."
How do you feel service has impacted the trajectory of your life?
"My mom is the person who instilled this love of service within me. As a kid, she would always remind me that because you are blessed, you can bless other people. No matter what was going on with her, she would always find those spaces to give back and shared this love in all areas. 
I grew up in Virginia for much of my life and serving with Reading Partners gave me an opportunity to go to California and expand my mind, challenge ideas, and explore the true meaning of equity and diversity. 
Growing up, reading was a challenge for me. An interesting thing about my service term is that teaching kids to read brushed me up on those literary skills and reminded me that I was once in their shoes. Being away from home during my service term also ignited my desire to learn. I wanted to learn about healing for the Black community and explore how Black people have healed in the past. I wanted to know about trauma and how we have transformed that trauma into celebration. I wanted to know that for myself and continue to bring those learnings of collective healing and love into my life and future." 
What was your favorite memory from serving as a Community Engagement AmeriCorps member for Reading Partners?
"I remember I worked with one little girl, English wasn't her first language, and she was having a hard time. I just remember very vividly – and I'm almost getting emotional – but just seeing her hit those breakthroughs with her sight words. She worked so, so hard for them. And we grew so close. I don't speak Spanish, but I always remember I could tell when she was letting her guard down because she would speak to me in Spanish. She knew I didn't understand, but she felt comfortable and safe enough to be able to speak to me in the language that she felt most herself. 
I used to use the word 'empower' a lot, and when you look that word up, it means 'to give power.' But what I've come to realize is that it's not about giving power to students; it's about showing them that that power already exists within themselves. During my service year, they inspired me through their willingness to learn and reminded me that everything that we need is already within us."
In what ways did your service at Reading Partners and subsequent opportunities prepare you for your current role at FoodCorps?
"As a Community Engagement member I learned that when sharing about the work that you're doing within a nonprofit, don't come to people with a scarcity mindset; the 'we need you' script. We do need you but you also need us, because we are in community together. This small shift reshaped how I interacted with our stakeholders and how I showed up for our students. It reminded me of one of my favorite quotes by Lilla Watson, "If you have come here to help me, you are wasting your time. But if you have come because your liberation is bound up with mine, then let us work together." This is a constant reminder that still guides how I approach community engagement at FoodCorps and beyond. 
Could you tell me more about your current role and how you center equity in your work?
As Training and Events Manager for FoodCorps, I work to create brave spaces for learning by listening to the needs of service members, developing interactive agendas, and providing opportunities for professional development. As a Black staff member with FoodCorps, I saw that we were starting a BIMPOC (Black, Indigenous, multiracial, people of color) group and knew that I wanted to be a part of creating designated spaces for Black and brown folks. In collaboration with FoodCorps BIMPOC staff members, we work together to create these healing spaces.
What are your dreams for the future?
"I truly, truly want to become a doula for the Black community. The fact that black women are three times more likely to die when giving birth is unacceptable. I believe that through the wisdom, support, and advocacy of a doula and many others, lives can and will be saved (both mother and child). We are operating within a racist system; Black parents being ignored, not believed, and dying are symptoms of racism. I want to be a part of the cure. Whatever that looks like, I want to do it."   
Your email signature really struck me as a perfect fit for where we are now – culturally, politically, everything. What about this quote spoke to you?
"In any given moment we have two options: to step forward into growth or to step back into safety." – Abraham Maslow
"I have an intention word every year, and my word for the next 12 months is 'transformation.' When I think of growth I think of being transformed. It sounds scary and it takes a certain level of faith to do what's never been done, but the results are well worth it. When you transform, you can't go back. A butterfly can't go back to being a caterpillar once it's transformed. That's it. That's all. You're a butterfly now."