April 16, 2020
Storyline Online offers a library of celebrity read alouds for kids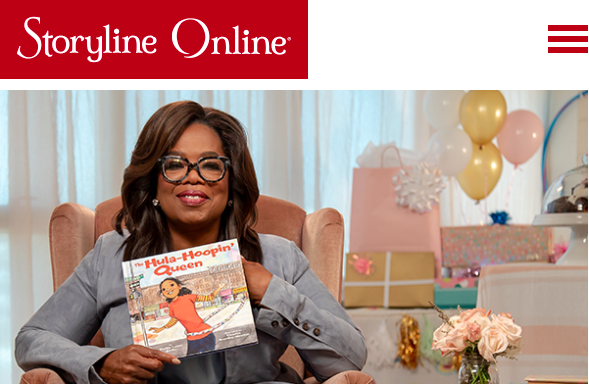 Photo credit: Storyline Online 
As shelter-in-place orders persist throughout the country, parents and caregivers are on the hunt for fun, educational activities for their elementary-aged children. 
Enter Storyline Online: a program by the Screen Actors Guild – American Federation of Television and Radio Artists Foundation (SAG-AFTRA Foundation). This award-winning literacy program features an ever-growing video collection of renowned celebrities reading aloud their favorite children's books. As the stars tap into their voice-acting skills, the illustrations on the book's page come to life, and at the end, the actors explain what they love most about the story. 
There are tons of videos to choose from, so our program team curated a list of the best books for each grade level. Make sure you check out Chris Pine reading Clark the Shark, Rami Malek reading The Empty Pot, and Oprah Winfrey reading The Hula-Hoopin'. Enjoy!
Jump to our favorite grade-appropriate read alouds:
Kindergarten
Guji, Guji by Chih-Yuan Chen (read by Robert Guillaume)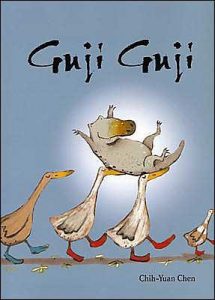 Guji Guji, a crocodile adopted by a family of ducks, learns about identity, loyalty, and the true meaning of family in this heartwarming story.
Chester's Way by Kevin Henkes (read by Vanessa Marano & Katie Leclerc)
Chester and Wilson were two peas in a pod, but when Lily moves into the neighborhood, the pair learn about making new friends and embracing change. 
Mice Twice by Joseph Low (read by Ty Burrell)
Cat is hungry and wants to eat Mouse for dinner, but Mouse has some exciting and funny tricks up his sleeve to avoid being on the menu.  
Clark the Shark by Bruce Hale (read by Chris Pine)
A shark loves playing with his underwater friends, but sometimes he can be a little too rough. Clark learns about when he needs to tone down his play and when he can be his full enthusiastic self. 
Library Lion by Michelle Knudsen (read by Mindy Sterling)
Miss Merriweather, head librarian of the local library, has a new patron: a lion. One day, he breaks one of the most important library rules to help someone in trouble. This story teaches readers about doing the right thing. 
First grade
A Tale of Two Beasts by Fiona Roberson (read by Sarah Silverman)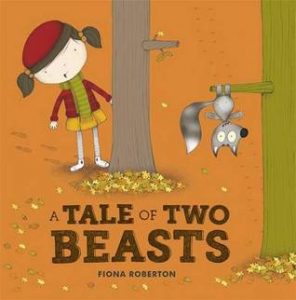 In part one of this story, a little girl finds a beast in the woods and takes it home as her new pet. In part two, the plot is the same, but the perspective changes: the beast tells of how a little girl kidnaps him and takes him from his home. This book explores differences in perspectives and how there are two sides to every story. 
The Empty Pot by Demi (read by Rami Malek)
The Chinese emperor decides he will choose an heir based on which child can grow the best flowers. When Ping's pot is the only one that remains empty throughout the competition, he learns about the true value of honesty. 
Wilfred Gordon McDonald Partridge by Mem Fox (read by Bradley Whitford)
Wilfred lives next to a nursing home and his best friend is 96-year-old Miss Nancy. When he learns that she has lost her memory, he embarks on a journey to help her "find" it, even though he isn't quite sure of what a memory actually is. 
Strega Nona by Tomie dePaola (read by Mary Steenburgen)
Strega Nona is the owner of a magical, always-full pasta pot. One day, she leaves Big Anthony in charge, and he accidentally creates a huge blob of pasta that threatens the town. Luckily, Strega Nona comes to the rescue. 
Stellaluna by Janell Cannon (read by Pamela Reed)
This award-winning story is about a bat who must fend for herself after she loses track of her mother. When Stellaluna joins a bird family, she adapts to the lives of a different type of flying creature. But after reuniting with her bat family, she learns about the true ways of her kind. 
Second grade
No Mirrors in my Nana's House by Ysaye M. Barnwell (read by Tia and Tamera Mowry)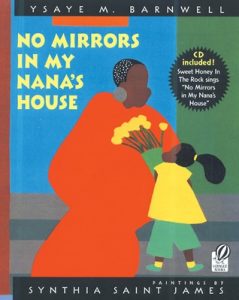 In a house with no mirrors, a little girl finds love in her Nana's eyes. This inspiring story reveals that we don't need mirrors to see inner and outer beauty. 
The Hula Hoopin Queen by Thelma Godin (read by Oprah Winfrey)
Kameeka is stuck inside preparing for her neighbor Miz Adeline's birthday party, but she wishes she could be preparing for the big hula hooping competition. When she accidentally ruins the cake she was baking, Miz Adeline reveals that she also loves to hula hoop. The partygoers take to the streets in this inspiring story about owning up to your mistakes and the power of community. 
Lotus and Feather by Ji-li Jiang (read by Michelle Yeoh)
Lotus, a little girl getting over an illness, and Feather, a crane recovering from a hunter's bullet, help nurse each other back to health. One day, their village floods, and Lotus and Feather save the day. 
A Bad Case of the Stripes by David Shannon (read by Sean Astin)
Camilla Cream loves to eat lima beans, but she's too worried about what other people think to eat them at school. In fact, she's so worried that she contracts a bad case of stripes. This story explains what can happen if you give in to peer pressure. 
To Be A Drum by Evelyn Coleman (read by James Earl Jones)
Daddy Wes tells his children Mat and Martha about the importance of the drum in African culture. He explains that the drum served as a heartbeat to many important historical events such as slavery and the civil rights movement. 
Third grade
As Fast As Words Could Fly by Pamela M. Tuck (read by Dulé Hill)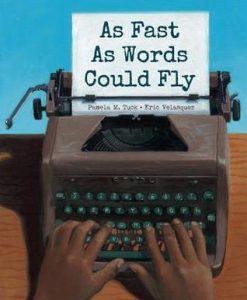 Mason's dad gives him a typewriter and he masters all the keys. When he finds out he is going to attend a formerly all-white school, Mason is nervous but figures out how to use his typing skills to persevere and win the county typing tournament.
The House That Jane Built by Tanya Lee Stone (read by Kiernan Shipka)
This is the true story of the first woman to win a Nobel Peace Prize. Jane Addams transformed her Chicago community by turning her house into a community center. 
White Socks Only by Evelyn Coleman (read by Amber Rose Tamblyn)
One day, a little girl in Mississippi snuck into town on a hot summer day. She realized she was thirsty and went to a water fountain with a"Whites Only" sign on it. So, she took her shoes off to show her clean white socks and stepped up for a sip of water. 
Knots on a Counting Rope by Bill Martin Jr. and John Archinbald (read by Bonnie Bartlett & William Daniels)
In this story, a boy must face some of life's greatest challenges: blindness and losing his grandfather. The counting rope serves as a symbol of time and the boy's emerging confidence. 
How I Learned Geography by Uri Shulevitz (read by Ed O'Neill)
In a time of war and poverty, a child is mad at his father when he returns home with a map instead of bread. But after studying the map's every detail, the child finds that he can imagine far away places and engage his brain in new ways. 
Fourth grade
Rent Party Jazz by William Miller (read by Viola Davis)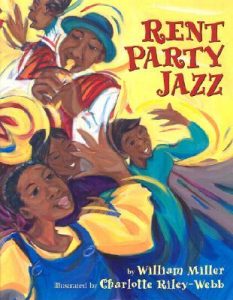 It's the 1930's in New Orleans and Sonny's family is very poor. One day, Sonny meets a trumpeter who offers to play a party at Sonny's house to help them raise money. When the whole neighborhood turns out to support them, Sonny learns about the power of community.
Here Comes the Garbage Barge by Jonah Winter (read by Justin Theroux)
There once was a town with 3,168 tons of garbage. Their solution? A garbage barge! This story teaches kids about environmental awareness and that producing a lot of trash has consequences.
If I Ran For President by Catherine Stier (read by Lonnie Chavis, Parker Bates and Mackenzie Hancsicsak)
A diverse cast of children imagines what they would do if they became president. This story is inspirational, powerful, and perfect for starting a democracy dialogue during the election season. 
Catching the Moon: The Story of a Young Girl's Baseball Dream by Crystal Hubbard (read by Kevin Costner and Jillian Estell)
Marcenia Lyle loved playing baseball, even if her family and friends didn't think girls had a place on the field. She ignores their prejudices and lands a spot in a baseball summer camp. Marcenia then became the first woman to play on an all-male professional baseball team. 
Romeow & Drooliet by Nina Laden (read by Haylie Duff)
This animal version of the classic Romeo and Juliet follows the lives of Romeow the cat and Drooliet the dog, star-crossed lovers who must navigate a disapproving world to preserve their love story.