June 5, 2023
The Power of Queer Stories: 2023 Pride Month Booklist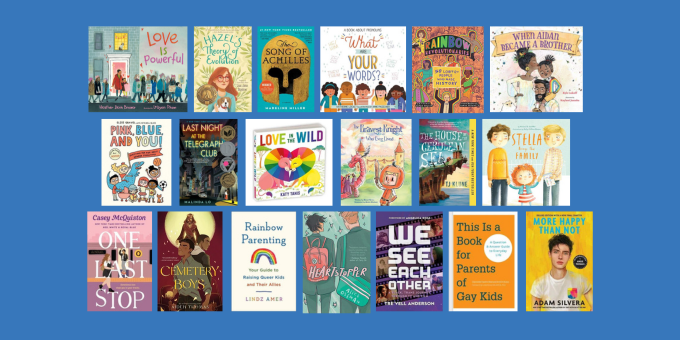 "Many stories matter," says Nigerian author Chimamanda Ngozi Adichie in her famous TEDTalk "The Danger of a Single Story." Throughout the presentation, she touches on the way stories can be used to "dispossess" or harm, or give others inaccurate impressions of one another. However, she stresses that "stories can also be used to empower, and to humanize." To "repair broken dignity."
It is this healing and inspiring use of stories that we want to emphasize when discussing the power of pride, the power of queer representation, and the power behind not only telling stories but also seeing oneself within a story. Here at Reading Partners, we understand the weight of words, and the magic of not just knowing how to read the world around you but what happens once we have the ability to read things that reflect who we are and what we feel. In this "golden age" of book banning, stories featuring LGBTQIA+ are disproportionately challenged and condemned, resulting in less representation for both students and families. 
We've compiled the following booklist, breaking from tradition and not only including children's books (though we've got quite a few of those!) but also recommendations for middle-grade and high-school readers, as well as adults and parents of queer youth. This list is just a sampling of amazing stories that feature the power of queer characters or queer topics. Our hope is that reading the books on this list will help readers see themselves and better appreciate and understand those in the community around them. Help parents support their children and students support their fellow students. To break the boundaries of stereotypes and show students and families that love is love, families come in all shapes and sizes, and identity should be celebrated.
Kindergarten to Elementary-Grade Books
Unfortunately, the stories of historical queer figures are often forgotten to time or rewritten to remove their queer identities from their stories. From Marsha P. Johnson, prominent activist to Emperor Wen of Han, Prager and Papworth's anthology of 50 LGBTQ+ heroes shows us that we have the power to change history by being our authentic selves.
Did you know that by 10 months of age, infants begin to form gender stereotypes? (Levy & Haaf 1994) As children grow up, these beliefs unfairly influence their hobbies, behaviors, educational aspirations, and future careers.  Blue, Pink, and You gives both kids and adult readers answers to their questions about gender roles, acceptance, and stereotyping through kid-friendly language and delightful illustrations. 
Fairy tales are not just about knights rescuing damsels in distress! Daniel Erico teaches us "there is a bravery and beauty in being true to yourself. I believe it's important to show kids different forms of love in a positive light instead of just one". Now a Hulu original series, The Bravest Knight Who Ever Lived puts a new spin on a classic trope to show you have the power to follow your heart.
Love Is Powerful by Heather Dean Brewer and Illustrated by LeUyen Pham
In this book, Young Mari and her mom create handmade signs for her first protest rally to send a big message, love is powerful. We couldn't resist including this book, also featured in our 2022 Pride Booklist, because it fits in perfectly with this year's Reading Partners Pride Month theme, Power in Pride. 
Welcoming a new baby in the house is a big transition many of us can relate to, but this heartwarming story also one of Aiden's transition as a transgender boy and his parent's unconditional love. Reading Partners proudly includes When Aidan Became a Brother in our curriculum to teach how characters' actions affect the events in a story. Aiden does everything he can to make things right for his new sibling, showing readers how his experiences shaped his family's story. This book was also featured in our 2021 Pride Book List.
What Are Your Words? by Katherine Locke and Illustrated by Anne Passichier
We know the power of words, and pronouns are a very important part of speech that shapes our identities. We all use pronouns whether we are cisgender, transgender, or non-binary! Sometimes it can be confusing to know which pronouns to use to describe ourselves which is why What Are Your Words? is a fantastic introduction to gender-inclusive pronouns. Follow the main character, Ari, as they try out pronouns like she/her, he/him, they/them, ey/em, and ze/zir.
This rhyming board book is the perfect way to celebrate Pride with little readers 1-5 years old who love animals! Katy Tais, who is currently earning a MA in Biology from Miami University of Ohio, colorfully illustrates examples of ​​same-sex couples, adoption, non-binary gender expression, and the diversity of the animal kingdom. 
Stella Brings the Family by Miriam B. Schiffer and illustrated by Holly Clifton-Brown
As a child's first teacher in life, parents know the power of family. Mother's Day can be tricky when you have two dads, but Stells shows us that family can come in many forms yet all are filled with love. 
Middle-Grade Books
TJ Klune's warmth, humor, and kind soul come out through the writing and lovable characters found in his middle-grade novel, The House in the Cerulean Sea. Loosely based on a not-so-heart-warming story of the Canadian government removing indigenous children from their families (colloquially known as the "Sixties Scoop"), this contemporary fantasy novel follows an overworked caseworker for the Department in Charge of Magical Youth as he journeys to a strange, far-off orphanage to determine the threat of six different magical children. There, he becomes entwined in a romance with the "master of the orphanage" and learns the power of a found family.
A graphic novel that's become so widely beloved that it's spawned its own award-winning Netflix series, Alice Oseman's Heartstopper is a celebration of love and friendship in all its forms. Set at a fictional British boarding school, this series follows schoolboys Nick and Charlie as they navigate schoolwork, sports, sexuality, and their brimming feelings for one another. Representation abounds, with Charlie identifying as gay and the first book outlining Nick coming to terms with his bisexuality. Additionally, their good friend Elle identifies as transgender and moves to an all-girls boarding school, where she in turn befriends a lesbian couple. Though this series does remain largely upbeat and is perfect for all middle and high school ages, it does touch on some somber themes, including eating disorders and bullying. So far there are four books in the series, with a fifth volume coming in November of 2023, and season 2 of the Netflix show arriving August 3, 2023.
Lisa Jenn Bigelow's middle-grade novel about a young girl struggling to fit in will resonate with young and old readers alike. Main character Hazel subsists on a reading diet of solely encyclopedias and therefore thinks she knows all there is to know about the world. But when bigger problems start arising in her life (one of which is the uncertainty of her mom's new pregnancy after having miscarried twice), she becomes more than anxious about what lies ahead. With a main character who identifies on the asexual spectrum, a central family led by two mothers, a transgender Latinx character, and a Japanese-American friend who uses a wheelchair, Hazel's Theory of Evolution holds up a mirror to modern society as it is and celebrates identity in all its forms.
Bringing a whole new meaning to the power of LGBTQIA characters, Aiden Thomas' YA novel Cemetery Boys takes the reader on a supernatural journey inspired by the traditions surrounding Dia de Muertos. The main character Yadriel is a brujo, someone born to free dead souls so they can pass over, and sets out to prove himself and his gender to his traditional Latinx family. To do so, he attempts to summon the ghost of his wrongfully murdered cousin but makes a mistake and ends up with the ghost of Julian Diaz, "the school's resident bad boy." Central to this book are the nuances within a family, the celebration of culture, and the power of acceptance and understanding through those one loves most. 
Adult Fiction Books
Hailed as "the queer romance we've been waiting for," Last Night at the Telegraph Club follows seventeen-year-old Lily Hu as she comes to terms with her sexuality, and feelings for a certain Kathleen Miller, in a lesbian bar called the Telegraph Club. But this is 1954 America, Lily is Chinese American, and the Red Scare has gripped common American sentiments. As Lily navigates this reality of American life and love, she may have to risk everything to live authentically.
Queer people hold power in myth as well as legend, and nowhere is that arguably more evident than the myth of Achilles and his lover Patroclus. In Madeline Miller's simple but beautiful retelling, she follows the hero and his friend through childhood, training, and that fateful battle. Enjoyed by teen and adult readers alike, Song of Achilles was an instant classic when published in 2011, and continues to be one of the most talked about and recommended queer novels for both young and old alike.
Casey McQuinston's hit novel Red White and Royal Blue has been all over social media recently thanks to the new major motion picture adaptation (coming August 11 on Prime video), but it's their second novel, One Last Stop, we want to highlight here. Thanks to McQuinston's desire to center a story around a cast of queer characters (finding it "unrealistic" how many depictions of queer characters have them surrounded by straight people), this book boasts representation of many kinds and forms, even diverged from the central lesbian romance between 23-year old cynical August and time-traveling Chinese-American Jane. With its inventive plot and easy writing style, One Last Stop is the perfect feel-good read for when you next need a pick-me-up.
Though billed as a young adult novel, Adam Silvera's best-selling debut about a near-future society in the throes of a memory-altering procedure encompasses a range of adult topics, including extreme racism, suicide, and domestic violence. The story starts just a few months after 16-year-old Aaron Sot's father committed suicide, and Aaron is struggling to remember what happiness feels like. Supported by his girlfriend and overworked mom, he's slowly coming back to himself, but can't seem to understand his feelings when it comes to his new friend Thomas. Full of moving scenes and harrowing insights, More Happy Than Not is a powerful and unforgettable read both for teens and adults alike and is one of this writer's personal favorite novels.
Adult Non-Fiction and Parenting Advice Books
This "groundbreaking look at the history of transgender representation in TV and film" hit shelves earlier this year and is a must-read for anyone interested in understanding the history of representation that's always been there, but not as often celebrated. Written by the exceptionally intelligent and witty Tre'vell Anderson, a black trans culture journalist, We See Each Other mixes the memoir and pop culture history genres to create an enlightening experience for a reader who feels along with learns new things. It also serves to provide even more examples of ways to engage with queer stories, from what to watch to methods in which to analyze what you watch.
Do you love your queer child, but wish there were answers to those hard questions? Look no further than this Q&A style book with real-life experiences from gay kids and parents on topics like coming out, exploring gender identities, and how to be supportive. This book has been helpful to many parents since its publication in 2014, but keep in mind that the LGBTQIA+ community is ever-evolving, and as such this book leans towards a binary view of same-sex relationships.  Learn more about the queer community with the accompanying glossary and resource guide to support your family through life's transitions.
Lindz Amer, the creator of Queer Kid Stuff, an award-winning LGBTQ+ educational web series for children and families, spreads the message of radical acceptance in this brand-new book! Learn about queer history, pronouns, social justice, and how to support your young, queer child. Even if your children aren't queer,  this book is great for raising empathetic, joyful little humans. 
Though the rise in legislation against the LGBTQIA community and book bannings across the country is extremely concerning, there has never been a better time to turn to books for queer representation. This list doesn't even come close to being exhaustive and every day there seems to be another story of love, acceptance, and representation hitting the shelves. Our hope is that this list serves as simply a jumping-off point for you and your child and that you continue to look for and fight for the representation we all deserve.
This booklist was compiled by Gabrielle Loue and Kayla Weems.