September 7, 2016
Tips for creating your DIY reading nook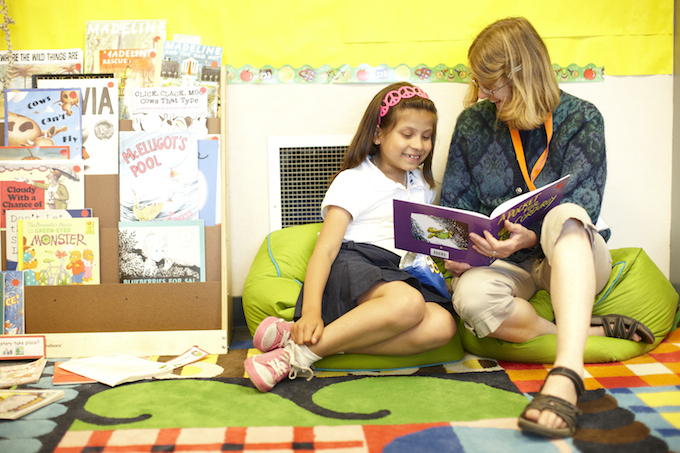 Hoping to soothe antsy readers or entice the uninterested? Changing where you read might be just as important as what you read, as elements from noise level to lighting can influence a child's ability to focus on and engage with reading.
A great way to encourage a child's love of books is to create a space that is his/her own dedicated reading nook. When kids enjoy their environment, they are much more likely to spend time there. Creating a fun and inviting space can particularly help students who are struggling with reading as it can feel more comfortable and relaxed. Here are some tips for creating your very own reading space!
Make it cozy and inviting.
The most important feature is to make your space cozy and inviting so that your children/students look forward to their reading time. You can brighten up the space with colorful rugs and provide small pillows and blankets for comfort. You can also design your space around a particular theme. If you have a child who loves the outdoors, you can design your nook to look like a forest. If your kids are studying outer space, their reading nook could be a spaceship. If they love animals, you can add some stuffed animals keep them company!
Keep the space well lit.
Not only does having a bright and well-lit environment make a space feel warm and inviting, but it also allows children to have a better view of the pictures and words in their books. It's important to make reading as accessible as possible. This light can be natural, as from a window, or come from an indoor light. You can also get creative by adding holiday lights or colored lanterns.
Provide a variety of reading material.
When kids have a choice of books, and are invited to choose for themselves, they are more likely to enjoy reading. It can also be helpful to place the books at the child's level so they are able to look through them on their own. This is an easy way to keep them engaged because they are able to pick a book that interests them.
Choose a space with minimal noise and traffic flow.
As much as you can, create your reading space away from distractions, including curious passersby or electronics. This will help minimize interruptions and keep children engaged and focused on reading.