January 2, 2014
Why Volunteering Makes the Perfect New Years Resolution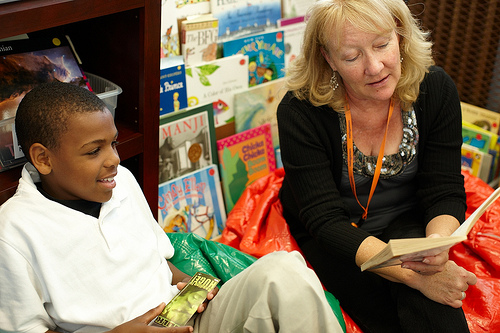 Welcoming a new year offers a wonderful opportunity to make new choices and take new chances in life. Whether you reflect proudly on your many accomplishments in the past year or you can't wait to turn a new page and look toward the future, the new calendar year is an opportunity to do the things that might have been on your back burner. If you've been thinking about volunteering for years or have been contemplating your resolutions for the new year, consider volunteering to teach a child to read in 2014!
Volunteering Makes the Perfect New Years Resolution.
Volunteering makes the perfect New Years Resolution because it creates a trifecta of great outcomes. Volunteerism has countless benefits to the community and also to the health and happiness of individuals who commit to volunteering.
Here are just a few reasons to sign up to volunteer today:
1. Volunteering has been linked with increased levels of happiness and decreased depression. A recent Huffington Post Article, Volunteering Could Boost Happiness, Decrease Depression And Help You Live Longer: Study, written by Sara Kondrath, PhD, outlines new research into the topic of volunteerism, health, and happiness.
2. People who volunteer report physical, mental, and emotional health benefits. Doing Good is Good for You: 2013 Health and Volunteering Study reveals key benefits of volunteering that make a positive impact on people's health including feeling better mentally, physically, and emotionally.
3. Volunteers help create and support healthy communities. At Reading Partners, tutors work one-on-one with students to increase literacy skills early on in order to increase future positive outcomes of high school graduation, decreased crime, and college attendance. (Early Warning Confirmed, Annie E. Casey Foundation)
4. Reading Partners' volunteers help teach a skill for life by working one-on-one with students to cultivate literacy skills and a love of reading. Learn more about the Reading Partners program.
Take the Plunge in 2014.
Volunteering can easily become one of those back burner activities. The type of activity that always seems like a nice thing to do, but loses steam when it comes to reaching out and signing up.
Make volunteering a reality this year. Many organizations have made it easier than ever to find opportunities and sign up online. Visit readingpartners.org/how-you-can-help/volunteer to find out more about our volunteer opportunities and to sign up to become a reading tutor.
There has never been a better time to commit to volunteering in the New Year. Help us at Reading Partners turn the page into a new year of equipping students with the skills they need to become successful readers.