September 18, 2017
Volunteers of all ages head back to school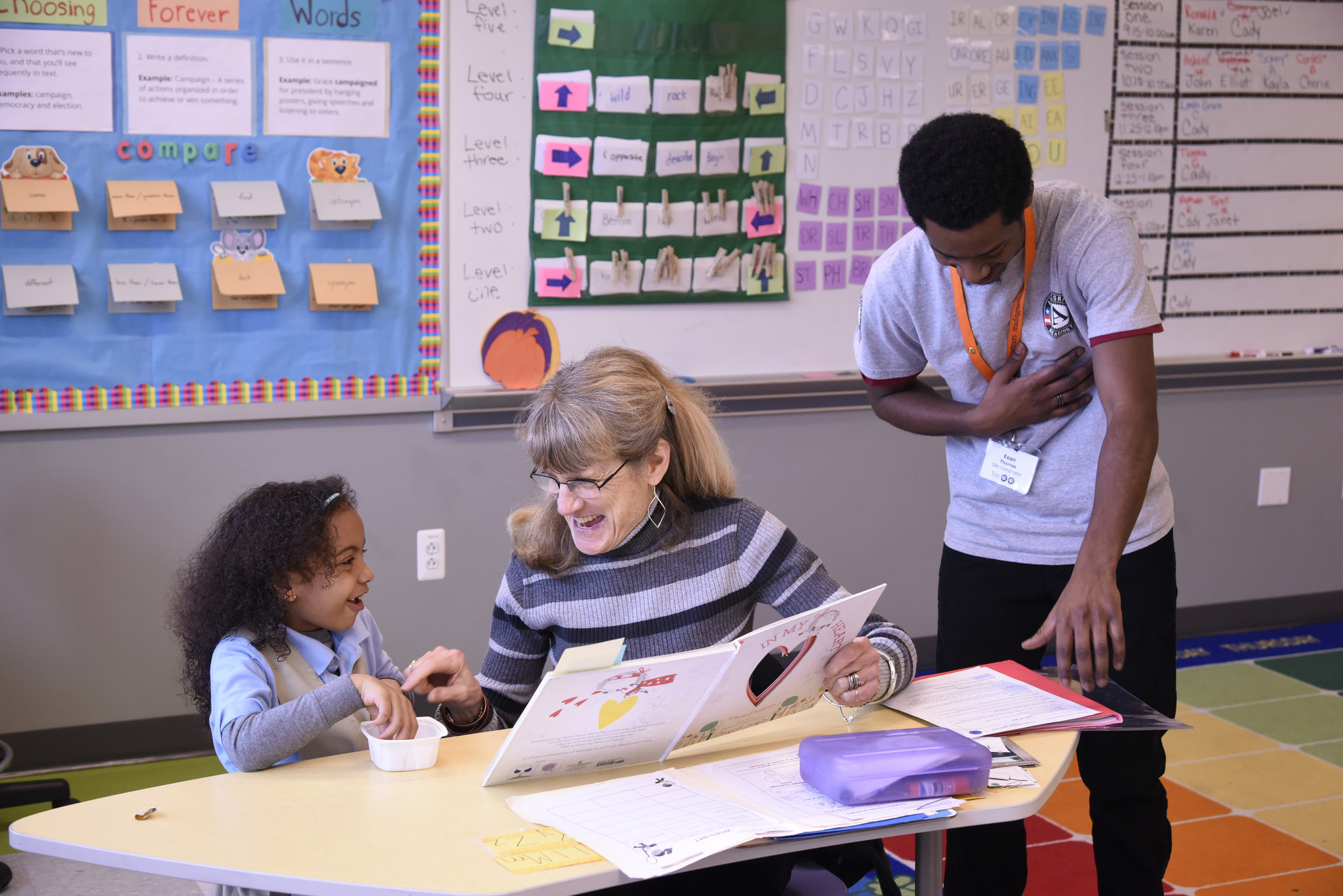 It is 2:20 pm on a sunny Thursday afternoon at Trevista Elementary in Denver, CO. As you make your way through the halls, you'll see classrooms of students reading, working on a class project, or maybe sitting in rows as their teachers read them a story. If you look closely though, you may also notice something a little less ordinary.
One volunteer reading partner, Jan Mayer, a retired banking professional, is just leaving the reading center to fetch her second-grade student for their tutoring session. She is followed by Emily Nava and Virginia De La Torre, two college students from Regis University who are also going to get their students.  
Over 80 volunteers come into Trevista Elementary each week to work with students through the Reading Partners program. These volunteers come from varying walks of life, ages, and backgrounds. The motivations of each volunteer can differ, but one thing remains consistent: young or old, each volunteer is hoping to make an impact in the life of a child.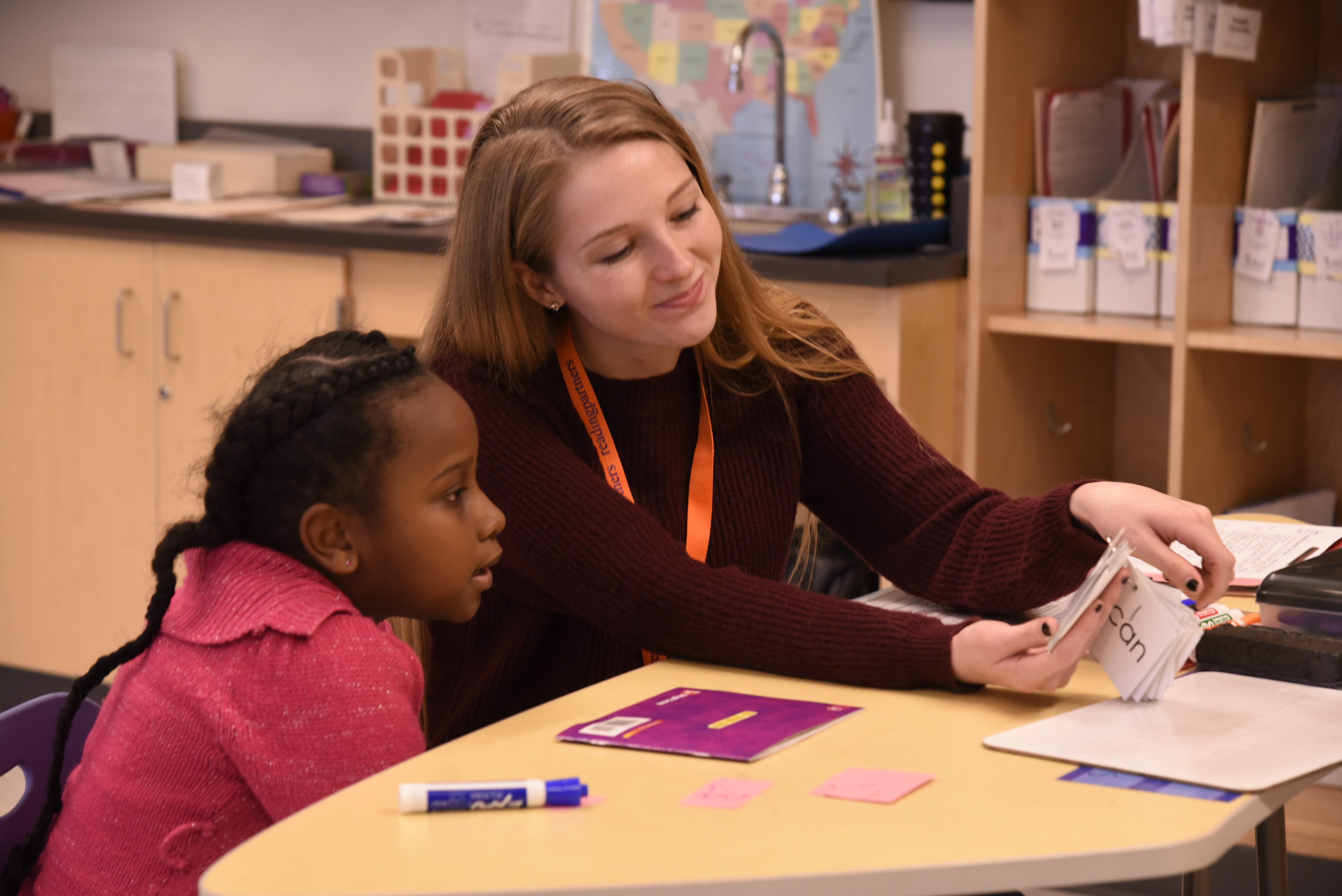 College students give back
Emily Nava, who will be a junior at Regis University in the fall, enjoys Reading Partners because, in her words,
You're there to tutor students, but it's so much more than that. The connection you build throughout the year [with your student] is so special.
Emily first started with Reading Partners through one of her college courses which required volunteer hours. "A Reading Partners employee came to speak to my class, and I knew it was where I wanted to complete my volunteer hours. Volunteer hours are not required for my courses this year, but I loved it so much that I came back and did two hours of tutoring each week!"
Virginia De La Torre, also at Regis University, tutored this entire past year with Reading Partners. Virginia was a public school student in the Denver metro area and saw Reading Partners as a way to give back. "There were not a lot of programs like these when I was growing up, so I wanted to support the program and be involved in helping students achieve their reading goals."
As college students, Virginia and Emily both get to see the importance of being role models. "I think as a college student, we're in a cool position to be able to allow students to visualize where they can be, while still being a positive role model that the student can relate to at the same time," says Emily. Virginia believes "the younger generation can certainly realize that their skills are of great help in the community and that there are plenty of students that can benefit from their knowledge."
With people from many walks of life coming into Trevista to volunteer, it allows students to see the world from different angles. As Emily wisely puts it, "What I can bring to my students could be a little different from [what] someone who may be a little older and more experienced can bring, so it's great that kids can get those different perspectives and different experiences with different people."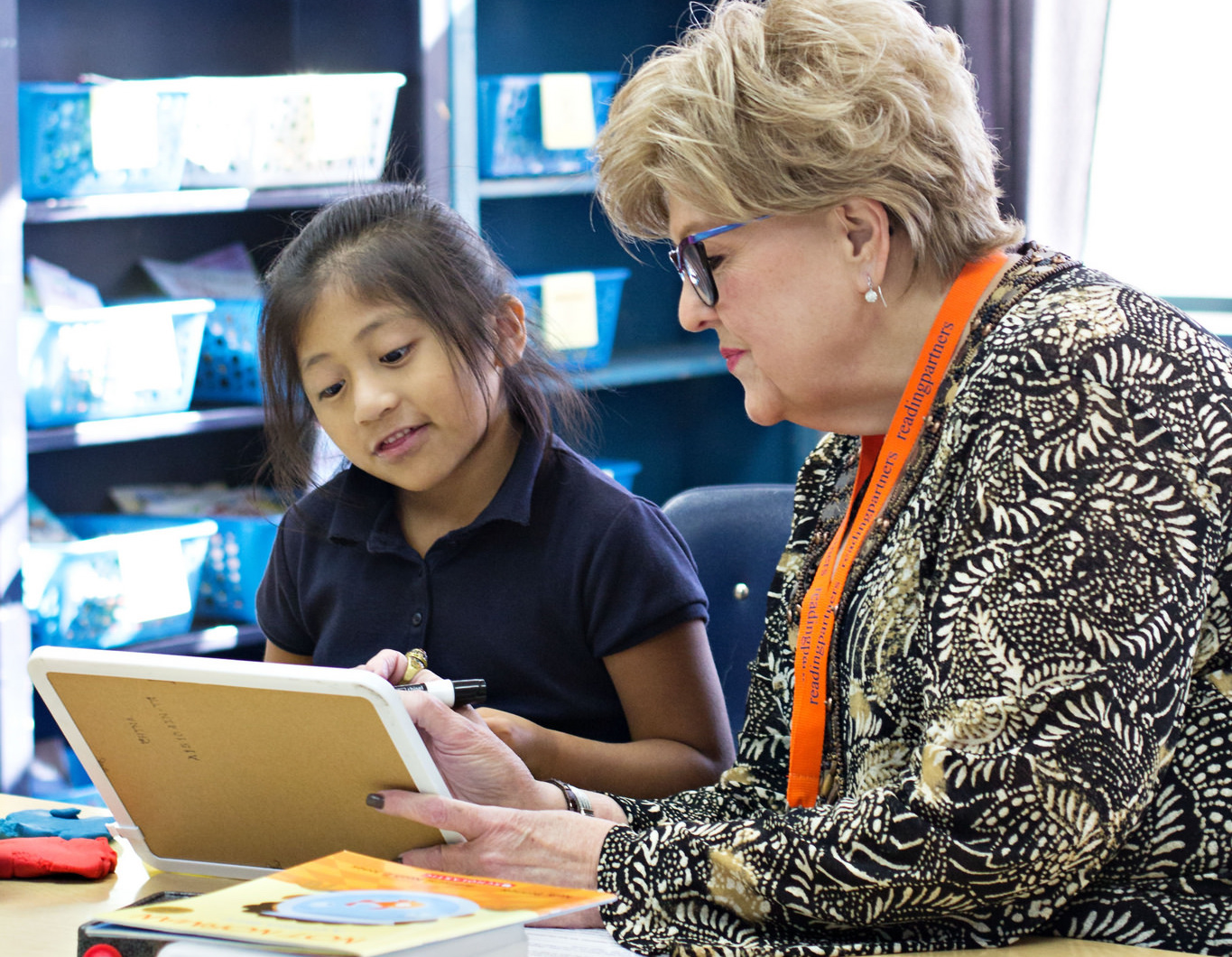 Foster grandparents make an impact
Jan Mayer got involved with Reading Partners through a partner organization called Foster Grandparents. The Foster Grandparent program places individuals 55 or older into local organizations or schools that work with children.
"I moved to Colorado to be my granddaughter's nanny, and I was doing a lot of sitting around, eating popcorn, and watching TV. A representative from Foster Grandparents came into my building, and from there I got involved with Reading Partners. Reading Partners gives me a reason to get out of the house and contribute to something bigger [than myself]," says Jan, who now tutors around 15 hours a week with Reading Partners. The students at Trevista often come up and give "Grandma Jan" hugs while she's walking the halls to retrieve her students from class.
For me, the students help keep me young and on my toes. My mindset is, if I can help just one child, I will be happy.
Jan sees the importance of being able to provide a nurturing presence and has also seen the value of younger volunteers like Emily firsthand. "I love seeing younger people get involved and give back. It's great for them, but it's also great for the students they work with! They're young and hip, and our students really relate to them!"
Jan puts it best with her passionate declaration about our work: "Whether you are young or old, – if those of us who can give back to the community don't do it, who will?" Anyone can support children in their community through Reading Partners.
Whether you've been out of the workforce for years or are just starting to figure out your career path in high school or college, Reading Partners allows members of the community to provide a life-changing experience to a child.
Sign up to provide essential literacy tutoring at a school near you today: readingpartners.org/volunteer.