March 7, 2017
What you can do to save AmeriCorps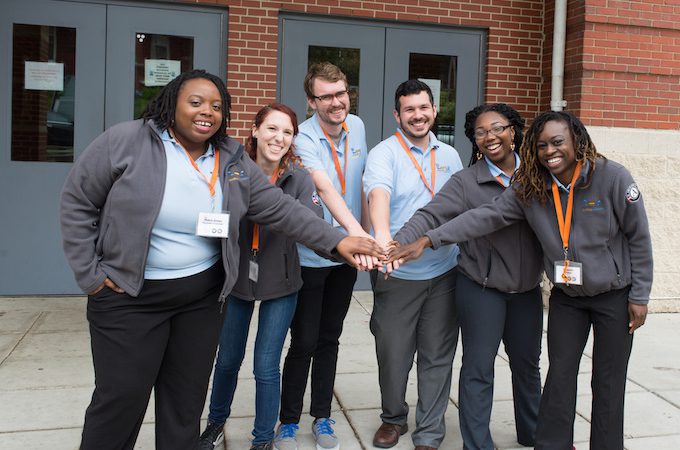 On Friday, February 17, the New York Times reported that the Corporation for National and Community Service (CNCS), the federal agency that supports AmeriCorps, has been included in a proposed list of federal agencies to be eliminated in the FY 2018 federal budget.
CNCS mobilizes more than 80,000 people annually who are working together to provide critical services to communities in need across the country. This willingness of our citizens to come together—to engage deeply in our communities—and create real change is what makes CNCS so special. This triple bottom line: uniting Americans of all backgrounds, offering a transformative opportunity to those who serve, and bringing unprecedented skills and willpower to solve local problems, is what makes national service so powerfully unique—and essential.
Today, this is all at risk of being eliminated. For Reading Partners this means our AmeriCorps positions, including, site coordinator, regional site coordinator, literacy lead, and volunteer coordinator, are at risk of being cut. Our 400 AmeriCorps members play an integral role in enabling Reading Partners to provide thousands of students with the early literacy support they need to succeed in reading and in life.
We can stop CNCS from being eliminated in the budget, but we must act now and all of us must act!
What can you do to support CNCS?
Please reach out to your congressional delegation and make your voice heard! Visit this helpful link for call instructions and a call script: https://p2a.co/XTVsWkD.
In addition to calling your congressional delegation, please use the following link to email your members of Congress expressing your concern and opposition to any cuts or efforts to eliminate CNCS: https://voicesforservice.org/take-action/contact-congress/.
You can access your state's congressional delegation by clicking on this link: https://www.congress.gov/contact-us.
Please share this message with your networks and encourage them to call today.