February 25, 2016
Why reading matters, according to Dr. Seuss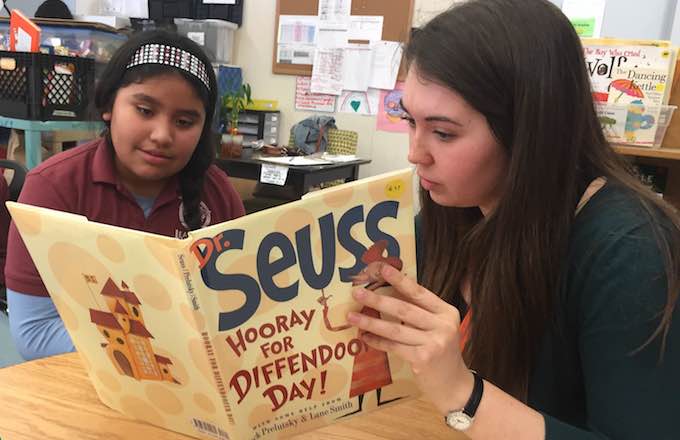 In the realm of children's literature, Dr. Seuss was a trailblazer. Through his 60 children's books, he showed the world that reading matters for kids to be happy and successful. While his books are known for their humor and spirit, they also convey a moral lesson and incorporate strategies that help children improve their reading skills. His ability to make learning fun and accessible has won the hearts of children and parents alike. His legacy continues today — more than 20 years after his death.
Read Across America Day also marks Dr. Seuss' birthday — a day to celebrate the wonderful characters and stories that Dr. Seuss created, and the valuable lessons learned from his books. Over 70 years ago, Dr. Seuss set in motion a noble mission of helping children learn to read, and Reading Partners is proud to pursue the same ideologies today.
"The more that you read, the more things you will know. The more that you learn, the more places you'll go."
As a foundational skill for all other types of learning, reading matters for students to be successful in school and in life. Students who are not reading proficiently by fourth grade are four times more likely to drop out of high school. When given the right reading support, students can achieve their goals and create a bright future for themselves.
"Oh the things you can find, if you don't stay behind!"
Studies have shown that young students who fall behind in reading are likely to fall behind in all subjects as their education switches from learning to read to reading to learn. If they can receive the one-on-one attention they need at an early age, they are much more likely to stay on track in all their learning endeavors. Reading also has the power to open up a whole new world of knowledge, creativity, and exploration for children, allowing them to find and follow their passions.
"Unless someone like you cares a whole awful lot, nothing is going to get better. It's not."
Even Dr. Seuss knew about the power of volunteers! When communities come together to support their struggling readers, students can see amazing growth. Volunteers that demonstrate their passion and commitment to education by providing much-needed reading support to students are making a difference in the lives of their students every single day.
"You have brains in your head. You have feet in your shoes. You can steer yourself any direction you choose."
When students are able to unlock the foundational skills they need to be able to read, they can move forward and be successful at whatever they attempt. They can make decisions that will lead to a happy, healthy, and successful life. Their confidence allows them to grow in ways they couldn't otherwise, and leads them to pursue a future they will be proud of.
Dr. Seuss knew it then, and Reading Partners knows it now — reading matters!
Are you passionate about early literacy? Tell us why reading matters to you. Tag @ReadingPartners on Facebook or Twitter using #ReadingMatters and you might be featured on our social media accounts!