December 13, 2013
Winter Reading Celebrations
Maris Goodstein, Reading Partners Executive Director in New York City, Shares Special Moments from NYC Winter Reading Celebrations.
Winter is an exciting time for us here at Reading Partners as we prepare for our Winter Reading Recitals. This annual event at each of our twelve schools showcases the hard work of our students and the dedication of our tutors, coordinators and the entire Reading Partners family.
This heartwarming Reading Partners tradition truly embodies the spirit of this holiday season and I am grateful to be a part of it, hopefully you will feel the same as we share with you some moments from Winter Recitals happening throughout the month of December.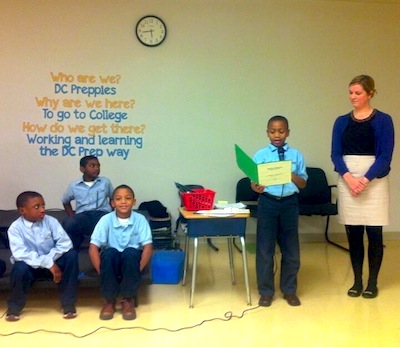 "One of my tutors, Yvonne, came to watch the recital. When a first grader, Donovan, went on stage, Yvonne (who wasn't Donovan's tutor) was so impressed with how Donovan was reading clearly and to the audience that she looked around for Donovan's father in the audience. She found him, beaming, looking so proudly at his son. After the show, Yvonne went up to Donovan and his father and told them both how proud they should be of Donovan and his hard word."  — Tutor at PS 33
" I just couldn't believe when Noel got up there and spoke clearly. I was amazed at his progress." – Mrs. Martinez–1st grade teacher. 
"Yandel's mother was just so absolutely proud of him." – Mrs. Teleky–2nd grade teacher 
If you are as inspired by these students and tutors as I am, I invite you to support their hard work by making a gift  or becoming a Reading Partners volunteer tutor during this season of giving.
We at Reading Partners wish you a safe and joyous holiday season and look forward to forming new bonds, exciting imaginations, and accelerating growth in learning through reading in 2014!