September 6, 2017
Reading Partners Tulsa announces new executive director and strong 2016-17 student impact results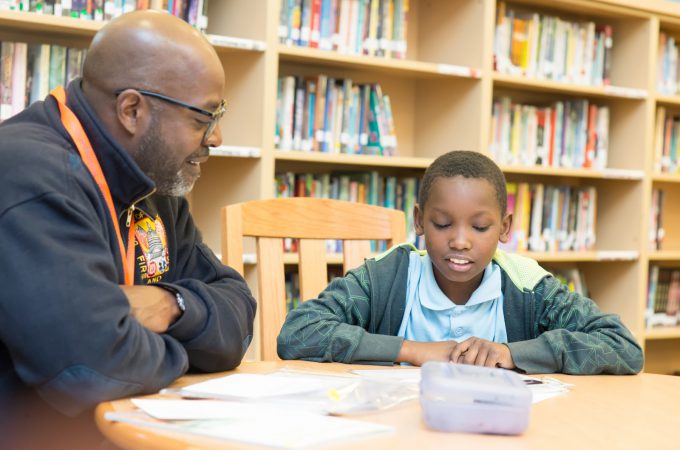 For Immediate Release
Contact:         
Jessica Risenhoover
Director of External Relations, Reading Partners Tulsa
918-521-2268 | jessica.risenhoover@readingpartners.org
READING PARTNERS TULSA ANNOUNCES STRONG 2016-17 STUDENT IMPACT RESULTS AND A NEW EXECUTIVE DIRECTOR
University of Tulsa graduate to lead the early literacy nonprofit as it seeks more community tutors in 2017-18
(Tulsa, OK) September 6, 2017 — Justin Harlan, a two-time graduate of the University of Tulsa (BA and MBA) has taken over as the Executive Director of Reading Partners Tulsa for Elizabeth Brands Vereecke who is moving with her family to Dallas after two years of highly productive leadership at Reading Partners. Harlan has dedicated his career to educational equity and entrepreneurialism having worked in a number of operations and development roles at Teach For America and most recently at the Character Formation Project as the National Director of Operations Support. He is also a founding board member and the current board chair at Collegiate Hall Charter School in Tulsa.
Harlan is joining Reading Partners as a new program year is about to get underway. During the 2016-17 school year, Reading Partners continued to build on its history of successfully advancing early literacy in the Tulsa region. A national nonprofit organization, Reading Partners collaborates with community volunteers and local public schools to provide students in under-resourced schools with the proven, individualized reading intervention they need to read at grade level by fourth grade. Reading Partners collaborates with teachers and principals at local public elementary schools to identify students reading behind grade level and provide them with personalized literacy instruction in a dedicated "reading center" space at their school.
2016-17 school year results were strong
Each year, Reading Partners issues student impact reports for the national organization and for each of its 14 respective regions across the country. The impact reports for the 2016-17 school year have recently been posted on readingpartners.org and include the following highlights.
In the Tulsa region:

More than 1,300 students were matched at 24 reading centers with 1,468 community volunteers who delivered a total of 47,602 tutoring sessions over the course of the year.

Among Reading Partners' youngest students in Tulsa, 89% mastered key foundational reading skills needed to read at grade level.

Based on survey responses, more than four out of five principals report improved school-wide reading progress, 100% of teachers report Reading Partners is valuable to their school and 95% of volunteers were satisfied with their Reading Partners experience.

Learn more about Reading Partners' impact in Tulsa here.

Learn about Reading Partners' national impact here.
"I am proud to be joining the Reading Partners Tulsa team to lead the important work that Reading Partners has achieved growing from mobilizing 649 volunteers serving 449 students to mobilizing over 1,600 volunteers serving 1,502 students in five short years," said Harlan. "I am inspired by the path that has been set before me by our board and staff, and I see great potential in the work we will do for Tulsa students."  
Calling all volunteers for the 2017-18 school year
Nationwide, only one in five low-income students is reading proficiently by the fourth grade. Tragically, this translates into nearly nine million low-income elementary school students who are unable to use reading as a foundational skill to power their learning in all other subjects in school. Reading is, quite simply, a necessary platform for all future learning. Without developing the reading skills needed to read on grade level, kids don't have an equitable chance to succeed in school or in life. Students who can't read by fourth grade are four times more likely to drop out of school or not earn a high school diploma.
In the 2017-18 school year, Reading Partners aims to match over 1,600 community volunteers with more than 1,500 struggling readers in Tulsa. By tutoring a student one-on-one for as little as an hour a week, volunteers can make an impact that can quite literally alter the course of a child's educational experience and life.
The impressive student results highlighted in the 2016-17 impact reports are made attainable by the generous participation of thousands of community volunteers. To become a volunteer with Reading Partners, please visit readingpartners.org/volunteer today.
A Reading Partners volunteer tutor works with a student (Photo Credit: Reading Partners)
###
About Reading Partners
Reading Partners empowers students to succeed in reading and in life by engaging community volunteers to provide one-on-one tutoring. Since its founding, the national nonprofit organization has provided proven, individualized literacy tutoring to nearly 45,000 elementary school students in under-resourced schools across ten states and the District of Columbia. Visit readingpartners.org, or connect with us on LinkedIn, Twitter, and Facebook, to learn more.