March 15, 2017
AmeriCorps members serve as reading partners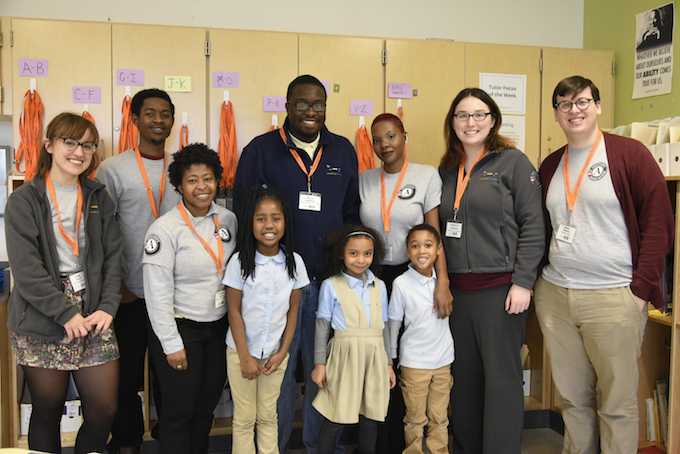 Originally published by Patch.com.
By Jamie Wilkins
March 4 through March 11 is AmeriCorps Week, a time to salute AmeriCorps members and alumni for their commitment to national service and to articulate the profound impact AmeriCorps has on both communities and the lives of those who serve. In the 2016-17 school year, over 360 AmeriCorps members are performing volunteer service years with Reading Partners in 14 metro areas across the country (including 27 AmeriCorps members right here in Silicon Valley). AmeriCorps members are invaluable to Reading Partners and the 11,000 students from under-resources schools we serve nationwide and 1,000 locally.
"AmeriCorps members are a critical component of Reading Partners," said Aarika Riddle, Executive Director of Reading Partners Silicon Valley. "Their work with school partners and volunteers is what makes it possible to deliver our program to thousands of students each year."
Several weeks ago, it was reported that the Corporation for National and Community Service (CNCS), the federal agency that supports AmeriCorps, has been included in a proposed list of federal agencies to be eliminated in the FY 2018 federal budget. There is a strong bi-partisan history of support for national service, in large part because it both lessens dependence on government and voters are overwhelmingly in favor of it.
CNCS mobilizes more than 80,000 people annually, including hundreds at Reading Partners, who are working together to provide critical services to local communities across the country. This willingness of our citizens to come together—to engage deeply in our communities—and create real change is what makes CNCS an indispensable partner for so many organizations like Reading Partners. This triple bottom line: uniting Americans of all backgrounds, offering a transformative opportunity to those who serve, and bringing unprecedented skills and willpower to solve local problems, is what makes national service so powerfully unique—and essential.
For Reading Partners, if CNCS were to be eliminated, that would mean that our AmeriCorps positions including site coordinators, regional site coordinators, literacy leads and volunteer coordinators would all be at risk of being cut. Our AmeriCorps members play an integral role in making it possible for Reading Partners to provide thousands of students with the early literacy support they need to succeed in reading and in life. Employing a model that combines hundreds of AmeriCorps members with thousands of volunteer community tutors is what has enabled Reading Partners to become a proven, cost-efficient early literacy solution that delivers $2 in resources to students for every $1 invested in the program.
How Reading Partners Works
Reading Partners is a national nonprofit that mobilizes community volunteers in Silicon Valley to provide individualized reading support to students in under-resourced public elementary schools and equip them with the foundational skills they need to be able to read at grade level by fourth grade. Reading Partners volunteers are matched one-on-one with students in kindergarten through fourth grade who are reading anywhere from a few months to two and a half years below grade level. Volunteers utilize an easy-to-follow, individualized lesson plan each week, specific to their students' needs in order to meet them at their level and help build both literacy skills and confidence. Tutors typically commit to one hour a week with the same student for the duration of the academic school year.
Only 31 percent of socioeconomically disadvantaged students in Santa Clara and San Mateo counties combined are reading at grade level (Kidsdata.org, 2015). Thousands of Silicon Valley kids are counting on Reading Partners' staff, AmeriCorps members and community volunteers to be a steady presence for them as they gain one of the most critical skills needed to be our future leaders. Reading is the foundation for all future learning and Reading Partners tutors take action to help students make the all-important shift from learning to read to reading to learn.
To learn more about Reading Partner's, please visit ReadingPartners.org.