February 23, 2016
BEE line it to the 4th annual Celebrity Spelling Bee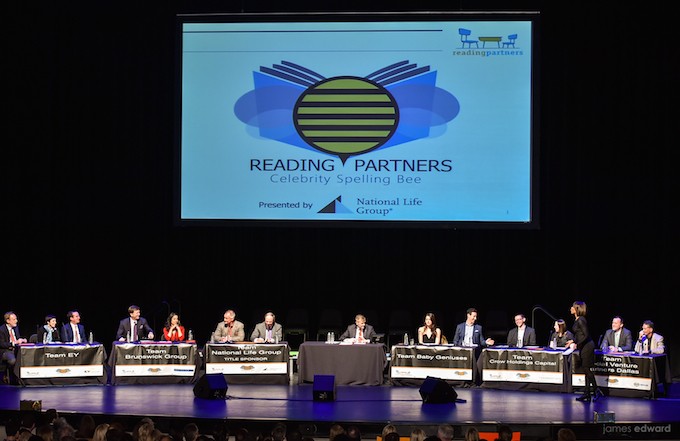 Ready for a fun night of spelling and misspelling? Join Reading Partners North Texas for the fourth annual Celebrity Spelling Bee on February 25, 2016!
The Spelling Bee will raise awareness of the importance of literacy education and support Reading Partners' proven intervention model to reach more students who are reading below grade level. Spelling Bee teams will consist of a dynamic celebrity duo that will compete to be named the fourth annual Reading Partners Spelling Bee champion. Additionally, one member of the audience will be chosen to participate on stage as a guest speller.
All the proceeds from the Spelling Bee go toward helping young students in North Texas receive one-on-one tutoring sessions to help boost reading skills. In Texas, 8 out of 10 fourth graders from low-income families cannot read at grade level. Students who are not reading on grade level by the end of third grade are four times more likely to drop out of high school. This means that thousands of children across Dallas are already at risk of never earning a diploma and permanently short-changing their future success.
Honorary Chairs for the event include the honorable Mike and Micki Rawlings, and the event will be hosted by NBC 5's Kristi Nelson. Sponsors include Brunswick Group, Ernst & Young, Exxon Mobil, Pizza Hut, US Trust, the Rainwater Charitable Foundation, Hazel's Hot Shot, and SalesForce.
Competing celebrities include:
Yasmin Bhatia, CEO, Uplift Education
Brandon Carr, Dallas Cowboys
Rev. Dr. Joe Clifford, First Presbyterian Church of Dallas
Zachary Hall, principal, DISD Stephen C. Foster Elementary School
Chad Houser, executive director and chef of Café Momentum
Liza Lee, headmistress, The Hockaday School
Terrence Maiden, TCU College Football Hall of Fame
Tim Maiden, TCU College Football Hall of Fame
Dr. Kent P. Scribner, Fort Worth ISD superintendent
Martin Stegemoeller, Leadership & Ethics, St. Mark's School of Texas
Rev. Dr. Andy Stoker, First United Methodist Church of Dallas
Kelly and Marty Turco, former Dallas Stars goalie
Dr. Seema Yasmin, medical analyst for CNN and NBC 5
Cristina Barbosa and Michael Young, former Texas Rangers infielder
To purchase tickets to the Spelling Bee on February 25, visit: nvite.com/celebrityspellingbee