May 8, 2017
College volunteers in Baltimore combat educational inequity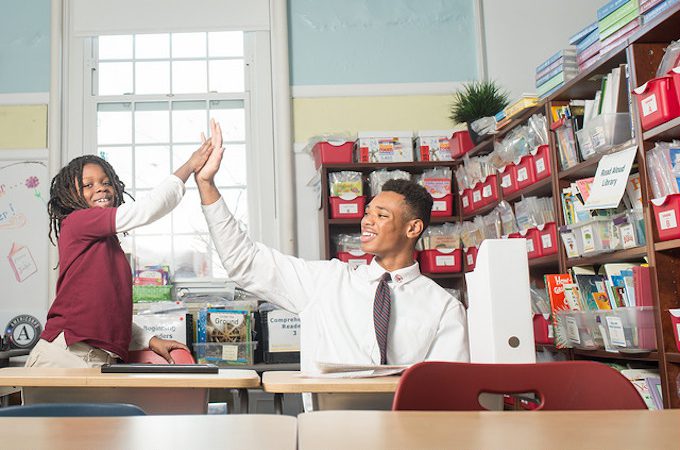 By Alexis Acciani, Community Engagement Coordinator, Reading Partners Baltimore
Baltimore City is home to many nationally renowned universities whose students are eager to engage and learn from their surrounding communities.  A number of under-resourced, Title I elementary schools neighbor these same universities, presenting an extraordinary opportunity for partnership, support, and learning among educational institutions.
Through thoughtful university alliances with professors, classes, and service learning departments, Reading Partners Baltimore is seeking to  build pathways to success for students in low-income communities. This year alone, Baltimore welcomed nearly 240 university students into our reading centers, making up 24 percent of our overall tutor base.  
Many university students came directly through a participating course in which volunteering with Reading Partners was a course component or incentivized option. This core group included students taking urban education and speech pathology courses at Towson University; early education students at Morgan State University; students enrolled in a service learning practicum at the University of Maryland Baltimore County (UMBC); and students taking English, sociology, and special education courses at the Community College of Baltimore County (CCBC).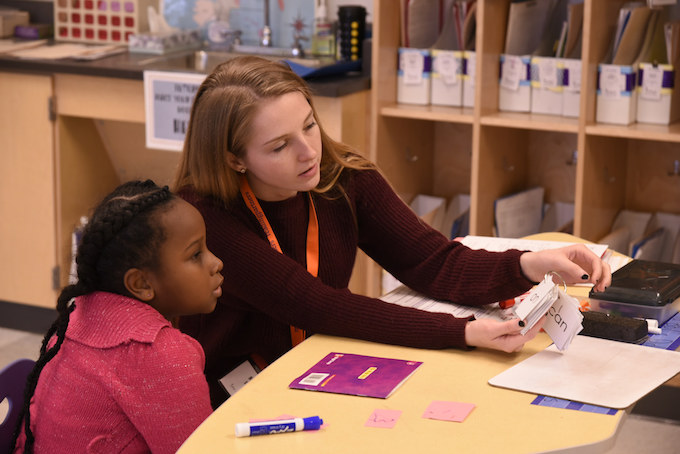 University tutors successfully engage students in myriad ways.
First, many are closer in age to Reading Partners students, which can positively impact a student's experience, performance, and how well the student-tutor pair relate.

University tutors also demonstrate teachability and flexibility, which help them navigate the curriculum. Many thrive by translating their in-class learning to their tutoring sessions.

Additionally, university students tend to be diverse, reflecting our students' variegated identities and contributing to their overall experience of literacy and learning.

Just as importantly, college students serve as academic models, inspiring our students to reach for success and showing them that higher education is well within their reach.
Local college and university students play a major role in educating, engaging, and empowering Baltimore elementary school students by providing much-needed individualized instruction with measurable results. Through these mutually transformational partnerships, Reading Partners Baltimore and our college-aged volunteers are able to encourage growth in our students and bring literacy into our educational landscape. As one Towson University student commented,
Reading Partners has opened not only my eyes to inner city education but my heart as well to a beautiful little girl who is so eager to learn!