December 21, 2018
'Day Of Caring' Volunteers Tackle Projects in Huger, Cainhoy Areas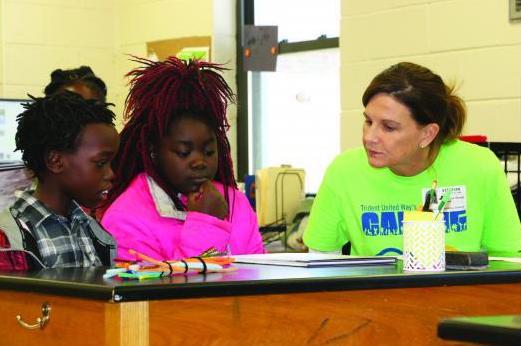 Originally published by Heath Ellison from The Daniel Island News
Every volunteer could see their breath in the early morning of November 16. Clothed in gear fit for winter and bright green shirts, citizens worked to complete the early landscaping efforts for a new recreation center in the quiet Huger area.
"The park was dilapidated for several years and was not being used at all," said Hearts of Huger board member Cynthia Lawrence. "There was some vandalism in the last couple of years. Me personally, I wanted to see the children play again."
The frigid weather conditions stood in stark contrast to the warm acts of kindness that were conducted across the Lowcountry, as part of the annual Day of Caring.
Now in its 18th year, the Day of Caring is an event by Trident United Way that brings businesses, such as Nucor Steel, and over 5,000 volunteers together for acts of charity that span the Lowcountry. In addition to Huger, downtown Charleston, West Ashley, Summerville, and North Charleston were sites of reconstruction projects.
"Day of Caring is an opportunity for the community to come together and serve those that we live around," said Trident United Way Strategic Volunteer Engagement Manager Amanda Sito.
It makes our Tri-County area — Charleston, Berkeley, Dorchester — a better place to live and work.
The recreation center that volunteers were cleaning and restoring was flagged as an important place to mend because of its wide applications.
"This was a perfect, beautiful spot that was really located right in the community to be a hub for everybody to come in," said Lawrence. "The goal is to make it as appealing and inviting so the children, along with their parents, can come out here during the warm months and have a good time."
"This is my family's home," stated volunteer Gail Carson. "We've lived here for centuries, I believe. So, being able to give back and knowing that our legacy is going to survive, because we're investing in the children, investing in our land, and investing in our future, it's wonderful."
Hearts of Huger extends their compassionate actions throughout the year by collecting funds to complete other projects in the vicinity.
"We know that they need assistance, because [Chairperson] Bernard [Watson] and I — we grew up in this neighborhood," Lawrence said. "So, we know all of them. We definitely know some of the needs."
Just a few minutes from the recreation center efforts, four Nucor Steel employees built a wheelchair ramp for a local resident, a large group constructed a home for Habitat for Humanity in a small suburban neighborhood, and three different projects were completed at Cainhoy Elementary School.
In one of the aged academic institute's classrooms, a number of volunteers tidied up a science room. The folks attended to the lab tables and painted a new surface onto the desk drawers that would allow students to draw on them in chalk.
"We work in this community and we want this community to thrive," said Daniel Island resident Dennis Boyd, an electrical power engineer at Nucor. "We certainly want the whole area to thrive. That will help us keep people working there in future years, supply the workforce when we retire, and it's good for the area. We always want to help the economy."
This was Boyd's ninth year participating in the Day of Caring.
BP employee Donna Portenberry took the opportunity to pitch in as a volunteer when her company offered the chance to its employees.
"We thought this would be a good opportunity to get them what they need, in terms of supplies and allow the teachers to go over and teach, so we can get this ready for them," Portenberry said.
These kids live in this community. They're the future of the area. And, at some point, these kids may grow up and work for BP and Nucor," she added. "A child should never come to school and not have the supplies that they need.
In the same school, one hallway over, was a program hosted by literacy advocates Reading Partners.
"The literacy issue is real in South Carolina," said Reading Partners Community Engagement Manager Christine Messick.
National statistics have consistently ranked South Carolina as one of the lowest in the country for education, and literacy is no exception.
"It's not only a problem for the student," Messick stated. "It's a problem for the entire community."
For their part in Day of Caring, Reading Partners brought volunteers to read a book with some Cainhoy Elementary students in groups of two and answer critical thinking questions about it. Once the book was done, the students competed with the other groups in the room to build the tallest structure out of pipe cleaners.
"I really wanted to give back to kids that are coming from an underprivileged background and give them the opportunity to grow in their reading capabilities," said volunteer Karen Salem.
The amount of generous activity that sprawled across the Lowcountry is overwhelming. Many of the participants found the collaboration between company, citizen, volunteer, and those in need to be just as powerful.
"I think the companies and the contractors understand that we work together, the communities as well as the companies, and to form a good relationship with the residents and the corporations is always a good thing," said Cynthia Lawrence. "As far as community members coming out to help: it's an awesome thing because that's a way for community members to let the community know that they're still committed and dedicated."