April 2, 2020
Executive Director's update on COVID-19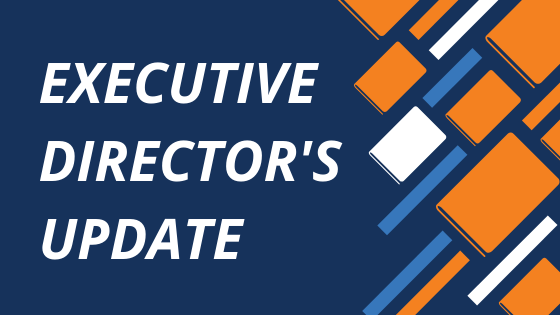 Dear Reading Partners community,
Writing from my home as I shelter in place, even as my three year-old and my puppy race each other across the kitchen behind me, I'm struck by a sense of gratitude for our community. In this crazy and unprecedented moment, it is easy to feel overwhelmed and uncertain, but it's also easy to see so many emails in my inbox from people asking how they can help. We're surrounded by helpers and we are so grateful. 
At Reading Partners, we have been working furiously around the clock to make plans and take action to support the communities we serve. Because of school closures and the shelter-in-place order across California, we have had to suspend programming starting March 16, with hopes that we can return to our schools and our reading centers later this school year. As we operate in a state of changing and unknown timelines, our top priorities are: to be a resource to our students and their families; to provide meaningful service opportunities for our AmeriCorps members; and to keep our tutor community engaged. 
For our students and families:
For the past week, we have been reaching out to our partner school teachers, principals, and staff. The one thing we are hearing loud and clear is that our schools' greatest need is to make sure that their families and communities have access to support for basic needs like food, shelter, and clothing. Once these needs are met, our districts and our schools can solidify plans for online and distance learning for those with and without internet access, and we are ready to support. Reading Partners is working on the following initiatives to support learning at home:
Available now:
Family Literacy Resources – Resources and at home reading activities offering literacy strategies for families are now available on the Reading Partners website. 
Family Texting – We will work with schools to expand our family texting program in partnership with Bright by Text. 
Digital Library – Through a partnership with ReadingIQ

, we are actively developing and sourcing access to thousands of high-quality digital texts. As many of you know, this work has already begun in many of our Oakland reading centers and we are working on family engagement plans to promote usage of this tool into the summer.
In progress:
Virtual Read Alouds

– Using online spaces like Zoom, we are developing ways to facilitate live and recorded read alouds for Reading Partners students.

Literacy Skill Videos

– Working with our AmeriCorps members here and across the nation, we are developing short videos that will show skill practices that families can be doing at home with students every day.

Take Reading With You

-Once the shelter-in-place mandates are lifted, we can activate ideas such as Take Reading With You, where we partner with food distribution sites throughout the communities we serve to send books and printed materials home with students.
Our goal is to align our resources with existing distribution models that are working for our partner schools and not to overwhelm families with too many options to navigate. We are also thinking about long-term opportunities and actively exploring what Distance Tutoring might look like in the future. We're here for the long run in our communities. We'll be ready to go when school starts again. 
For our tutors:
We have more than 1,000 amazing and dedicated weekly volunteers who care deeply about our students. We are actively updating our volunteer community and planning tutor training topics to keep skills sharp when they return to their centers! Also, we are exploring virtual community gatherings and webinar formats to host a book club or discussion group to engage online as we shelter-in-place. 
Current tutors! Please watch your inbox for emails from your site coordinator next week for additional resources and ways you can help.
For our AmeriCorps members:
We have 40 active AmeriCorps members who are now serving remotely as they shelter-in-place until further notice. With their health and safety as a top priority, we are doing the following to ensure that all of our members have a useful, meaningful, and impactful term of service.
We are ready to serve in response to California Volunteers' Call to Action 

with our schools and meal distribution sites, allowing members who feel safe to provide direct service to get these essential services to our communities.

Members are creating skill videos to add to our online collection of resources for students.

Our office staff has put together a robust set of online professional development opportunities, trainings, and team building to support our members in building their resumes.
What you can do to help:
Like so many of you, Reading Partners is still adjusting to this new normal. We will be in touch as we solidify our plans and will be leaning heavily on our community in the coming months. The best way to help Reading Partners now is:
Stay safe, healthy, and at home

to ensure that we pass through this crisis quickly and our students can return to school to get the support and education they deserve.

Watch for emails from us throughout the month of April and make a donation to our Sponsor a Summer campaign – coming soon!

If you are a current tutor, consider one of our

online tutor trainings

to keep up your skills.

If you are thinking about tutoring,

please sign up to tutor, 

we will need you whenever school is back in session! We have an online tutor orientation you can do now to be ready to go.

If you feel safe,

consider volunteering with the SF Food Bank, Or Alameda County Food Bank or Project Open Hand 

to get our community's basic needs met.
As we begin this new work, we also want to again express our gratitude to you, our community. Thank you for your support in getting us to where we are today, and we hope, in our time of need, that we can count on you as we support our students for the spring, summer, and into the next school year. We will stay in open communication with you all as we develop plans and take actions to do what we do best: high quality literacy tutoring. 
In solidarity,

Aarika Riddle
Sr. Executive Director
San Francisco Bay Area