April 23, 2019
Honoring our 2019 valued volunteers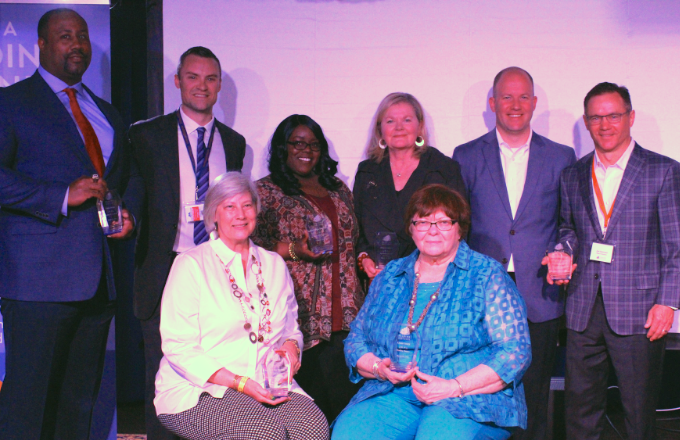 On Friday, March 29 Reading Partners honored it's first Valued Volunteer and Partner Award winners at the third annual Route to Reading program. The Valued Volunteer and Partner Awards recognize and appreciate individual volunteers, schools and community partners who go above and beyond the call of service for Reading Partners and the students we serve. Participants were nominated by Reading Partners AmeriCorps site coordinators and a group of finalists were selected by a special AmeriCorps committee. Finalists were reviewed by the regional advisory board community engagement committee who then selected final winners. Learn more about each of our 2019 award winners below.
Rocky Bright: Together we are better
Rocky Bright is the manager of corporate and community partners at Tulsa Technology Center. He was first introduced to Reading Partners during a tour at Penn Elementary in 2016. He wasted no time getting started with the program, and was paired with his first student the next week.
Believing the relationship between the student and the tutor is just as important as the lessons themselves, Rocky is the perfect recipient for this year's together we are better award. Lisa, the AmeriCorps Literacy Lead at Penn Elementary, says that Rocky brings a positive energy along with a gentle authority to the reading center, keeping his spirited student on track while giving him the freedom to be himself.
Rocky is an advocate of Reading Partners in the community, and is always working to recruit his colleagues to become reading partners. Rocky and his family have volunteered in many capacities in the North Tulsa community since the 1980s.
"The best part of working with students from Penn is that we're from the same community and share similar experiences in life," Rocky said. "Growing up, I was taught to lend a helping hand to my neighbor, and always work toward the betterment of the community as a whole."
Jane Crawford: Big challenges are our thing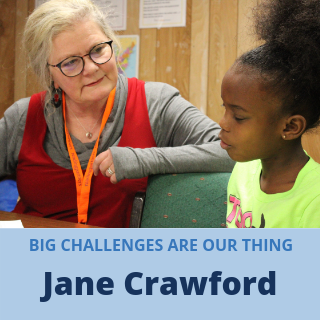 Jane Crawford first heard about Reading Partners from her neighbor, who works as an administrator for Tulsa Public Schools. She began volunteering in 2017, and is currently tutoring at both Marshall and Penn Elementary for a total of six sessions, or six hours, every week. She was nominated for this award by both of her AmeriCorps site coordinators.
Not only does Jane tutor students across the city, she also demonstrates a passion for tutoring and sticking with her students through tough situations. This makes her an excellent recipient for the big challenges are our thing award.
This year, Jane has been working with a student who often came to the reading center in tears, struggling with her confidence due to changes in her school and classroom setting. Jane rearranged her tutoring schedule to ensure she could still see this student every week, and together, they continue to progress through the curriculum. Since then, her student has significantly improved her reading skills and confidence. Her site coordinators describe Jane as having a sweet disposition, an unwavering patience with her students, and a refusal to give up.
Additionally, Jane is one of the first volunteers to ensure the reading centers are stocked with Take Reading Home books and supplies.
Susan Kay Watkins: Laughter keeps us going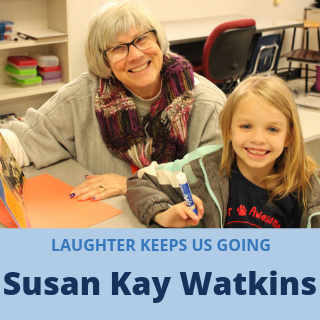 Affectionately known at Mark Twain Elementary as "SK," Susan first heard about Reading Partners while attending Life.Church. After working for 25 years, Susan is now retired and attending Tulsa Community College to obtain her associate degree in marketing.
In her first year as a volunteer, she has already made a lasting impression with the students and Reading Partners staff at Mark Twain by not only consistently making her regular tutoring session, but also helping out for three to four hours on any given make-up day. Giving up so much of her spare time to support with make-up sessions has directly contributed to a nearly 100 percent attendance rate for Mark Twain students this year.
Her site coordinator, Jay, refers to SK as an "emerald in a field of diamonds" reminding those around her of a Reading Partners core value: Laughter keeps us going.
Linda Smith: Reading matters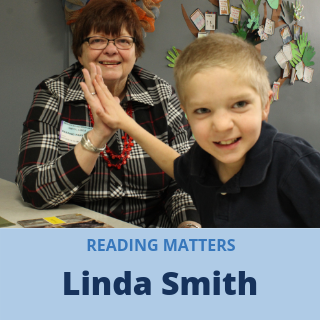 Linda began volunteering with Reading Partners at Sequoyah Elementary in 2015, and has since tutored more than 180 sessions in the program. Her AmeriCorps site coordinator, Michelle, knows that Linda will be in the reading center twice a week, without fail.
Michelle says that Linda is an expert of walking the fine line of keeping lessons engaging but not chaotic, and challenging her students without discouraging them.
Linda goes above and beyond what's written on the curriculum instructions by building meaningful relationships with her students. Michelle described an instance when a student consistently "forgot" his prescription glasses at home. Linda encouraged him to remember them, until one day he showed up wearing his glasses. He received so much praise from Linda, he never forgot his glasses again!
Michelle said, "Every time I see that student bouncing through the reading center door, wearing his glasses, and dragging Ms. Linda behind him, I can't help but think about what a difference she has made for the kids who are lucky enough to have had her as their reading partner."
Bank of Oklahoma: Volunteers get results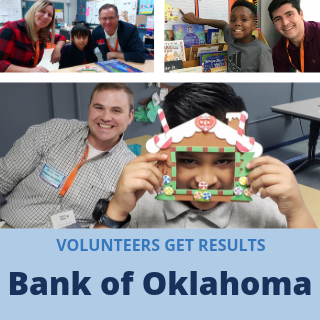 During their first year as an official community engagement partner, Bank of Oklahoma leadership was determined to have a strong representation of employees as Reading Partners volunteers.
Through several onsite recruitment events, and consistent messaging in internal communications, Bank of Oklahoma far surpassed their goal of engaging 30 employees with Reading Partners this year. Living into their core value of "actively advancing the communities we serve" a total of 57 employees became volunteers with Reading Partners. This would not have been possible without the strong support and encouragement from company leadership.
So far, these 57 volunteers have served 326 hours and impacted 57 students across 15 elementary schools. We're grateful for this support and the shared value with Bank of Oklahoma that through this partnership, together we'll make sustainable change having a long-term, positive impact on our entire community.
Hawthorne Elementary: Data drive decisions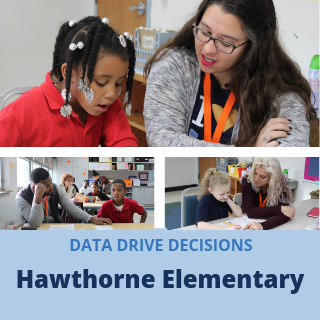 The leadership, staff, and teachers at Hawthorne Elementary have been exceptionally easy to work with and welcoming to both Reading Partners staff and volunteers, making them an outstanding school partner this year.
Hawthorne welcomed partnerships and volunteers of all backgrounds by intentionally cultivating relationships with individuals in the building, making them feel appreciated for their time and support to students in the Reading Partners program.
Additionally, Hawthorne's mid-year data promises outstanding results with 80 percent of kindergarten through second grade students already meeting their primary literacy growth goals. At mid-year, Reading Partners students had a 96 percent attendance rate, which is only possible due to the flexibility of teachers.