August 20, 2020
Honoring our 2020 valued volunteers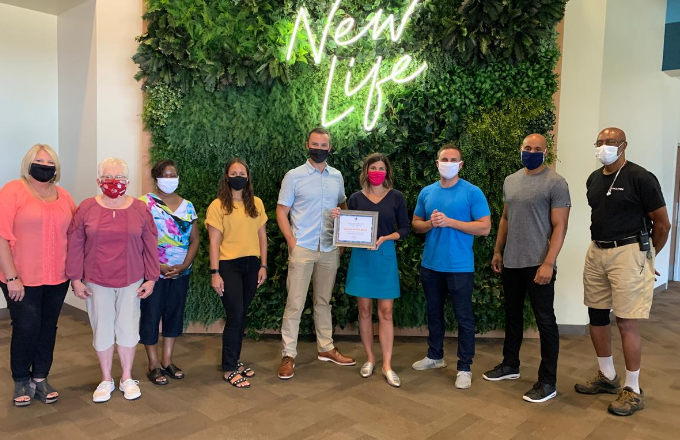 The Valued Volunteer Awards recognize and appreciate individual volunteers, community partnerships, and schools that go above and beyond the call of service for Reading Partners and the students we serve. Reading Partners AmeriCorps Site Coordinators nominated our outstanding participants and the Tulsa Regional Advisory Board selected the finalists. Learn more about Church on the Move, our 2020 Valued Volunteer Award Winner, in the Volunteers Get Results category below.
Volunteers Get Results: Church on the Move
Church on the Move and Reading Partners Tulsa began a formal partnership for the 2019-20 school year, and despite a significantly shorter school year, Church on the Move volunteers delivered over 800 sessions to students at Lewis and Clark, Cooper, and Kerr Elementaries and regularly tutored 82 students each week. 
We want to thank each and every one of our volunteers from Church on the Move for the time that you've given to kids across Tulsa. This is a new partnership, and we are so incredibly grateful for the time that you've given to Reading Partners and to the students we serve who really need the support. 800 hours of tutoring is not an easy feat, and it's partners like Church on the Move who really make our mission come to life.
– Justin Harlan, Senior Executive Director of Reading Partners Tulsa, at the award ceremony on Tuesday, August 18. 
Reading Partners students showed impressive gains when tested at the mid-year point. We owe much of this success to the support we received from community partners like Church on the Move, whose weekly literacy instruction efforts resulted in a substantial growth at the Lewis and Clark, Cooper and Kerr reading centers; in the three reading centers combined, 56 percent of students met their literacy growth goals by midyear. We also saw a significant increase in student enrollment and the number of sessions per student with the three reading centers hitting 90 percent enrollment by midyear compared to 66 percent the year prior.
Reading Partners would like to thank Church on the Move for their volunteer efforts in the 2019-20 school year and the impact that those efforts have made for our region's end of year results. In fact, 75 percent of all Reading Partners students in Tulsa met or exceeded the individualized goals needed to become independent readers. 
Everyone at Reading Partners wants to extend sincere gratitude to Church on the Move for their partnership and a generous financial gift, which allowed Reading Partners to reach students and continue other daily operations throughout this unprecedented time.

Not only does this gift help Reading Partners to secure books and materials for 1,700 students to continue learning at home, but it also helps foster collaboration with the extended community toward the ultimate goal of equipping the next generation of readers with the skills, knowledge, and understanding they need to build a system grounded in equity.​​
Thank you for supporting Reading Partners and for believing in our students and our mission. We couldn't do it without community partners like you!