January 16, 2019
Independent study indicates local reading organization benefits kids beyond academics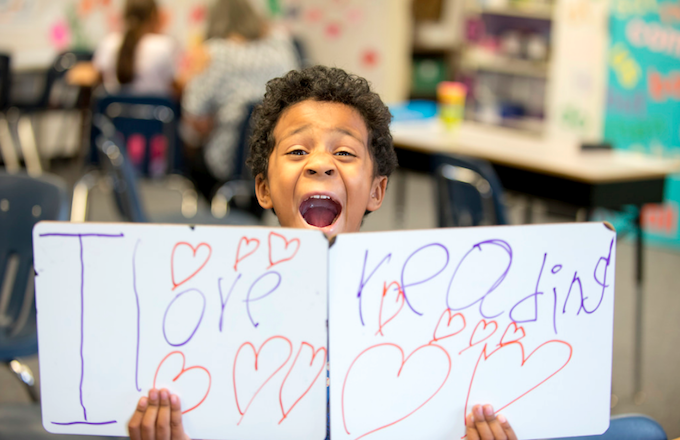 For Immediate Release
Contact:
Laura Zachar
Senior Executive Director, Reading Partners Los Angeles Area
505-264-8803  | Laura.Zachar@readingpartners.org
INDEPENDENT, TWO-YEAR STUDY AFFIRMS STRENGTH OF READING PARTNERS PROGRAM IN THE LA AREA
Study results include an emerging insight that the early literacy nonprofit helps students improve both reading and social-emotional learning skills
(Pasadena, CA) January 15, 2019  —  Reading Partners is proud to share the results of a two-year study conducted in the Los Angeles Area and across California by Child Trends, a leading national nonprofit research organization focused on improving the lives and prospects of children, youth, and their families. Most notably, the study found that students who participated in Reading Partners' evidence-based and community fueled one-on-one tutoring program not only showed gains in their reading skills, but also made improvements in their social-emotional learning skills.
EMERGING INSIGHT: 83 percent of Reading Partners students improved their social-emotional learning skills by the end of the school year, making gains in social competence, persistence, self-control and reading engagement. Learn more.
Social-emotional development is critical for children because it helps them deepen personal skills like managing emotions, establishing and maintaining positive relationships, and making sound and safe decisions—skills that will benefit them throughout life.
Additional findings from the study include:
Reading Partners was successful in recruiting and engaging students who needed reading support. In fact, 92 percent of the students served in California during the study period were reading below their grade level at baseline. Learn more.

Reading Partners volunteer tutors upheld program fidelity and engaged in positive, supportive relationships with students. Eighty-seven percent of tutors had highly positive relationships with their students. Learn more.

Reading Partners AmeriCorps members gained essential professional skills compared to national AmeriCorps alumni and nearly nine in 10 AmeriCorps members were very satisfied with their experience. Learn more.
"A particularly promising finding from this study is that positive relationships between students and their Reading Partners tutors led to improvements in children's social-emotional learning," said Kelly Murphy, Deputy Program Area Director, Youth Development at Child Trends. "Social-emotional learning is important because it makes students better communicators and problem solvers, and helps them better manage their emotions—skills critical to their future academic success."
Child Trends' study built upon findings from Reading Partners' two prior rigorous impact studies (MDRC and APA) by further exploring the characteristics and experiences of Reading Partners' volunteer tutors and AmeriCorps members, as well as providing a first look at social-emotional learning outcomes for students in the program. The study, which included all four Reading Partners regions in California (the Los Angeles Area, Sacramento, San Francisco Bay Area, and Silicon Valley), concluded in the fall of 2018.
"The findings around social-emotional learning are particularly exciting," said Laura Zachar, Senior Executive Director of Reading Partners Los Angeles.
The rich relationships our tutors build with students demonstrate the impact that Reading Partners makes beyond the improvement of reading skills.
Reading Partners has a 20-year history of strong results nationally and since 2008 in the Los Angeles Area—here are the LA results from the 2017-18 school year:
777 students were matched with over 1,100 community volunteers at 13 partner schools who delivered more than 31,000 tutoring sessions (an average of 40 tutoring sessions per student over the course of the year).

Among Reading Partners' youngest students in the LA Area, 94 percent were developing mastery of key foundational reading skills needed to read at grade level.

Based on survey responses, 100 percent of teachers reported Reading Partners is valuable to their school and 97 percent of volunteers were satisfied with their Reading Partners experience.

Learn more about Reading Partners' impact in the LA Area here.
National Mentoring Month offers volunteers an opportunity to support local students
January is National Mentoring Month, an ideal time for volunteers to get involved in programs that support today's youth. Reading Partners aims to recruit and train nearly 1,300 volunteers in the LA Area this school year to serve as literacy tutors for 800 struggling readers. To learn more about Reading Partners or to sign up to volunteer, please visit ReadingPartners.org.
For any and all media inquiries, please contact Laura Zachar, senior executive director of Reading Partners Los Angeles Area at Laura.Zachar@readingpartners.org.