April 27, 2017
Karine Apollon and Caroline Blakely: It's National Volunteer Week, why not help a child?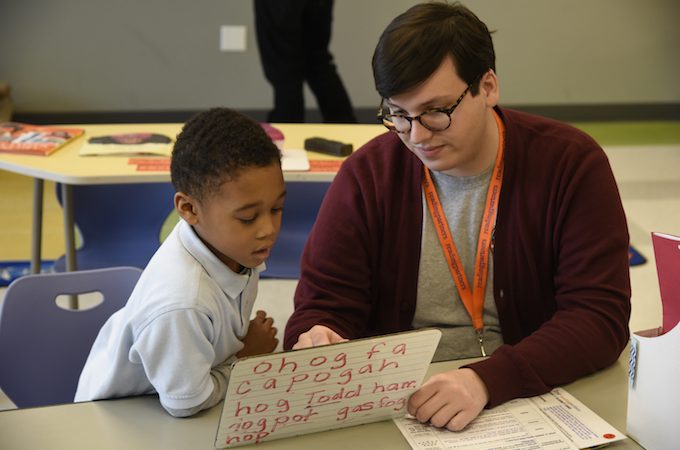 Originally published by Tulsa World
By Karine Apollon and Caroline Blakely
April 23-29 is National Volunteer Week, a time when many nonprofit organizations celebrate the phenomenal contributions of people who generously donate their time to causes that inspire their participation. Reading Partners and Rebuilding Together are just a few examples of national nonprofit organizations that rely on the support and dedication of thousands of volunteers who work tirelessly to drive change in their communities.
Founded with the belief that all children deserve access to the reading skills necessary to reach their full potential, Reading Partners works to address the literacy crisis by mobilizing communities in 14 metro areas across the U.S. including Tulsa to provide students in under-resourced schools with the proven, individualized reading support they need to read at grade level by fourth grade. From its origin in 1999 when it matched volunteer reading tutors with a handful of students at a single school in East Menlo Park, California, Reading Partners has evolved dramatically into an organization that spans across ten states and the District of Columbia to serve more than 11,000 students each year.
Rebuilding Together is a leading national nonprofit in safe and healthy housing that provides low-income homeowners with critical home repairs. Working with volunteers and local partners, Rebuilding Together affiliates rebuild homes and community spaces in Tulsa and throughout the country. Started in 1973 by a small group of people hoping to help their neighbors in Midland, Texas, Rebuilding Together expanded nationwide over the next forty years to now engage nearly 100,000 volunteers and complete about 10,000 rebuild projects each year.
Over the past several decades, both Reading Partners and Rebuilding Together have achieved success, in large part, by harnessing the power of community volunteers and AmeriCorps members. And in both cases, the exponential growth and impact of these organizations has been made possible by the thousands of volunteers who comprise the core of their delivery models. Both nonprofits also operate and thrive utilizing a model that recruits and trains volunteers without requiring prior experience in the field.
In the case of Reading Partners, gold standard research has proven that volunteers can make a measurable impact on student reading proficiency when given access to an evidence-based curriculum and on-site support. For Rebuilding Together, volunteers and AmeriCorps members have made it possible to serve more clients and repair more homes. Homeowners report better health, higher mobility and safety in their homes, as well as increased financial ability to pay for necessities and age-in-place following a home repair.
While the focus and missions of Reading Partners and Rebuilding Together are unique, both are built on the fundamental belief in the power of volunteers to help transform communities. Socially conscious organizations such as Reading Partners and Rebuilding Together can and should collaborate in helping to revitalize communities. Across the country, large organizations and government entities are bringing like-minded charities such as Rebuilding Together and Reading Partners together to revitalize neighborhood and communities through collaborative approaches.
Whether an organization's core focus is on reading, rebuilding homes, or tackling other challenges facing under-resourced communities across our nation, activating the strength of mission-aligned volunteers can significantly boost the impact on our communities. And, when a variety of nonprofits that are powered by volunteers collaborate with one another to provide collective impact for communities in need, the value of each individual volunteer is further multiplied. Reading Partners and Rebuilding Together have both achieved real impact and have done so efficiently by leveraging dedicated volunteers who generously give their time and support to strengthen their communities.
Whatever your passion is for making the place you live better — be it education, safe and healthy housing, or another worthy endeavor — this National Volunteer Week we encourage you to get involved in a cause that is personally meaningful to you. Take our word for it, volunteers really can change the world — one community at a time.
---
Karine Apollon is CEO of Reading Partners and Caroline Blakely is president and CEO of Rebuilding Together.