March 15, 2017
As Mayor G.T. Bynum approaches 100 days in office, he's already looking forward to the next 1,361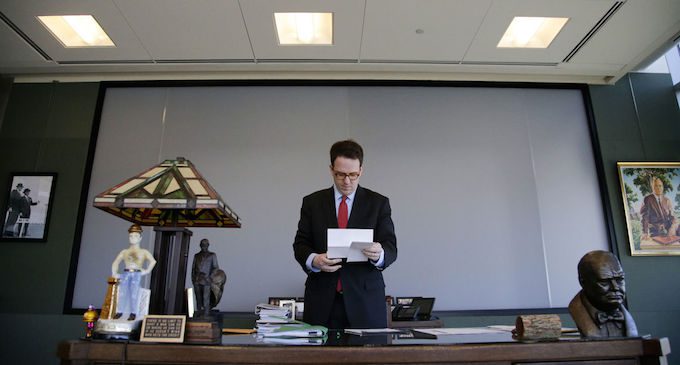 Originally published by Tulsa World.
By Jarrel Wade
Being the mayor starts at 5 a.m. with an hour of the only personal time G.T. Bynum might have all day.
He reads the newspaper and gets himself ready before his two kids, 10-year-old Robert and 7-year-old Annabel, wake up. Bynum and his wife, Susan Bynum, get the children ready for school, and then it's off to City Hall about 8:30 a.m. — or sooner if the kids are cooperative, he said.
From that point forward it's meeting after meeting just about every day since he entered the Mayor's Office early in December. Tuesday will be his 100th day on the job.
Once a week he meets one on one with every department head; he attends as many authority and commission meetings as possible — as well as weekly City Council meetings; he takes a group of randomly-selected employees to lunch, and then hot-button issues or community events fill out the balance of his time.
"I knew that we would work hard, but it is seven days a week, every day," Bynum said. "There are so many things that we want to get done, and I'm cognizant of the fact that we have a very finite time in which to do them."
Then he goes home for dinner at 6 p.m., and after the kids go to bed, he breaks out his homework.
"It (my home life) has changed in that the intensity of my workload is much greater, so I take a whole lot of homework home with me to do in the evenings and on weekends," Bynum said. "When I'm here at City Hall, I'm pretty much … one meeting after another, after another, after another. If I even get to respond to an email in the course of a day, it's a miracle."
After being sworn into office Dec. 5 — five months after being elected — Bynum and his staff came in with an aggressive agenda for the first 100 days. Some of their successes have looked easy. Others have been hard-fought. And some efforts have yet to yield success.
'Hard things are hard'
In 100 days, Bynum's staff has begun or completed a long list of goals — coming out of the inauguration sprinting and now hitting its stride, Bynum said.
From a plan to complete the Gilcrease Expressway to a task-force-backed list of 77 recommendations to improve community policing, Bynum said his staff began work on those fronts before he was even sworn in.
Both the Gilcrease Expressway and community-policing projects reached milestones on Friday.
Other achievements he points to include the partnership between the city of Tulsa and Reading Partners, a school program to help third-graders reach a satisfactory reading level.
The mantra of his office has become, "Hard things are hard," a motto borrowed from former President Barack Obama's staff, he said.
"That has been the refrain we come back to time and again on any of the things that we have been working on that are very difficult," Bynum said. "We'll get to a point where we think that we're ready to make this huge breakthrough and then it falls apart. And then that's always what we say, 'Well, hard things are hard.'"
Most notably for Bynum in the category of difficult work has been the long dispute over development at Helmerich Park. Bynum got a recent win through a proposal he made to move the issue forward, but the dispute is still left up to a judge's decision, anticipated to come this summer.
Another difficulty has been reaching a deal with Tulsa County on a long-standing fight over Tulsa Jail municipal-inmate costs, which hasn't come to fruition as he hoped, Bynum said. He hoped to reach some agreement during his first 100 days but continues to meet with Tulsa County Commissioner Ron Peters weekly to move in that direction, he said.
The items on his agenda that have fallen short or proven difficult are minimal in comparison to a whirlwind 100 days that Bynum has called a success.
Bynum helped establish the African-American Affairs Commission, scheduled bonding for Vision Tulsa projects, made efforts on various fronts to better connect City Hall to Tulsa's education systems, started an employee-feedback program to promote inter-department improvement and worked with the City Council to establish community-wide goals.
Councilor Anna America said she most appreciated efforts from Bynum's administration to strengthen the relationship with the council.
"He's really had a collaborative approach," she said. "Just inside City Hall there is a cultural change on how we approach problems."
America said many of the efforts she thinks are most important have been setting intangible foundations for future success.
Deputy Mayor Michael Junk said he and Bynum came into the office with a long list of goals and still have a lot to address.
"We hit the ground running on Day 1 because we had those six months to prepare," Junk said. "I think we've accomplished a lot. But there's always more you wish you could have done."
The next 1,361 days
Bynum couldn't escape the thought that the first 100 days is kind of an arbitrary time frame. Nevertheless, it's a good, round number to shoot for when planning the outset of your administration.
In fact, he has been able to tell officials in public meetings the exact number of days he has been in office from a calculator app in his phone.
Even still, Bynum said his main priorities extend well past the 100 days and may not even be measurable during his current term.
"The overarching thing that everything we're doing is focused on is getting Tulsa growing," Bynum said. "All of the fiscal issues that we face in being able to provide basic services come from the fact that our growth was stagnant for 20 years."
Bynum's four-year term, after Tuesday, will have 1,361 days remaining, including the extra day on Feb. 29, 2020 — a leap year.
In just the next 100 days, Bynum will lead the effort in developing a budget under severe budget constriction from under-performing tax revenue.
The Tulsa budget this year is $5.5 million behind revenue expected, and the financial landscape for Tulsa's next fiscal year doesn't look much prettier.
Bynum said the key to digging out of that hole is to look at the long term and make Tulsa a national brand for well-run, innovative communities.
"There's so many things that we can really do to make Tulsa a national model here in the next couple of years," Bynum said.
Another effort Bynum is looking forward to is bringing in more police and firefighters, paid for through the Vision Tulsa tax package.
"We're focused on probably one of the most important things we'll do while I'm mayor, which is bringing on those 160 additional police officers, 60 additional firefighters and implementing community policing here in Tulsa," Bynum said. "The officers that we bring in are going to be here for several decades. … This is the Tulsa Police Department for the next generation, so it's important to me that that's a department that looks like the next generation of Tulsans.
"What you're hearing from us in the first 100 days and you'll hear from us in the next 1,300 is very much about a unified, energetic, excited city about our future. If we stick to that and we keep pursuing those kind of goals that require high expectations of us as a city … I'm confident the numbers will be there in the end."