May 2, 2017
Near-peer mentors in Reading Partners LA build meaningful connections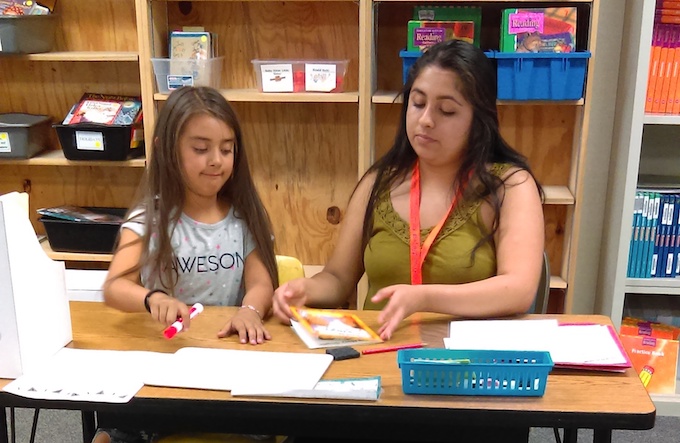 By Monica de la Cruz, AmeriCorps Volunteer Coordinator, Reading Partners LA
For most Reading Partners volunteers, memories of elementary school are buried underneath decades of life experience, and might be faint, if not totally lost to time. But for one segment of the Reading Partners volunteer community, the memories of yellow busses and recess games are fresh. It's only been about five years since some of Reading Partners' high school tutors were in elementary school, learning the same reading skills that they are teaching today. Some even went to the very same school, sat in the same classrooms, where they volunteer.
Year after year, Reading Partners community engagement teams rely on partnerships with high school teachers, counselors, and student organizations to recruit hundreds of service-minded high school students to help kids reach proficient reading by fourth grade. In the 2016-17 school year, Reading Partners has enrolled nearly 1,300 volunteers nationwide age 14 to 18. We value these volunteers not only for their numbers, but for the care and excitement they put into their work, which really gets young ones eager to learn.
The value of near-peer mentorship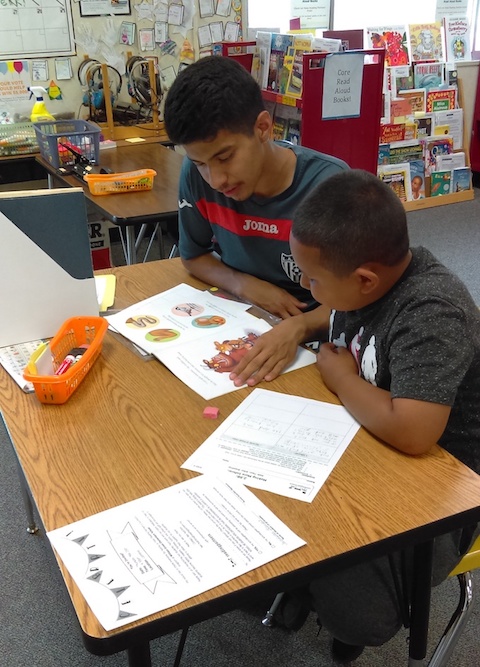 Teens are making a meaningful impact on the lives of the students they tutor, but they're also benefitting from their work as near-peer mentors. Near-peer mentors are usually just a few years more experienced than their mentees, and combine the guidance of a mentor with the relatability of a close peer. At Reading Partners, near-peer mentorship gives teens the opportunity to challenge themselves in new ways, grow in confidence, and prepare for life after high school. We spoke with three teenage volunteers and two counselors from a partnering high school to find out what near-peer mentorship really means.
One of the greatest benefits of near-peer mentors is their ability to relate to their student as another young person. Bella de Santo, a 17-year-old tutor at William Green Elementary, says,"I feel like I talk to her more casually. I can talk to her about her friends and family, so I think she feels more comfortable talking with me. We even play games after the tutoring session and talk. I don't want her to think that it has to be very formal or that she ever has to be nervous talking to me."
Bella's effort to build a relationship is paying off. In describing her student's progress, she says, "At first she started out super shy and very insecure about reading out loud, but now that I've gotten to know her, she's really blossomed and she's a lot more confident reading. Now she reads books on her own time that she tells me about."
For our youngest tutors, volunteering can offer many "first time" challenges, as well as opportunities to try new things, demonstrate independence, and develop interpersonal communication. Arsema, a ninth-grade student and volunteer at Roosevelt Elementary, has been learning to be more open in her communication as a near-peer mentor. Once she began tutoring, she found working one-on-one with a child to be a great exercise in communicating with patience and understanding. "I like working with [my student] because she's the opposite of me. I'm shy and reserved—she sings as she reads!" She's enjoyed the learning experience and says, "It's good because I get to talk to people, and to see people coming from different perspectives."
Service leads to self-empowerment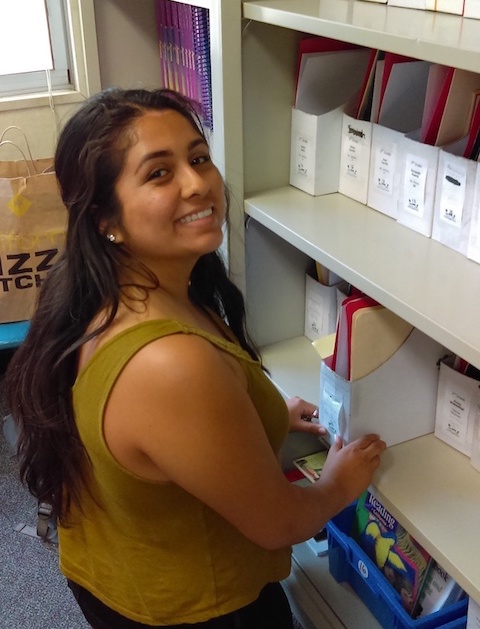 This year, Reading Partners Los Angeles began partnering with Environmental Charter High School, hoping to not only empower elementary school students with literacy skills, but also to empower the high school students who share the same community. Lacey Harris, ECHS counselor, encourages students to participate for the chance to demonstrate accountability and understand what it's like to have a young person rely on them. Lucia Bañuelos, dean of student services at ECHS, affirms the importance of service opportunities by adding, "Here at school, a lot of times they're just taking in knowledge, right? So this is the space where they're active, and where they're building connections with other folks—whether they're older, younger, they're making that connection. That's very meaningful, and empowering."
Dean Bañuelos understands how influential near-peer mentorship can be in developing students' maturity and self-worth, especially for students preparing for college. She explains, "Soon we're expecting them to go off to college, and go advocate for themselves. And I feel like this program helps them with their self-worth, so now when they go off to these other spaces and they have to advocate, they have that fire inside them, and they know, 'Okay, I can do this, I was able to advocate for someone else, so now I can find a mentor for myself.'"
Bella, a high school senior, echoed the counselor's' thoughts as she reflected on her growth through Reading Partners. After two years of volunteering, she says, "I feel like it's helped me mature. I have responsibility helping someone younger than me. It's helped me broaden my abilities. It's been a really cool experience…I know that after this year I'll stick with volunteering."
Opportunities for growth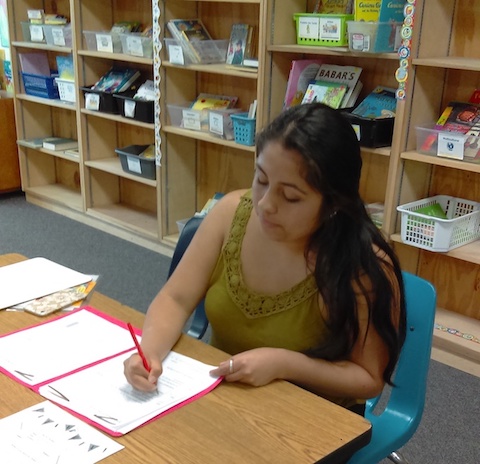 Near-peer mentoring with Reading Partners has led these high school students to reflect on their own growth and think about how they can continue to serve in the future. Kayla expressed a special connection with the school and the students she serves, because she was once a student at William Green. She remembers being shy as an elementary school student, one who didn't like raising her hand in class. She didn't remember reading being special or nurtured when she was in school, but she wants things to be different for these students. She says that it means a lot to her to serve in her own community, and though she has plans to go away for college to study biology, she says, "I just have to know that once I become a scientist, I can give back to this community, 'cause this is where I was born."
Dean  Bañuelos hopes that more students take time to reflect as they volunteer in their community. She wonders, "How many times are we put in that position where we can just sit there and think, 'Wow, five years ago, I was right there, I felt like this, or I was going through this, and now I'm here and I can feel proud of myself!' That's so cool that they can be put in these reflective positions. I don't know how they all feel, but those kids have a lot of reasons to feel proud."