May 17, 2022
North Texas nonprofit to teach racial equity to Fort Worth companies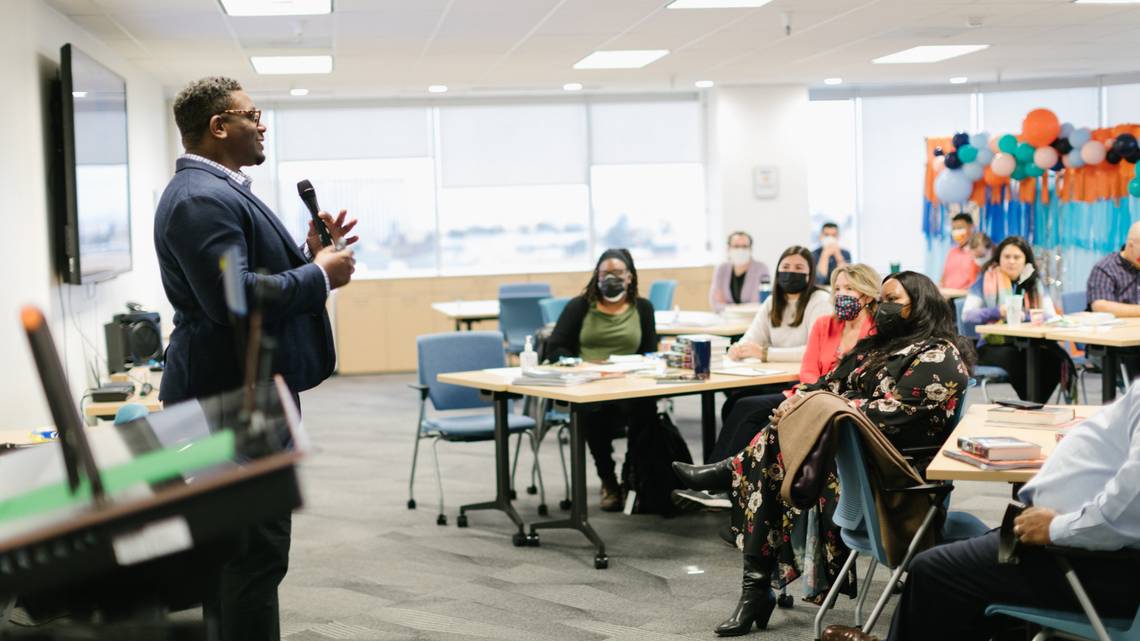 Originally published by Forth Worth Star-Telegram
A North Texas nonprofit will teach eight organizations how to be more racially equitable. Dallas Truth, Reconciliation, Racial Healing and Transformation is a Dallas-based nonprofit focused on addressing racism by getting community members to acknowledge and heal from past and current racial inequities. After working in Dallas for several years, they're bringing efforts to Fort Worth beginning May 17. Organizations like activist organization CommUnity Frontline, Modern Art Museum of Fort Worth, Fort Worth Opera and the Fort Worth Report are part of this year's Racial Equity NOW cohort to learn about racial inequities and how best to eliminate them within their own organizations. TOP VIDEOS × The cohort was formed after the Dallas racial healing organization hosted eight meetings across Fort Worth.
Sixty-one participants were asked to describe Fort Worth's relationship with race and imagine what a city without racism would look like. A team of graduate students from TCU's College of Education documented the sessions and released two reports detailing the findings. They found that residents often described "The Fort Worth Way," saying how it perpetuates white power and privilege. They often mentioned how the city's image as Cowtown and "Where the West Begins" erases the history of the city's diverse population. TX Politics newsletter Get government and election news that affects our region, plus a weekly take exclusive to the newsletter. SIGN UP This site is protected by reCAPTCHA and the Google Privacy Policy and Terms of Service apply. One unnamed participant was quoted in the report: "The name Fort Worth reflects our history as a settler colony and literally a violent outpost of frontier expansion but that's never problematized or talked about among those with power in the city."
In the cohort, organizations will write their own racial equity policies and receive up to $10,000 in funding to establish their chosen racial equity project. "Representing various sectors in Fort Worth from arts and education to journalism and community organizing, the Racial Equity NOW: Fort Worth Cohort is an exciting opportunity for our North Texas communities to envision the possibilities of racial equity and imagine transformation together," Jerry Hawkins, executive director of the Dallas racial healing organization, said in a press release. Kimberly Benavides is executive director at Reading Partners North Texas, an education nonprofit that provides additional tutoring for kids falling behind with reading. Ninety-five percent of the students the nonprofit works with in the Fort Worth and Dallas school districts are students of color, Benavides said.
"We work really hard to make sure that … we highlight authors of color and books that have characters that look like the students we serve," Benavides said. "But we know it's still not enough." $2 for 2 months Subscribe for unlimited access to our website, app, eEdition and more CLAIM OFFER Benavides said she's looking forward to a more personalized approach with direct coaching and learning more about racial equity and history in Fort Worth. "I think it's going to give us that 'What's happening in Fort Worth?' context that we need to just directly impact the work we're doing to make it even more personal," she said.
Afton Battle, the general director of the Fort Worth Opera, said they chose to apply after recognizing the importance of making the performing arts accessible and inviting. "When I drill down into the performing arts an the classical performing arts, it has for the history of the industry not been known for or has not practiced racial inclusivity," Battle said. "So it is important for us to dismantle racism, period, but it is important for us to dismantle racism in the performing arts and in the classical performing arts." Battle said she hopes the company will be reflective of Fort Worth's diversity. "The company belongs to this community, and our community is a vibrant diverse pool of beautiful humans who deserve to have access at all points to the performing arts," she said.