February 25, 2015
Reading Partners 2nd Annual Benefit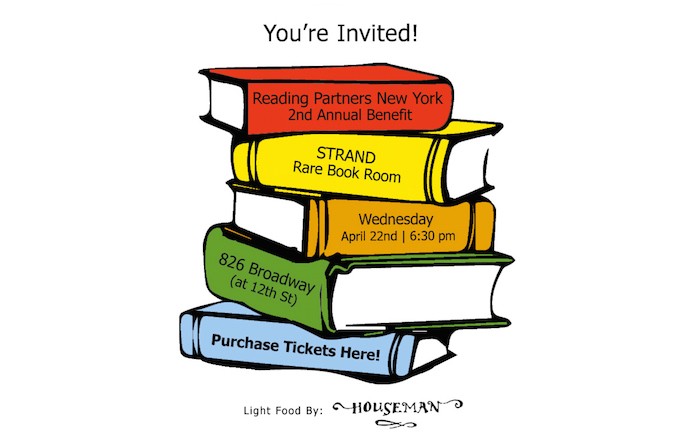 * ONLINE TICKET SALES HAVE NOW CLOSED*
To purchase tickets by phone, please call Stacy Bullard at 646-403-3028.
There will be a limited number of tickets available for sale at the door for $150.
THANKS FOR YOUR SUPPORT!
Reading Partners is excited to invite you to join our advisory board and host committee for our 2nd Annual Spring Benefit. Enjoy hors d'oeuvres by Houseman Restaurant, beer by Bronx Brewery and wine by Kashkaval Wine Garden to support our work in New York. The event will take place on Wednesday, April 22, 2015, 6:30 – 9:00pmat the Strand, Rare Book Room.
A special thanks to our event sponsors:
Arnold & Porter LLP
Cravath, Swaine & Moore LLP
Weil, Gosthal, & Manges LLP
and our  advisory board and host committee members:
Jordana Baldwin, Matthew Baldwin*, David Berg*, Michelle Blank, Natalie Blazer*, Marty Byrne, Isabelle Gold*, Arnav Guleria, James Hobson*, Ani Hurwitz, Laura Ivan, April Kozen*, Daniel Laub*, Jeanette Lee, Melissa Magner*, Ryan McMahon, Chloe McNerney, Olympia McNerney*, Eva Rahmanides, Janet Romano, Elise Rosenberg*, Lissa Rosenthal*, Angel Saez, Amy Silver*, Alexander Sloane*, Naomi Waltman*, Daniel Zarkowsky*
*Indicates New York Advisory Board Member