August 5, 2016
Reading Partners and the Charlotte-Mecklenburg Library — a match made in literary heaven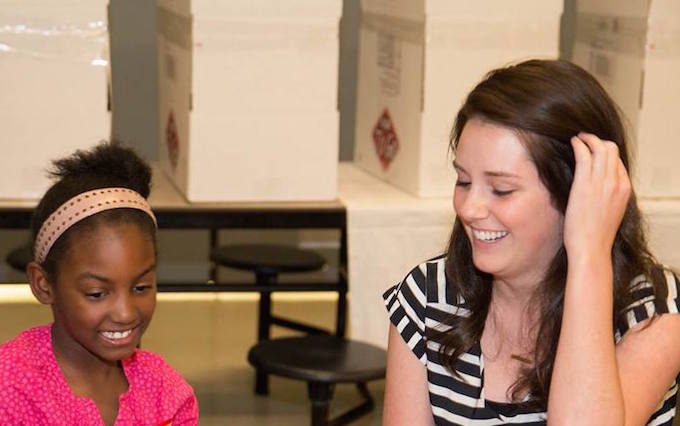 By: Alex Woodhouse, Community Engagement Manager, Reading Partners Charlotte
When Reading Partners launched in Charlotte, the local team was searching for other literacy champions in the community who would be interested in volunteering. Naturally, the local library immediately came to mind. Their mission, to create a community of readers, aligned well with Reading Partners' mission to help children become lifelong readers. The team immediately reached out to the library, and soon a match made in literary heaven was created.
After an introductory meeting with the outreach manager at Charlotte-Mecklenburg Library, Reading Partners delivered a tutor training for interested library staff members. Soon, the library staff were full-fledged reading partners to students in local elementary schools.
Emily was one of our first volunteers to sign up in January, and she is an absolute rockstar. As an outreach specialist with the Charlotte-Mecklenburg Library, she has a passion for literacy and understands the importance of early reading. "Early literacy is crucial! It is the key factor in learning and being successful in school, and ultimately, in life. It is incredibly important which is why I've devoted my profession to teaching early literacy to children, but also to parents and teachers."
Including Emily, five dedicated library staff members provided 45 sessions to four Charlotte-Mecklenburg students from January to May. After her first semester of tutoring, Emily said, "I love the one-on-one interaction with the student. It's nice to get to know them on a personal level and I enjoy seeing their skills develop. I also enjoyed seeing the changes in the student's view towards reading. It's great to see progress through the tasks and skills, but it's also nice to see confidence and joy develop through reading. I want the students to gain skill and confidence, but also a love of reading."
Her advice for young readers who are developing their skill and confidence is simple: "Read what you love. If you don't know what you love, try a variety of things until you know what that is. It doesn't matter if you're into clothes, star wars, Legos, or unicorns — there's a book for every subject out there!"
Developing a student's love of reading and confidence in their reading ability is one of Reading Partners' key goals. It is also an important goal of the larger Charlotte community.
When libraries and schools work together, everyone wins.
That's the opening statement to Charlotte-Mecklenburg's ONE Access program. In early 2015, the Library, along with Charlotte-Mecklenburg Schools (CMS), Mecklenburg County, and the city of Charlotte accepted the White House ConnectED Literacy Challenge. They pledged to provide all CMS students with easy access to information and educational resources. From this pledge, an initiative called ONE Access was born. ONE Access uses students' school identification numbers instead of separate library cards to bridge the gap between public libraries and school systems. With their ONE Access account, students can connect to library research databases, borrow digital materials such as e-books or music, and borrow up to 10 print or audio books at once with no overdue fees. At the end of 2015, more than 100,000 of the 147,000 CMS students had accessed library services using their student IDs.
Reading Partners Charlotte is excited to see our partnership with the library grow during the 2016-17 school year, as well as watch ONE Access expand in the coming years. It is this ongoing commitment to increase literacy and educational success in the Charlotte-Mecklenburg community that makes the library a valuable partner. And it is volunteers like Emily who allow Reading Partners to have a positive and lasting impact on the students and communities we serve.