August 17, 2018
Reading Partners Colorado to Expand Literacy Program to Westminster Public Schools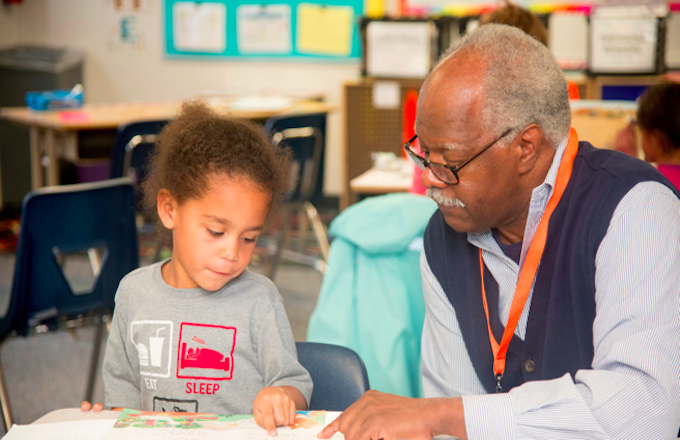 For Immediate Release
Contact:
Margie Thirlby                       
Executive Director, Reading Partners Colorado
206.992.5512  |  margie.thirlby@readingpartners.org
Mathieu Aubuchon
Director of Elementary Education, Westminster Public Schools
720.542.5093 | maubuchon@westminsterpublicschools.org
READING PARTNERS COLORADO TO EXPAND LITERACY PROGRAM TO WESTMINSTER PUBLIC SCHOOLS
Reading Partners to mobilize volunteer support at Skyline Vista, Tennyson Knolls, and Harris Park Elementary Schools
(Westminster, CO) August 17, 2018 — Reading Partners, a national nonprofit that mobilizes community volunteers to provide individualized literacy instruction, is expanding operations to Westminster Public School District through its Colorado region. During the 2018-19 school year, Reading Partners Colorado expects to serve over 700 students through the support of 1,000 community volunteers. In addition to its continued service at Denver Public Schools, Reading Partners Colorado will expand its program to three elementary schools at Westminster Public Schools, including Harris Park, Tennyson Knolls, and Skyline Vista.
"Reading Partners Colorado is thrilled to bring our program to Westminster Public Schools this school year," said Margie Thirlby, senior executive director of Reading Partners Colorado. "Our organization is committed to collaborating with new districts in order to serve more students in need and engage new volunteers, businesses, and families in our work."
By embracing a Competency Based Learning system where students must show mastery of a learning topic before moving to the next level, Westminster Public Schools (WPS) has shown improved results in English Language Arts and math as measured by the Colorado Department of Education (CDE). Still WPS has room for improvement with 20% percent of third grade students in WPS reading at or above grade level compared to 44% percent of students statewide. During the 2017-18 school year, 86% of WPS students were reported as minority students with 81% of students Free/Reduced-Price Lunch Eligible, and 41% were classified as English Language Learners.
"We are so excited to have Reading Partners Colorado come into Westminster Public Schools," said Superintendent Dr. Pamela Swanson. "For students to succeed academically, early literacy is a critical skill and we know that many of our students come to our schools needing additional support. Our tagline is "Where Education is Personal" and to have Reading Partners Colorado join our community to make a difference in student's lives reflects our values and goals."
Reading Partners Colorado is looking for volunteers to commit to an hour or more per week to work individually with students at its 13 partner schools in Denver Public Schools and Westminster Public Schools. Tutoring will begin on September 4, 2018. To learn more about school locations or how to get you or your company involved, visit www.readingpartners.org/colorado or email volunteerco@readingpartners.org.
For any and all media inquiries, please feel free to contact Margie Thirlby, senior executive director of Reading Partners Colorado at margie.thirlby@readingpartners.org.
###
About Reading Partners
For 20 years, Reading Partners has empowered students to succeed in reading and in life by engaging community volunteers to provide one-on-one tutoring. Since its founding, the national nonprofit organization has mobilized nearly 55,000 community volunteers to provide proven, individualized literacy tutoring to more than 50,000 elementary school students in under-resourced schools across ten states and the District of Columbia. Visit readingpartners.org to learn more about our program impact, or connect with us on Facebook, LinkedIn, Twitter, and Instagram.
About Westminster Public Schools
Westminster Public Schools is home to approximately 9500 students and is the largest school district in the country to implement a Competency Based System (CBS) in every school in the district. CBS requires students to show mastery of a learning topic before moving to the next learning level. By focusing on proficiency instead of seat time, WPS seeks to ensure that every high school graduate is ready for the day after graduation. Visit www.westminsterpublicschools.org to learn more about the district and its Competency Based System.