April 27, 2017
Reading Partners host annual celebrity spelling bee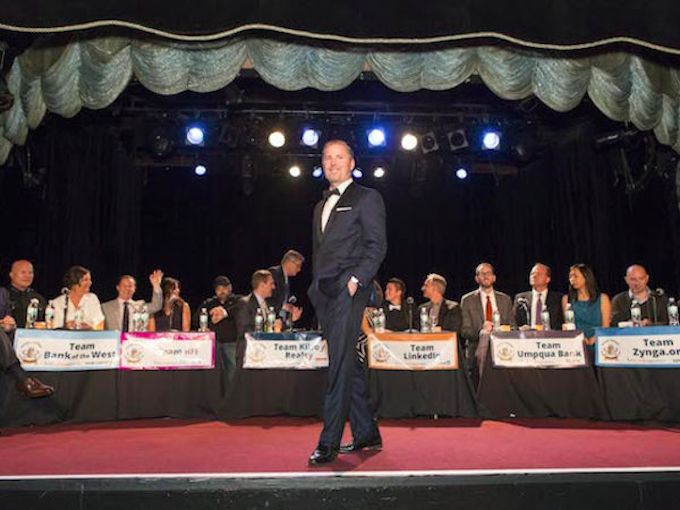 Originally posted by Patch.com
By Damita Thomas
Reading Partners Silicon Valley and San Francisco Bay Area have joined forces for a fourth year to host the annual Celebrity Spelling Bee Fundraiser. This unique event raises funds and awareness for Reading Partners' one-on-one reading tutoring program that supports 2,700 students in 52 reading centers across the greater Bay Area. This year's theme is "Literacy and Leaders in Innovation."
Spelling Bee guests enjoy a cocktail hour followed by a fierce and highly entertaining on-stage spelling competition between five teams—each composed of a leader of innovation and a corporate sponsor. All funds directly support Reading Partners' one-on-one literacy intervention program in Silicon Valley, San Francisco and the East Bay.
Where: Bimbo's 365 Club, 1025 Columbus Ave., San Francisco, CA 94113
When: Thursday, April 27, 6:00 – 9:00 pm
Local celebrities: Ken McNeely, President of AT&T California; Sullly Sullenberger, retired American Airline Captain and pilot known for the heroic Hudson River plane landing; Zander Lurie, CEO of SurveyMonkey; and Wende Hutton, Partner at Canaan Partners
Corporate sponsors: Yelp, LinkedIn, SurveyMonkey, Bank of the West, Airbnb, Golden State Warriors
This event lands on the Thursday of National Volunteer Week, a week that promotes and recognizes the impact of volunteers within the United States. Reading Partners will be highlighting many volunteers during the event, one in particular is Sergeant Tracy McCray. Sgt. Tracy McCray is in her third year volunteering with Reading Partners at Bret Harte Elementary in San Francisco. As police officer with SFPD, Tracy serves her community every day in her police work and also makes time to serve as a one-on-one literacy tutor with Reading Partners.
"We have incredible volunteers who are dedicated to supporting their communities. Individuals like Sgt. McCray, who return year after year to help our students meet their literacy goals and serve as role models, are truly admirable. We are excited to celebrate all of our volunteers at our upcoming Celebrity Spelling Bee." -Aarika Riddle, Executive Director, Reading Partners Silicon Valley
Reading Partners 2016-17 Progress
In the 2016-17 school year, 2,500 community volunteers have already provided nearly 100,000 literacy tutoring sessions to 2,700 Silicon Valley, East Bay and San Francisco elementary students who have struggled with reading.
Thanks to the efforts of these volunteers, among Reading Partners' youngest students in Silicon Valley and the Bay Area, more than four in five mastered key foundational reading skills needed to read at grade level.
Based on survey responses, more than 95 percent of volunteers report that they are satisfied with their Reading Partners experience, in large part because of the strong bonds they build with their students and the tangible reading progress they witness over the course of the year.
Nationwide, only 20 percent of low-income students, and a mere third of students overall, are reading proficiently by the fourth grade. This translates to nearly nine million low-income elementary school students who are not reading at grade level, including far too many here in the greater Bay Area. Reading is the foundation for all future learning, so without developing the reading skills needed to read on grade level, kids won't have an equitable chance to succeed in school or in life. Ultimately, students who can't read by fourth grade are four times more likely to drop out of school or not earn a high school diploma.
Reading Partners is a national nonprofit that collaborates with community volunteers and local public schools in 14 regions across the country to equip students with the foundational skills they need to be able to read at grade level by fourth grade.
Reading Partners is looking for more Silicon Valley and Bay Area volunteers to commit just an hour a week to work individually with children who struggle with reading. To become a volunteer with Reading Partners, please visit readingpartners.org/volunteer today.