July 8, 2019
Reading Partners Tulsa celebrates 'remarkable' year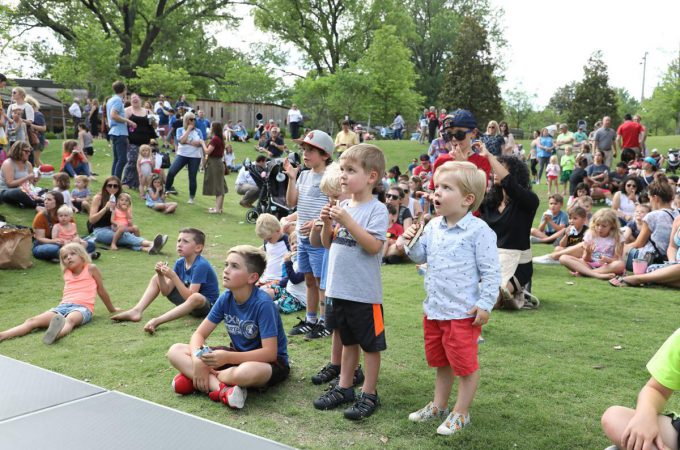 Originally posted on Tulsa World by Kelsy Schlotthauer.
The Gathering Place was filled with a little more joy Tuesday evening as hundreds of parents, children and volunteers came together to celebrate the culmination of Reading Partners' record-breaking year in Tulsa.
Ice cream sandwiches, fluffy dogs and the tunes of Hot Toast Music Company drew a crowd under the reading tree at the park, and the kids wasted no time dripping chocolate down their faces or rushing to meet Pete the Cat, a big, blue children's book character.
Special guests, including Tulsa Public Schools Superintendent Deborah Gist, read picture books to the crowd, and Reading Partners Executive Director Justin Harlan announced the milestones of the year.
Harlan said the program had about 500 additional volunteers in the most recent school year, bringing the total to more than 2,000 who served more than 1,700 children in TPS with more than 55,000 tutoring sessions. The sessions average about one hour.
The program's growth since it began six years ago is "remarkable," Harlan said.
"We just thought it was kind of a natural time to get the city together to celebrate," he said.
Only 17 percent of TPS third-graders are reading proficiently, Harlan said, and research shows that kids who read proficiently by the time they finish third grade are four times more likely to graduate high school.
Harlan called a high school degree "critical" for life and career success, and said it's important to emphasize literacy and reading in young students, "or we're going to see a completely different city."
Gist said she and TPS teachers greatly appreciate the time Reading Partners volunteers dedicate to students.
"We know that the more contact our children can have with adults who care about them and know them and read with them, the farther we will go as a community," she said.
Wil Bruner, who just finished his fourth year as a volunteer and is looking forward to his fifth, said he learned about the opportunity while reading a Tulsa World story.
It took him back to the time his older sister spent teaching him to read, he said.
"Because of my sister, I've always enjoyed reading," Bruner said. "I thought, 'Why not pass that along?'"
Bruner said he chose to volunteer at a school close to his office, and he hasn't looked back since.
He enjoys building relationships with the kids and seeing how each has a different personality and learning style, he said, and knowing they've taught him more than he has probably taught them.
To those interested in volunteering but apprehensive about pairing up with an apathetic child, Bruner says there's no reason to fear.
"Kids are kids," he said, adding that he often becomes the character of a book he's reading in an effort to entertain the kids. "If you make it fun, you're going to capture their attention."
Plus, "it's easy," Bruner said. Volunteers receive straight-forward lesson plans before each tutoring session and often help their students sound out words or understand compound words, he said.
"If you're thinking about it, do it," Bruner said. "You'll love it."