January 3, 2020
Reading Tutors Help Students Open New Chapter of Learning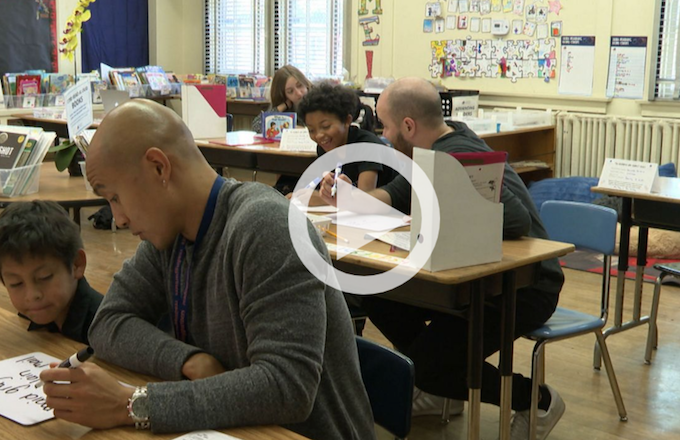 Originally posted on Spectrum News 1 by Zerina Khairzada
LOS ANGELES – Children's books about animals, robots, and wildlife line the back wall of a Saturn Street Elementary school classroom. Inside, students spend about one hour after school learning how to become better readers with the help of tutors.
"I think it's good and also I think it's going to help me read more better," said second grade student Cristopher.
Previously, Cristopher had some difficulty sounding out words and reading out loud.
"It was like so hard. I feel like I know the word but I don't," Cristopher said.
It wasn't until the beginning of this school year, that Cristopher started to look forward to picking up a book he wanted to read. Cristopher has been receiving one-on-one tutoring sessions with one of Reading Partners volunteer tutors Rex Tercero. Together, the pair go over phonetics, vocabulary, and the alphabet.
"To see how much he's grown and how much he's enjoying it now makes me feel a lot better just to see the value that something I'm doing — just an hour a week is so small but its making such a huge impact that I know is going to help him in his future," Tercero said.
Cristopher is reading at least 30 percent more words per minute than when they first started, Tercero said. According to Reading Partners latest national impact report, about 90 percent of kindergarten through second grade readers in the program like Cristopher gained a deeper understanding of grade level reading skills.
"I'm becoming a better reader," Cristopher said.
These weekly tutor sessions are helping second graders get to the next chapter in reading to create skills that will carry with them for a lifetime.
In the 2019-2020 school year so far, Reading Partners has worked with 14 schools across three Southern California school districts and tutored 670 students with the help of nearly 950 volunteers.
If you or someone you know would like to volunteer for Reading Partners head over to www.readingpartners.org.