October 21, 2016
Sacramento community leaders are taking the boardroom by storm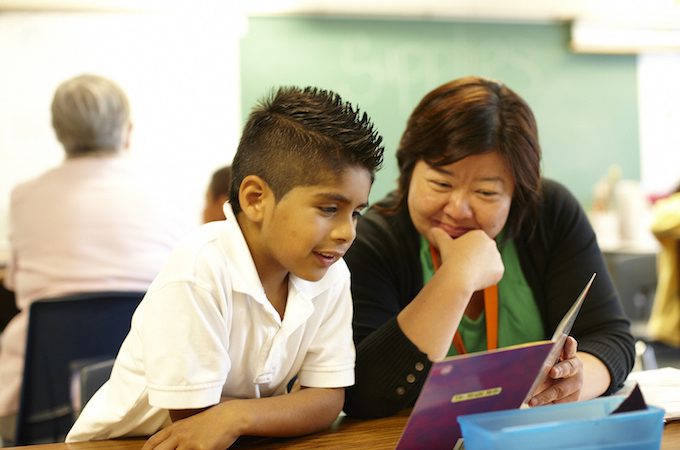 Not only has Reading Partners Sacramento grown in size over the past year, now serving 540 students at 10 elementary schools across the city, but our impact in the community is growing too. In the past year, the Sacramento advisory board of directors has nearly doubled in size, bringing unique talents and experience to help advocate for our city's struggling readers.
We are excited to announce that two new literacy advocates have stepped up to take a leadership role on our board, Michelle Yung and Pavan Sandhu. We met both Michelle and Pavan at the Sacramento Metro Chamber's young professional mixer, Storm the Boardroom, and these two are doing just that!
Meet Michelle Yung, Chair
Project Management Officer, Energy R&D, Sacramento Municipal Utility District
Michelle joined the board in the spring of 2016. She became eager to make a difference for Sacramento's students when she learned that only 40 percent of fourth graders are reading on grade level in Sacramento. As a graduate of the Asian Pacific Chamber of Commerce's Catalyst Leadership Program, Michelle didn't blink an eye when Executive Director Rachel Minnick asked her to serve as the board chair. She is excited to work with the Reading Partners team to ensure all board members have the tools and support they need to expand Reading Partners' reach and positive influence in our community. Michelle states, "This year, my goal is to strengthen our ties with the communities where we live to fortify our educational pipeline, and to increase annual fundraising support from individuals and organizations in Sacramento."
Favorite children's book: The Boxcar Children series.
Tutoring: I have started tutoring at one of our newest schools to join the program – H.W. Harkness. I tutor Monday mornings to start my week off on a positive note.
On the power of reading: I truly believe that literacy unlocks opportunity.  Strong foundational reading skills are critical for our students to be successful in everyday life and work. Reading is essential whether you are a businesswoman reading a contract proposal, a tradesman reading construction plans, or a student reading the menu to order your lunch.
Meet Pavan Sandhu, Vice Chair
Business Banking Officer, SAFE Credit Union
Pavan joined the board in the summer of 2016, and is looking forward to helping children learn how to fall in love with reading. Pavan is a passionate supporter of our mission. He believes that, "Reading helps open the mind to endless possibilities, and everyone deserves to have that experience." Despite being one of the newest members to the board, Pavan was quickly nominated to serve as vice chair and oversee the business partnership committee. He is eager to help Reading Partners Sacramento reach new heights as Sacramento grows as a city. Each of our reading centers is surrounded by potential partners, whether community groups or businesses, and  he hopes to leverage the capacity and caring of these organizations to make a difference for our schools and the students we serve.  
Favorite children's book: Curious George
Tutoring: I'll be tutoring at Bell Avenue. It has special meaning for me since it's located in the neighborhood where I grew up.
On the power of reading: Reading lets you imagine and dream big things, which you can then make come true.
Check out Reading Partners Sacramento's full list of advisory board members. Together, we are empowering students, schools, and community to unlock opportunity through reading.