July 24, 2020
Reading Partners announces Second Annual Valued Volunteer Award Winners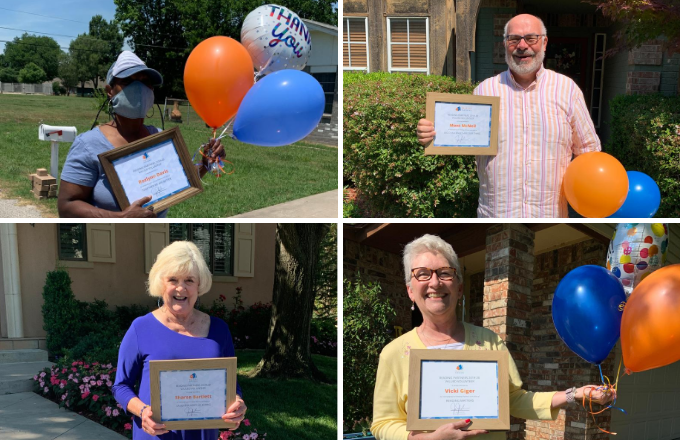 The Valued Volunteer Awards recognize and appreciate individual volunteers who go above and beyond the call of service for Reading Partners and the students we serve. Reading Partners AmeriCorps site coordinators nominated our outstanding participants and the Tulsa Regional Advisory Board selected the finalists. Learn more about each of our 2020 Award Winners below.
Together We Are Better: Rozlynn Davis


Rozylnn tutors at McKinley Elementary and her mindset is all about the kids. She is dedicated to supporting the students in this community and has exhibited perseverance and flexibility throughout the program year. When she heard Reading Partners needed more tutors, she answered the call by adding more sessions. She eventually joined the Reading Partners team as a Literacy Intervention Tutor, picking up 18 more sessions for a total of 20 sessions this school year. Rozylnn is a consistent force in our reading center, and we are better as a team because of her presence, participation, and personality. 
Big Challenges Are Our Thing: Mont McNeil 

Mont has been a tutor at Sequoyah for five years. He started volunteering through a community partnership with Williams. After taking a year off to celebrate his retirement, he returned in 2019 and requested to tutor two students. His site coordinator was able to pair him with a student he'd worked with as a first-grader, now in third grade, and she said "it was so exciting to see them reunited." Every lesson he makes a point of highlighting his student's progress and growth, always telling him how much his hard work is paying off. His second student is new to the program this year and has already made tremendous progress as well. Mont is relentlessly positive and refuses to let his student give up on himself. By the end of every session, his student has a dazzling grin on his face, and he can't wait to go tell his teacher about the book he read that day. Mont is an incredible combination of coach, teammate, cheerleader, volunteer, tutor, and #1 fan for his students.
Laughter Keeps Us Going: Sharon Bartlett 

Sharon always brings sunshine to the reading center. Her bright bubbly personality is so infectious, her student is always excited to see her.  Sharon brings a whimsical wonderment to every session with her student, turning the most mundane informational literature into an adventure. This year, Sharon added a second session to her weekly schedule spreading her joy to another student. Sharon has also referred Reading Partners to her church, allowing us to recruit and onboard additional volunteers. She is a valued tutor who lights up the reading center every Monday. 
Reading Matters: Vicki Giger 

Vicki is a great tutor, volunteering six sessions per week and showing up for make-up days to ensure everyone gets the one-on-one tutoring they need. She is always thinking about the best way to help her students, and sometimes brings her own books or games to help drive home the subject matter of a particular lesson. Vicki has on numerous occasions brought in tissues and hand sanitizer just to make sure that there were plenty in stock for the reading center, as well as taking home games over the summer to help stock them with crayons, markers, and scissors.