April 20, 2020
Together we are better: Ways to support your community during the corona outbreak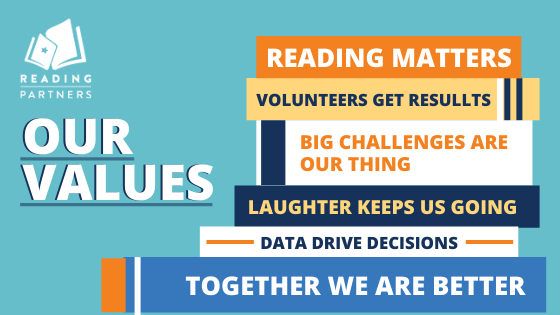 Twenty years ago, our founders knew that when we come together as a community, we can do anything. That's why big challenges are our thing. Ever since Reading Partners was founded, we have been relentless in our efforts to shrink the opportunity gap for students but unfortunately, 2020 has thrown new challenges their way. Recent events have left our local businesses struggling to stay afloat and left many of our families in the Bay Area unemployed. Right now, we are working hard to develop virtual and digital resources so students can stay on track until they return to school in the fall. For that reason, we are calling on those who are able to support our efforts by donating today.
Reading Partners is more than a literacy intervention organization – we are individuals who care about our neighbors, our friends, our relatives, and you. But we can't do this alone. Together we have the power to support those in our community by supporting small businesses, increasing our generosity, and planning ahead. 
Below are a number of simple ways that you can provide the necessary support to people in your community:
Order takeout or delivery. By now, cooking at home is probably getting old, so check out Dining at a Distance for a complete list of restaurants that do takeout, delivery, curbside pickup, etc.

Planning on getting it delivered? Try

Caviar

or

Doordash

(FYI – they're the same company!) who are based in San Francisco and employ

hundreds

of people in the Bay Area. 

Above and beyond

:

When ordering takeout or delivery, if you are able, tip generously. Employees in the service industry have had their incomes slashed. Order as much as you can, and tip as much as you can.

Here

is a map of restaurants that are offering delivery or takeout in San Francisco:


After you order, maximize your support by hopping on Yelp and leaving them a review. When things pick up again, it will be good reviews like yours that help attract more customers and help businesses get things in full working order. 

Know what businesses aren't small. Before you order, take 10 seconds to do a quick search (we know you have the time), go on their website, and make sure that you

are

in fact supporting one of the many businesses that are in great need. 

Author's Favorite

:

Grove Collaborative

. This local, subscription-based company delivers sustainably produced, cruelty-free, ethically manufactured home products. And for make-up lovers looking for great products, check out

Roven

– Grove's one-stop-shop for all of your beauty and self-care needs (all with Grove's same impeccable standards). 

When you find a local favorite who is offering virus-friendly options, act immediately. Instagram co-founder Mike Krieger created SaveOurFaves to help prevent our favorite spots from closing by purchasing gift cards. Look at it this way – this thing will end eventually and when it does, you're going to start craving all of your old favorites. Help flatten the curve now and purchase gift cards so the local business can be there later.

Not exactly feeling the optimism right now? With everyone at home trying to keep occupied, how about sending a little love around? Think about those in your life and consider buying them a gift card. Know a coffee lover? The Bay area has so many amazing coffee shops. Got a mother? Mother's Day is less than a month away so grab her a gift card to

Pearl Spa

in San Francisco or

Rockridge Day Spa

in Oakland. Meet someone on Hinge a month or two before COVID-19? Send them a recipe and ingredients to have a virtual "making dinner together" date as you follow the same recipe in your home. 

Give blood through

Valiant

!

Click here to schedule an appointment. 

If you have a housekeeper, dog walker, gardener, or anyone who depends on you for income, consider talking to them about ways that you can support them. If you are able, keep them on your payroll entirely.

Venmo

makes payment fast, easy, and germ-free! 

Don't cancel memberships. EVERYONE is struggling right now. Even though this article is focussing on small and/or local businesses, the fact is those big companies have big payrolls and employ a lot of people. Every time you cancel a gym membership or end a food-box subscription, you make it more difficult for companies to pay their staff. 
Our community is facing a big challenge and it is going to take each one of us, doing what we can, to address it. Whether it is buying a $5 coffee certificate from your favorite coffee spot, deciding to treat a loved one to a future treat, or committing to get delivery at least three times a week – we all have a part to play. 
From our family to yours, we wish you well during these turbulent times and hope that you'll join us in supporting our local businesses.