July 24, 2017
"Tutor for a Day" brings corporate partners into NYC reading centers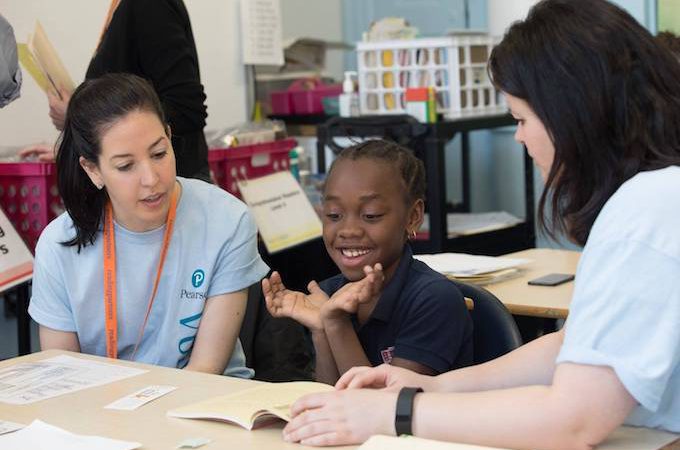 The reading center at PS 126 buzzed with nervous energy as 10 volunteers from Goldman Sachs anxiously awaited a flock of excited students to arrive for the first tutoring session of the day. Fifteen minutes later, the nerves melted away as students and tutors huddled together over reading materials. Throughout the room, sounds of giggles and high fives filled the air. That Friday morning, Goldman Sachs employees provided individualized literacy tutoring to 26 students, helping them get on track toward reading proficiency.
The event was part of Goldman Sachs' Community Teamworks initiative, where employees around the world work in partnership with local nonprofit organizations on team-based volunteer projects to help them achieve their mission. As companies devote more time and resources to employee engagement initiatives and corporate social responsibility, Reading Partners is primed to provide high-impact opportunities for corporate volunteerism with our unique, volunteer-driven literacy program. Goldman Sachs is just one of the companies we've partnered with on corporate volunteer days. Other partners include Blackstone, PIMCO, and William Blair, among others.
"Working with Reading Partners was equal parts seamless, fun, and impactful. Beyond the joy of connecting with a child, our PIMCO volunteers witnessed their reading partners' progress and unequivocally knew that our Friday make-up session was helping improve reading comprehension.  Reading Partners has a formula that works; as a volunteer, it was exciting to experience the power of their curriculum in the classroom."

-Lee Fabiaschi, Global Corporate Citizenship, PIMCO
Tutor for a day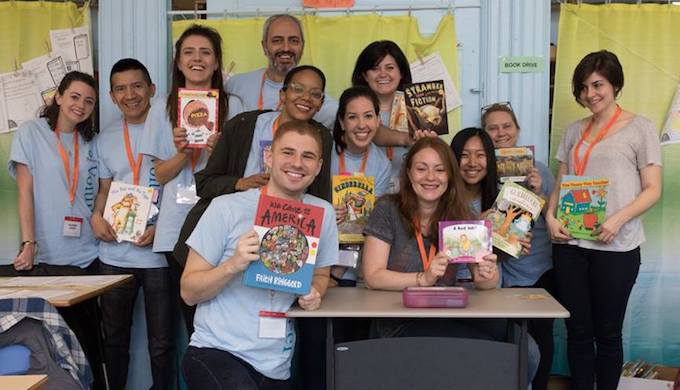 Pearson employees volunteer at PS 188 in the Lower East Side as part of National Volunteer Week.
Reading Partners' signature "Tutor for a Day" program gives corporate volunteers the opportunity to experience the Reading Partners program firsthand while providing crucial literacy services to students. Employees are trained on our user-friendly curriculum and then provide hours of individualized tutoring sessions. Reading Partners New York hosted a dozen Tutor for a Day events this school year, with corporate volunteers providing hands-on literacy instruction to over 200 students at high-need school sites across New York City. The events gave volunteers a highly engaging way to give back alongside their teammates, while also measurably improving students' reading ability with each session—a win/win situation at its best.
If you're interested in learning more about the Tutor for a Day model, please reach out to Megan Ross, director of new business development at megan.ross@readingpartners.org.